The Brandywine Show 2014
May 23rd, 2014
The preview party takes place out in the courtyard and on all four floors inside. The weather was fine, with no rain, although there were showers in surrounding communities on Friday night and wet roads for the drive home.
Harold Cole and Bettina Krainin of Woodbury, Connecticut, asked $1650 for the child's chair in old paint. It is on a maple scrubbed-top table, $5800. The pair of Salem, Massachusetts, Windsor chairs pulled up to it was $4200.
The Hanebergs of East Lyme, Connecticut, asked $15,000 for this dressing table with a scalloped top, made in Wethersfield, Connecticut, 1760-80. They labeled it the best of the Connecticut River valley, and they pointed out elements that suggest this school of Connecticut cabinetmaking, such as the knee returns applied to the front of the apron, the 1¼" stock used for the top pegged to the case, round disks under the pad feet, legs made of birch, and the drawers resting on the front rails that are tenoned into the back but not through the backboard. The brasses were replaced.
This small English corner cupboard was $4800 from Priscilla Boyd Angelos of Meetinghouse Antiques, Fort Washington, Pennsylvania.
Margaret Sutor Johnson of Lafayette Hill, Pennsylvania, and Bill Shaeffer of Glyndon, Maryland, shared a stand and offered this creamware veilleuse, a candlestick, cup, and warmer, for an invalid to keep tea warm, for $950; the set of creamware coasters with reticulated sides was $740.
Brennan & Mouilleseaux, Northfield, Connecticut, asked $5600 for the Philadelphia sofa of mahogany and mahogany veneer, circa 1830. The Classical footstools were $1650.
Brandywine River Museum of Art Antiques Show, Chadds Ford, Pennsylvania
For more than four decades the Brandywine River Museum of Art Antiques Show has been a tradition on Memorial Day weekend. It is a diverse show that features mainly Americana, but with a good bit of English furniture, and ceramics is a strong suit. There are always some good paintings. With Longwood Gardens up the road, garden ornaments and garden furniture sell to gardeners. And with Winterthur down the road, it draws a well-informed audience. Moreover, it is in the region of the country where people live in 18th-century stone or Colonial Revival houses, and antiques go with the architecture, although dealers will tell you antiques go with modern design as well. It is a small show, 31 dealers, so every dealer has a chance at a piece of the pie.
The show, held May 23 through 26, was a pleasant experience. It was an easy drive, and there was free parking. The preview party was one of the best anywhere. It began in the courtyard where there was a bar, passed hors d'oeuvres, and a carvery, and went on to the first floor where smoked salmon and ice cold shrimp were piled high. It continued at a carvery on the second floor, with a very good piano player, and culminated with a sushi bar on the third floor where two busy food artists prepared fresh sushi continuously. Attendance at the preview party was 20% higher this year than last year, although attendance was 7% below the norm on the following three days. The weather was perfect; it was hard to leave the garden after a cold winter and wet spring.
There is always a loan exhibition. This year it was hand-whittled carvings by Wilhelm Schimmel. Brandywine's associate curator Dr. Amanda C. Burdan borrowed works from Winterthur, the Philadelphia Museum of Art, and private collections and made Brandywine's very large eagle with a 29½" wingspan the centerpiece of a menagerie of "Old Schimmel's" curious work.
In addition to the loan exhibition, the museum's summer exhibitions were an extra bonus. The first-floor galleries were installed with Lure of the Brandywine: A Story of Land Conservation and Artistic Inspiration, celebrating the dual mission of the Brandywine Conservancy and Museum of Art, with works that remind the viewer of the natural resources of the Brandywine watershed. Drawing from the museum's collection are landscapes by Jasper Cropsey and William T. Richards, and works by Horace Pippin, Howard Pyle, Frank Schoonover, Jessie Willcox Smith, and members of the Wyeth family. The exhibition is a brief survey of the museum's holdings. It continues through August 10.
Dealers gave lectures on Sunday and Monday on subjects ranging from 19th-century luxury glass (Arlene Palmer Schwind), Chinese export porcelain (Philip Dubey), and early English transfer-printed pottery (Michael Weinberg of West Pelham Antiques) to "Issues of Authenticity in American Furniture" (Stephen Shapiro of SAJE Americana) and southeastern Pennsylvania furniture (Jim Emele). Daily tours were available of the Andrew Wyeth Studio, the N.C. Wyeth house and studio, and the Kuerner Farm, which was a major source of inspiration for Andrew Wyeth.
Several dealers new to this show gave it a fresh look. Scott Ferris of J. & R. Ferris Antiques, Boonville, New York, brought some militaria, his father Dick's specialty. Dominating his stand was a large early painting of the Berkshires by Rockwell Kent. The painting came down in Kent's wife's family, from the Berkshires. It was by far the most expensive item for sale, $275,000, and a real discovery. Scott Ferris is working on the catalogue raisonné of Kent.
James William Lowery Fine Antiques and Arts, Baldwinsville, New York, was another good addition to the show. Jim and Jody Lowery had brought a selection of 18th- and 19th-century furniture, quilts, needlework, paintings, and decorations, including an unusual Middle States corner cupboard with decorative dentils and shaped shelves inside. They showed a dozen quilts folded on rods, with tags showing small photographs of each quilt fully open, which left their walls free for paintings and needlework.
Christopher Rebollo from nearby North Wales, Pennsylvania, also showed here for the first time and sold very well, finding buyers for furniture, paintings, and decorations. He has a local following.
Brennan & Mouilleseaux Antiques, Northfield, Connecticut, offered formal Classical furniture and antique garden ornaments, filling a niche. Newsom & Berdan, Thomasville, Pennsylvania, took Chuck White's place at the last moment (White was ill), and offered folk art, contributing to the country/formal balance.
Some dealers said they had a good show, and some did not. "That is show business today," said manager Peter Chillingworth. Tucker Frey and Tom Brown had a good show by the end of opening night. "It's the luck of the draw," said Brown. Stephen Shapiro said he sold half a dozen pieces of furniture by the end of the show, and Hanes & Ruskin made 17 sales. They sold a Salem worktable, a Windsor settee, a tiger maple drop-leaf table, a paint-decorated blanket chest, a brass chandelier, several pieces of English pottery, and Mexican jewelry. "We have done this show thirty-eight of the forty-three years," said Lee Hanes.
Mark Allen of Gilford, New Hampshire, said he has exhibited here for 30 years. "We have had good shows and great shows here; this was a great show." He said he sold a lot of iron, brass, and delft to a host of regular customers, but no furniture.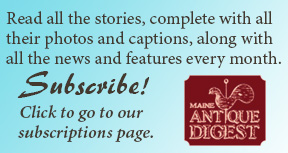 The show committee, headed by Jane Johnson for the second year of her three-year term, and show manager Peter Chillingworth, in his fifth year, made sure dealers had what they needed, including flower arrangements for their stands and a festive party on Saturday night. "The show would not go on without Donna Gormel, director of volunteer services at the Brandywine Museum," said Chillingworth. "She makes it all happen."
The pictures and captions tell more about the show. Most of the images are things that did not sell, proving that even on the last day of a show there are treasures to be found.
For more information, call (610) 388-2700 or check the Web site (www.brandywinemuseum.org).
Tucker Frey of Woodbury, Connecticut, asked $975 for the Philadelphia mirror; the dressing table sold to local collectors at the preview; the silvered English candlesticks were $1450; and the American cutlery tray was $2450.
Jim Emele of Dublin, Pennsylvania, asked $5800 for the Pennsylvania four-drawer cherry chest of drawers. The miniature blanket chest on it is mahogany and $5800, and the hanging shelf was $2250. The two horse and rider cookie cutters were $495 for the two.
---
Originally published in the August 2014 issue of Maine Antique Digest. © 2014 Maine Antique Digest