Tremont Auctions, Newton, Massachusetts
Antiques from the estate of Chestnut Hill, Massachusetts, show promoter, collector, and dealer Sonia Paine, who died last summer at 95, provided several bright spots in the Tremont Auctions November 19, 2017, sale in the Newton, Massachusetts, gallery. Paine, who opened an antiques shop in 1968, was herself a distinctly bright spot in the antiques world and beyond.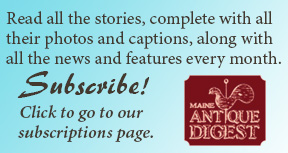 Knowledgeable and with a good eye, the indomitable Sonia Paine was a warm and generous woman. At the same time, she was a force to be reckoned with. You could have asked career criminal "Little Nick" about that before he died in 2008 in prison, where he had been sent thanks to Paine. On a fine summer day in 1995 the 78-year-old Montos presented himself and his gun in the then 73-year-old Paine's shop. She told him she didn't know anything about guns and couldn't appraise his. In turn, he assessed her antiques as junk, tied her up, cut the telephone line, and got to work smashing cases and trying to open the safe. As he moved to cut a second telephone line, the infuriated Paine managed to untie herself and pressed the silent alarm. She grabbed the baseball bat she kept behind the counter, and the rest is history. The police arrived, and EMTs carted Montos away. Career ended.
A highlight of the auction was this French champlevé mantel clock in a bronze doré, ormolu, and vermeil case with a dome top that is decorated with patterns of engine turning. It sold online for $19,200 (est. $1500/2000). The pendulum is decorated with a miniature painting on porcelain of a putto. The 18" x 11¼" x 7½" clock is marked "Medaille d'Argent / Vincenti & Cie." and was made in Paris between 1880 and 1910. It sold in the gallery to a Chinese dealer who plans to take it home to China.
A highlight of the auction was an 1880-1910 French champlevé mantel clock in a bronze doré, ormolu, and vermeil case with a dome top. Estimated at $1500/2000, it sold online for $19,200 (includes buyer's premium). A late 19th-century French jewel casket on a stand from Paine's estate sold online for $10,800 (est. $800/1200). Also from the Paine estate, a mid-19th-century Sèvres-style porcelain jewel casket with ormolu mounts and painted with scenic panels sold for $702; and a mid-19th-century Sèvres or Sèvres-style oval porcelain center bowl with ormolu mounts and ornate handles sold online for $1920. Other highlights from the Paine estate were a KPM porcelain plaque with an image of a young Jesus at the temple that sold for $5148; a French enamel plaque with a full-body portrait of Joan of Arc, signed "A. Armand d'apres A. Gues," that brought $3042; and a circa 1890 French kingwood and porcelain tantalus with marquetry inlay and bronze mounts, fitted with decanters and stemware, missing three liqueur glasses, that sold for $6435 (est. $1000/2000) to a couple in the gallery.
For more information, visit (www.tremontauctions.com) or call (617) 795-1678.
This large (20½" diameter) famille rose punch bowl brought $5616 (est. $4000/6000).
The top lot of a group of five paintings by Japanese artist Akira Tanaka (1918-1982), who worked mostly in France, was this 51" x 35" (sight size) oil on canvas of two women, each carrying a jug, that sold for $1872 (est. $600/800).
The Actress, a 18" x 14" (sight size) oil on canvas by Russian-born New York artist Raphael Soyer (1899-1987), brought $6435 (est. $1000/2000) on the phone. A note affixed to the back of the canvas reads, "Painting of 'Young Actress' sold by me to Mrs. Marxson [sic] June 5, 1954 / Raphael Soyer / 1947 B'way." The painting also retains a Vose Galleries label.
This 6½" high Georgian beaker with a hallmark for Ann and Peter Bateman, circa 1801, sold along with a second beaker (not shown) inscribed "John Thomson" for $877.50 (est. $250/350).
From Sonia Paine's estate, this 29½" high late 19th-century French bronze- and porcelain-mounted kingwood jewel casket on a stand sold online for $10,800 (est. $800/1200). The hinged cover and lock set are engraved finely, and the interior is lined with blue silk. Tremont Auctions photo.
This 1917 Waltham Watch Company trade sign, 32" x 65", oil on canvas, depicts an open hunter-case pocket watch, each side painted with an image of Ecuadorian mountains, by Ecuadorian artist Rafael Troya (1845-1920). Estimated at $4000/6000, the sign, which came from a local home, sold to the trade on the phone for $12,870.
The Park by Johann Henrik Berthelsen (1883-1972), a nocturnal New York City scene, oil on canvas, 25¼" x 30" (sight size), sold for $3276 (est. $1500/2500). The painting bears on the reverse an undated exhibition label from the National Academy of Design.
Near the Camp by William Trost Richards (1833-1905), a 1904 oil on board, 5 1/2" x 9" (sight size), depicting Matunuck, Rhode Island, brought $4680 (est. $3000/5000). Not shown: a 9 3/8" x 13 3/4" watercolor by Richards of a rocky coast brought $1755 (est. $300/500).
One lot included a quarter-plate daguerreotype, 2½" x 3½", of a boy, possibly Frederick J. Shepard of Derry, New Hampshire, in the seat of a horse-drawn buggy in front of a brick house with people looking out the windows; a sixth-plate daguerreotype depicting Shepard as an infant; a watch fob bearing the emblem of the Knights Templar of Freemasonry; and a chain marked "F.J. Shepard / Derry, N.H." Estimated at $400/600, the lot sold in the gallery for $4680. Catalog notes reveal that young Frederick was the son of William H. Shepard and his wife, Annie Bartlett Shepard, of Derry.
This mid-19th-century half-plate daguerreotype, 3¾" x 5", of a gold rush mining scene depicting an open pit with about nine miners and a sluiceway was estimated at $2000/3000 and realized $12,870 from a bidder in the gallery. According to the catalog, the daguerreotype was purchased at a Topper Hamblet auction, most likely in Sandown, New Hampshire, around 1960.
This misty landscape with houses, 13" x 16" (sight size), oil on board, by New Hope school artist John Wells James (1873-1951) brought $5148 (est. $4500/5500). James was a New York businessman who founded a wholesale drug company and a bank all the while pursuing painting.
---
Originally published in the March 2018 issue of Maine Antique Digest. © 2018 Maine Antique Digest