The Young Collector
By the time you read this, the holidays will be well behind us, and, let's face it, so will most of those New Year's resolutions. So since you've abandoned those good intentions, let us suggest a few replacement options. Don't overdo it—pace yourselves! As they do on those exercise videos that you have been meaning to use, we have also presented some modified options where appropriate. What we've done in years past is to make a list of small healthy changes we'd like to make—eating breakfast as a family, using reusable grocery bags, etc.—and then make one change each month. Of course, we never get past April with continuing to make changes, but the gradual implementation means a goodly number of those small changes have stuck over the years. Perhaps that will be the case with one or two of these as well.
Resolve to be a better record keeper. We have talked before about keeping and organizing invoices, receipts, and collection notes and cannot stress the importance enough. You are not selling your stuff now because you are waiting for a market rebound and have decided that your kids can be the ones to sell. Fine; we won't argue with that. But if you cringe at the thought of a 25% hit on all your Chippendale, how can you stomach the thought of the 40% hit your kids might take if they have no idea what they are selling or where to take it? Overachievers, feel free to digitize the information. Start a spreadsheet, create some folders of photographs, and give yourself a better sense of what you have. Cloud storage is cheap these days, and we get one terabyte of space for less than $10 per month. Feel free to drop us a reminder note later in the year, because this is one of Andrew's top priorities, now that we have all our stuff in one house rather than two houses and three storage units. Modification: put a folder on the kitchen counter and start putting your antiques-related paperwork there as you generate it or come across it. Something is better than nothing!
Resolve to protect your collection during your lifetime. While we are on the subject of taking care of your collection, seriously consider getting your collection appraised and insured! This is not a plug for Andrew's business—we are very sincere about this. Last month in his editorial, Clayton Pennington offered up some interesting (or alarming) statistics, including the fact that 51% of collections have not been appraised and 44% of collections are not insured. Believe us when we tell you—as our insurance agent directly told us—your homeowner insurance will not cover your antiques and art very well, even if the contents limit is far above your perceived value of your collection. (Clayton also noted that 39% of folks cannot estimate their collection's value on their own. Spreadsheets, people. This is what they were made for.) Many people think, "Oh, my homeowner's policy will pay up to $300,000 for contents! That's more than enough," but there are often limitations on the payouts for specialized things such as cash, jewelry, firearms, antiques, and art, so you need to get your antiques at least scheduled if not insured with specialty rider coverage. Overachievers, you will likely need an appraisal report from a qualified appraiser to make this happen. Yes, appraisals are expensive and time-consuming, but not nearly as expensive and time-consuming as facing the aftermath of a fire or flood and not being adequately insured. Modification: If you have a large appraisal it's also worth asking if the appraiser is willing to spread out the work, and thus the cost. As self-employed people, they might be happy to have the guaranteed income split into smaller amounts over a couple of years. At the very least, go see your insurance agent and make sure you understand and are comfortable with exactly what your policy covers.
Resolve to protect your collection beyond your lifetime. Plan for your stuff! Leaving your collection to your kids, grandkids, local humane society, whomever, is just fine, but have you put that in writing somewhere? Are there special things that you want to make sure someone in your family receives? Is there a dealer who has expressed interest in buying back items? Have you talked to your collection's beneficiaries to ensure that they want and will appreciate your things and that they are prepared to be good stewards of them? Leaving an enormous baroque dining table to a relation in a one-bedroom apartment, for instance, is likely not going to end well. And if you just want your family to feel free to sell your collection after you are gone, you can plan for that, too, and at least leave them with a contact to help them start the process. Overachievers, go get your will updated and make sure your collection is specifically addressed somehow. (And this is another reason to consider an appraisal—your heirs may well need one for equitable distribution purposes, and you can give them a jump on that process by having a reasonably recent appraisal with values for them to work from.) The modified version could involve making a list of the important things to pass along and asking your family if there are things from your collection that they would like to have someday.
Resolve to clean house! Same as many collectors, you have probably joked about having too much stuff. Maybe you have a few pieces that you paid too much for in the early days, that have problems you were not aware of when you purchased them, or that do not really fit with the direction your interests have moved in over the years. Resolve to do something about this. Clear that stuff out, let any old bad choices or mistakes go, and use the opportunity to learn about the process for dispersing a collection. Gift some things; sell some things. Take the temperature of your local museum for its ability and interest in acquiring a few things. See how an auction house or a dealer does with a few of your duplicates now and decide if you want to trust them later with dispersal of your collection. Overachievers, see if you can sell enough to fund a small vacation or pay your real estate taxes! Modified version: Pull ten things out of your house, pack them up, and give yourself six months to see if you miss them. If you don't, find them a new home.
Resolve to better utilize your local museums or public library! Your library may subscribe to online pricing and research resources or you can suggest that it consider them, and your local museum may as well. They also offer all kinds of programs, nearly always for free. Andrew has happily been providing free programming at numerous libraries and museums, and in just the last month, we have had the chance to take the kids to a solstice program and a holiday-themed program. Overachievers, if you want access to a resource, consider purchasing it for your local library or museum. You may be able to get a tax deduction for something you are already using, and you will get their undying gratitude. Or go sign up for all the e-mail newsletters and follow all the social media accounts of your local institutions! Modification: Go to a program at your neighborhood library or local museum or historical society—and if you are feeling ambitious, look for an opportunity to take along a young person in your life.
Resolve to attend a show or an auction in 2018. Many (most, we hope) of you do this on a regular basis, but many likely do not. Flip through these pages, and you will find countless ads for shows and auctions, as well as an events calendar. Find something near you and go! We hope to revive an annual pilgrimage to a favorite show this year and possibly even begin a new annual trip to a show. You might make a new friend or find a new favorite spot, and at the very least, you will be more in touch with the marketplace in which your collection lives. (We often encounter collectors who filled up their houses at some point and slowly stopped looking. Twenty years later, they are often in for a jolt when they realize how prices have changed.) Modification: Point and click! Online shows are an interesting new development, and watching an auction live while you work on a small project at the kitchen table also will help keep you in the market loop.
Resolve not to take offense. Some folks think that everyone is too sensitive these days, and others think they have reason to point out everyone's poor choices, but let's not worry about everyone else. It really is OK to let things roll off your back ("be a duck," as we tell the kids sometimes) and to choose to let things go. Yes, it is possible that person remarking on a blanket chest in your booth or auction meant to be a know-it-all jerk, but it's equally possible that he or she didn't get the words out quite right—or was having a bad day and didn't make as much effort as he could or should have. Overachievers, smile and ask about how the drive in was. Modification: Stick with the old standby "Thanks for stopping," which covers it all.
Resolve to engage with others. Sure, you can read that in the antiques sense. Reach out to an old friend you used to go to auctions with, make conversation with a dealer or an auctioneer, revive that "old days" community spirit people tell us the antiques business used to have. But engage in a larger sense too. For overachievers, try one of the best resolutions Hollie made in recent years that was both well kept and rewarding: pick one old friend and start trying to make contact each week, if only for a few minutes. Modified version: Start with looking the grocery store cashier in the eye when he or she says, "Thank you and have a nice day," and see if it doesn't feel like a more meaningful interaction when you say, "You too!"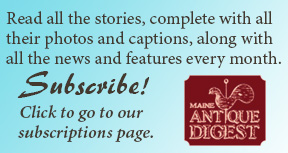 Resolve to be nice. We know that in this very different market, very angry world, and volatile political climate, it can feel as if everyone is waiting for you to make one wrong move and that it is impossible to get a smile to stick to your face, but try. Say hello, wave at strangers on the bike path, hold a door open, say please and thanks, and stick a little enthusiasm and eye contact in there. We all look at our phones so much and communicate in such perfunctory ways that we get a little rusty at the chitchat that moves everyday life along. Find something nice to say about a booth you walk into or an auction you attend instead of lamenting a low price; fill out a comment card to let a museum know about a helpful docent instead of to complain about there not being enough salt on the sidewalk; congratulate someone on a purchase instead of pointing out the crack or the likelihood that it is a reproduction or is exactly the same as the one you used to own only not as nice. A little goes a long way in terms of reducing the pressure that everyone seems to be feeling. No modification on this one! No modifications, just best effort. Be nice today for as long as you can and get up tomorrow and try to beat your own personal best. That's how champions are made, folks.
Resolve to renew your subscription to M.A.D. and every other antiques publication you get. That's the modified version—nothing less! Overachievers can add a couple to the list or maybe renew or subscribe to non-antiques print magazines and newspapers that offer information you find enjoyable or useful, be it politics or consumer reviews. Online info can be topnotch, but print publications are heavily invested in the stories they tell, quite literally. Supporting publications ensures that they have the resources to do their jobs well and not just provide space for advertisements.
There, that should keep you busy for a bit. Make the best of 2018!
---
We welcome ideas, tips, criticisms, and questions regarding "The Young Collector." We may be reached by e-mail at <[email protected]> or on Facebook (www.facebook.com/TheYoungAntiquesCollectors), or by writing The Young Collector, c/o Maine Antique Digest, PO Box 1429, Waldoboro, ME 04572.
---
Originally published in the February 2018 issue of Maine Antique Digest. © 2018 Maine Antique Digest