A collection of 67 dolls was consigned three years ago to Theriault's in Annapolis, Maryland, a well-known auction house specializing in antique dolls and childhood playthings since 1970. The consignment resulted in no payments until the consignor filed a lawsuit in California.
Bart I. Ring, attorney for plaintiff Phyllis Roberts, a longtime doll collector and, according to court documents, a "charter member of the San Fernando Valley Dollers," said he is evaluating the accounting his client received from Theriault's. The suit claims that the doll collection "is valued in excess of $100,000."
Roberts, 94, who resides in an assisted living facility, accuses Fleetville Group Ltd., which does business as Theriault's, of financial abuse of an elder, fraudulent inducement, negligent misrepresentation, deceit, conversion, unfair business practices, and more. Stuart Holbrook, president of Theriault's, and Florence Theriault, a founder, are named as codefendants.
There's a line in the consignment agreement that might account for the long delay in any payment. Theriault's contract states that it will settle the account 65 business days "after the last session of the final sale of all the Property." Using a strict reading of the contract, Theriault's would not need to pay until everything is sold. Theriault's contract states that it has "absolute discretion" to determine when and where the property will be sold.
Roberts consigned her collection to Theriault's on October 6, 2014. A list of 67 lots with minimal descriptions is attached to the contract. Theriault's was to receive a 25% commission of the gross proceeds.
The lawsuit alleges that Theriault's had failed to "account for the results of any auction, the location and whereabouts of [Roberts'] rare doll collection and instead continues to either have possession of the rare doll collection and/or sold some or all of the rare doll collection."
Some of the dolls have appeared in sales. A size 12 French bisque Bébé by Emile Jumeau, estimated at $4500/6500, sold for $6000 on May 2, 2015, according to Theriault's website.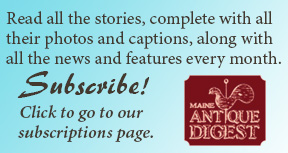 Roberts claims that the consignment and sale was relied upon to help fund and defray the cost of her long-term care. In California, she is defined as an elder under the California Elder Abuse and Dependent Adult Civil Protection Act.
Paul Bloomberg, Theriault's attorney, said on October 6, "As I told the attorney, all the allegations stated in the lawsuit are false." Bloomberg said he didn't have the amount of any payment in front of him, but that the payment was "whatever the proceeds of the auction, less whatever my client earns."
When asked about the almost three-year delay in selling all the goods, Bloomberg said, "Things that are consigned are sold by Theriault's at the locale to receive the highest and best price. Sometimes the highest and best price can't be achieved for a period of time."
---
Originally published in the November 2017 issue of Maine Antique Digest. © 2017 Maine Antique Digest