Doubleday House Antiques Gallery in Ballston Spa, New York, will host a holiday open house on Saturday, December 2, and Sunday, December 3, both days from 10 a.m. to 5 p.m. Additionally, the shop will hold an opening preview evening on Friday, December 1, from 5 to 8 p.m.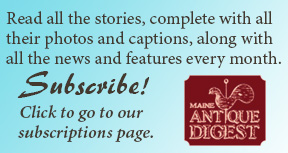 "We will be offering sales throughout the shop, and refreshments will be served; our dealers will be present and available to talk about their offerings." said owner Mary Jane Breedlove. "This year we have added a Friday evening to the celebration to give our customers more options to come celebrate the holidays with us and to shop on their schedule."
Doubleday House Antiques Gallery is a group of six dealers offering a selection of primitive and formal furniture, glass, pottery, silver, art, and other antiques from the 18th to early 20th century. The shop is located in the historic 1804 Abner Doubleday house located at 28 Washington Street in Ballston Spa. For more information, call (518) 309-3745 or visit the website (www.doubledayhouse.com).
---
Originally published in the December 2017 issue of Maine Antique Digest. © 2017 Maine Antique Digest