Skinner, Inc., Marlborough, Massachusetts
History was on view and for sale at Skinner, Inc.'s October 26, 2017, auction of historic arms and militaria—an auction that kept collectors and representatives of institutions in their seats throughout the sale. Bidding in the Marlborough, Massachusetts, gallery was strong to the end. (All prices given include the buyer's premium.)
The auction's highest-priced lot included Captain James Sewall Reed's presentation revolver, a Model 1851 Colt Navy revolver engraved by Gustave Young, a German immigrant and Colt's chief engraver from 1852 to about 1869. It was accompanied by a leather holster, an Ames presentation sword, a presentation scabbard and a field scabbard for the same sword, and an 1864 obituary for Reed. Also included was the scrap of black gauze on the sword guard that held the sword to the coffin at Reed's funeral.
The peripatetic Reed, born in 1832 outside of Boston, went to California at 18, joined the militia there, and later formed and led the "California Hundred," which went east to Massachusetts and became part of the 2nd Massachusetts Cavalry Regiment, which went in pursuit of Confederate ranger John Singleton Mosby. On February 22, 1864, Mosby ambushed Reed and his men and killed him.
Reed's revolver, holster, and sword had been presented to him by the San Francisco 1st Light Dragoons, of which he was the captain. Reed's artifacts are thought to have been returned to Massachusetts with his body, and they remained in his family until coming to auction. Estimated at $30,000/50,000, the lot sold for $79,950 to a collector in the gallery. Skinner photo.
One of the big draws was the lifelong collection of the late Nicholas A. Penachio, which ranged from simple but significant objects to grander pieces of history. Penachio collected medals from the French and Indian Wars through the Vietnam War. Much is revealed about the recipients, the donors, and the makers, illustrating their times and the customs.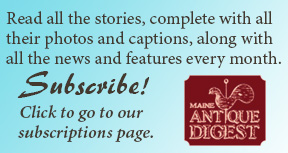 Other collections, including that of the Valley Forge Historical Society, supplied historic arms and the accouterments of warfare. They, too, delineate the lives of those who used them.
For more information, contact Skinner at (508) 970-3000; website (www.skinnerinc.com).
Brigadier General Kenner Garrard's presentation sword, circa 1863, had been given to him after the Battle of Gettysburg by the 146th New York Volunteer Infantry Regiment, known as "Garrard's Tigers." It has a gilt-brass knight's-head pommel, a silver grip with foliate, medical, and star designs, an eagle over a shield langet, and foliate designs.
Garrard graduated eighth in his class from the U.S. Military Academy (West Point) in 1851, served in Texas, became commandant of West Point in 1861, and later commanded troops at the Battle of Gettysburg. From the Penachio collection, the sword sold for $11,685 (est. $8000/10,000). Skinner photo.
This 66½" long military fowler, made around 1775 by Joel White of Sutton, Massachusetts, has a cherry stock and a French-style butt. The brass butt plate with bayonet storage area is engraved "SMC" on a silver escutcheon in the shape of a serpent, and the sighting plane of the barrel is engraved "JOEL WHITE." Made for General Samuel McClellan of nearby Worcester, Massachusetts, who served in the French and Indian Wars and the Revolutionary War, the fowler had descended in the McClellan family, which included the general's great-grandsons General George B. McClellan and Major Henry B. McClellan. It sold for $58,425 (est. $20,000/30,000).
This Worcester County, Massachusetts, fowler, a hunting long arm used in war, was the subject of a lecture the night before the sale by Richard Colton, former historian of the Springfield Armory National Historic Site. Skinner photo.
An ominous silence fell over the salesroom 27 lots later when a 1st District of Columbia Cavalry Regiment Henry rifle (not shown), made by the New Haven Arms Company in Connecticut, came up for bid. Although the rifle had been captured by Confederate General Wade Hampton during the Beefsteak Raid in Prince George County, Virginia, and given to his adjutant, Major Henry B. McClellan, and had descended through the McClellan family, it was bought in at $110,000 (est. $150,000/200,000).
The 1812 silver commemorative medal depicting Captain Isaac Hull, commander of the U.S.S. Constitution during the battle between that ship and H.M.S. Guerriere, was presented by Congress to Lt. George C. Read and other officers aboard the ship for gallantry, good conduct, and services in the action. From the collection of Nicholas A. Penachio, the 64.9 mm diameter medal and its leather, pasteboard, and silk-lined presentation case went at $67,650 (est. $25,000/35,000) to a phone bidder. Skinner photo.
The Butler Medal, also known as the Colored Troops Medal, recognized meritorious or heroic acts of bravery on the part of African American troops at the Battle of Chaffin's Farm and New Market Heights in Virginia. It was commissioned and paid for from his own funds by Major General Benjamin Franklin Butler of the Army of the James. The silver medal, suspended from a red, white, and blue ribbon, is itself suspended from a silver wreath marked "ARMY OF THE JAMES" and was issued in 1865. A brass tab indicates that Margret [sic] Minetur had presented this medal, which was awarded to her husband, to Samuel B. Bancroft for his bravery in the war and his many kindnesses to the widow of his dead comrade. From the collection of Nicholas A. Penachio, it sold for $20,910 (est. $400/600) to an online bidder. Skinner photo.
This Tiffany & Co. medal, circa 1864, with gold crossed sabers and a gold Maltese cross and star with blue enamel trim was presented by Major General George Custer for bravery to the 25th New York Cavalry. From the Penachio collection, it sold for $13,530 (est. $15,000/25,000). Skinner photo.
Joseph Eliot's (or Elliot's) canteen in the form of a cheese box with pine sides, 73/8" diameter x 2¾" thick, circa 1776, was a major rarity. It had belonged to the Revolutionary War soldier from Massachusetts who marched at the Lexington alarm, the Siege of Boston, and the Battle of Saratoga. It is incised on one side "IOSEPh / ELIOT / 1776" and retains an iron wire cord loop. The canteen had descended in the family, had been owned in 1908 by Charles Darwin Elliot, who lived in the Boston area, and was sold to the consignor's family after Charles Darwin Elliot died. Estimated at $3000/5000, it realized $20,910 on the phone. Skinner photo.
The 56½" x 22½" gangway board from the U.S.S. Hartford, circa 1858 (the year she was launched in Boston), had been carved with a star, a winged sea dragon, an applied rope, and foliate designs. From the Penachio collection, having been purchased at Northeast Auctions in August 1987, it sold to an online bidder for $13,530 (est. $5000/7000). Skinner photo.
This 40" log from the Battle of Chickamauga is embedded with two six-pound solid shots, three 12-pound case shot fragments, and a fragment of a Schenkl-nose bursting shell, and painted on the top is "From Chickamauga Battlefield / Johnson Post G.A.R. / Northboro / Massachusetts." Estimated at $12,000/15,000, it sold for $7995 to a collector in the gallery.
This surgical kit that once belonged to surgeon Lincoln Ripley Stone of the 54th Massachusetts Voluntary Infantry Regiment, the first African American regiment of the Civil War, sold on the phone for $24,600 (est. $8000/10,000). The walnut case, lined with purple velvet and marked "H. HERNSTEIN," contains an amputation saw, scalpels, a tourniquet, a trephine, and other medical instruments and was accompanied by its original leather carrying case. The lot came from the estate of Dr. Timothy Pickering Stone.
The set of inspector gauges used in the production of the U.S. Model 1842 percussion pistol, a U.S. Model 1842 Springfield pattern pistol, and a framed set of six progressive production blanks for the pistol's stock (not shown), ex-Penachio collection, sold for $29,520 (est. $15,000/25,000).
The Biter Bit, a 30" high allegorical bronze figural sculpture by Karl Hubert Maria Muller (b. 1820) of an African American soldier with a dead dog impaled on his upraised bayonet, ex-Penachio collection, sold for $5228 (est. $3000/5000). The base is marked "The Biter Bit. 1863," "P.E. Guerin. Manufacturer. NY," and "K Muller / 1864."
Late in the Civil War, southern troops used bloodhounds to attack African American troops (as they had done previously with escaped slaves). When the Confederates attacked the 1st South Carolina Volunteers, a Union Army regiment composed of escaped slaves from South Carolina and Florida, the hounds set on them were soon shot or speared.
---
Originally published in the February 2018 issue of Maine Antique Digest. © 2018 Maine Antique Digest