On December 5, 2017, Milford, Delaware, police arrested a 40-year-old Milford man in connection with a November theft that occurred at a residence on West Bullrush Drive.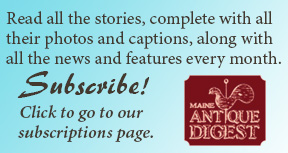 David A. Honeycutt, 40, was charged with one count of theft under $1500 where a victim is 62 years of age or older after a warrant was obtained following an investigation into an alleged theft of antiques. The investigation included information obtained from a statewide law enforcement database of pawned items.
Honeycutt was presented at the Justice of the Peace Court #2, where bail was set at $1500 unsecured. Honeycutt was scheduled to appear at the Sussex County Court of Common Pleas on December 14, 2017, for a preliminary hearing.
---
Originally published in the March 2017 issue of Maine Antique Digest. © 2017 Maine Antique Digest