Editorial
When the federal grand jury's indictment of Paul Manafort and Richard Gates was handed up on October 27, court papers revealed a tantalizing mystery. Manafort, accused of laundering money in offshore accounts and failing to pay taxes on it, had an appetite for decorative arts.
The indictment lists Vendor C as an "Antique Rug Store" in Alexandria, Virginia, where Manafort-controlled entities spent $934,350 on eight purchases between October 7, 2008, and June 16, 2010. The most expensive purchase was $250,000.
Vendor D is listed as "Related to Vendor C," the antique rug store, and the indictment includes a $100,000 transaction on February 28, 2012.
Vendor G is listed simply as "Antique Dealer in New York." Transactions with Vendor G total $623,910 for five purchases from September 2, 2010, to February 26, 2013. The largest transaction was $190,600.
February 28, 2012, was a big day—$190,600 was paid to Vendor G and $100,000 to Vendor D on the same day.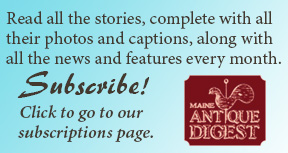 Vendor R, described as an "Art Gallery in Florida," had two Manafort transactions of $17,900 and $14,000 in 2011 and 2013 for a total of $31,900.
Manafort was a good buyer, wherever his money came from. From 2008 to 2013, he spent $1,690,160 on antiques and decorative arts.
The vendors in these transactions are not accused of any wrongdoing, and one expert in money laundering told the media it's unlikely that Manafort was using these purchases to further launder money. Most likely, he was furnishing his home and rental properties.
The high-profile case, already dripping with palace intrigue, is even more interesting with the high-end decorative arts connections. Stay tuned.
S.C.P.
---
Originally published in the December 2017 issue of Maine Antique Digest. © 2017 Maine Antique Digest