A Healthy Heart Pumps Life into a Chilly Southern Weekend
February 13th, 2014
Above a dry sink, B. Hannah Daniel of Athens, Alabama, placed this "Home for Thanksgiving" hooked rug for $1600 with its strong "over the river and through the woods" sentiment.
The folks from Dover House Antiques in Louisville, Kentucky, reported good results with a well-designed formal display. One important case piece sold was this cherry brandy board, an unusual form from Virginia, circa 1810, which measured 38" x 43". The petite dining room piece with a single drawer over cupboards seemed to retain the original brasses and was decorated with tulipwood inlay. The handsome portrait of a lady in a black dress above, circa 1830, was $3500.
Antiquarian bookseller Sonny Ideker of Roswell, Georgia, lined his shelves with heavyweight tomes in a pleasant browsing corner. Associate Steven Martin shows off a selection of vellum bindings going back to the 16th century. Among them was a copy of a work by Dionysius of Halicarnassus, printed in 1540 by the Aldine Press in Venice, with its anchor and dolphin mark.
Mario Pollo of Holliston, Massachusetts, offered a diverse mix of antiques—a game board for $6950, a cast-iron twig settee and two armchairs for $3950, and a "Basement Store" sign for $3250. But it was hard to miss the decorative French zinc bathtub in the room, adaptable as a planter or punch bowl, for only $4000.
Robert Perry of Orchard Park, New York, was sharing with Nancy Fishelson, who has a design business in Killingworth, Connecticut. Perry's New England country daybed with linen cover was $3200, while Fishelson's graphic horse hooked rug was $3800.
Ashley Hernandez helps handle the traffic in the corner "Under $200" booth stocked with merchandise from many dealers. One unusual treasure at that price was a Napoleon fireboard, circa 1850, showing the emperor pining away in exile.
Pennsylvania dealer and designer David Drummond had put together the Showcase Gallery Booth titled "WEAVE: Stunning Textile Arts Born of America's Looms" with this clever woven paper façade. He said, "It's all about American weaving—even wicker baskets—anything woven."
Heart of Country, Nashville, Tennessee
The Heart of Country Antiques Show secured its perfect dates this year, with the popular southern buffet preview party falling on February 13 and a public opening on Valentine's Day and closing February 15. Dealers had put aside heart-shaped antiques for their display, and the ever lively National Wild Turkey Federation was once again gathering next door in the convention center at the massive Gaylord Opryland Hotel in Nashville.
The southeast section of the United States had a rough few months during the "Winter from Hell"—a fitting title since hell had in fact frozen over. What might pass for almost normal in Ann Arbor or Bangor wreaked havoc in Atlanta, where people abandoned cars and holed up in shopping malls when the ice hit. The Nashville show was lucky in this respect and occupied a decent weekend, considering what the weather had been before and after the mid-February dates.
Heart draws dealers from a broad area, with many driving in from New England and the Mid-Atlantic. Dennis Raleigh of Wiscasset, Maine, reported, "We left Monday—we didn't have any problems. It was fine all the way." While exhibitors may not have found the balmy weather and spring flowers that Nashville often provides that time of year, there was no ice or snow on the ground.
Cathy Consentino of Timber River Farm, New Brunswick, Canada, had one word for the weather back home—"terrible." She has long been a regular participant in the multiple Nashville February events and shared the reason she prefers to do Heart of Country these days: "For us, it's always well done—you know what to expect. And you know, if you need anything, the promoters are going to step up and take care of it. The problem goes away. It's very organized in the nicest fashion."
Show owner Susan Kramer Hunkins is always watching over the event, now in its 33rd year in Nashville. Just as she once helped out her parents, Dick and Libby Kramer, now she has a well-trained crew of family and friends to support her. Although the show did try mounting an October edition for a few years, Hunkins likes the format of one big show a year: "If you know there is another coming in six months, you might think, oh, I'll wait for the next one. I always thought it was really important to just have the one."
Collectors return to Heart confident that they will find certain beloved elements, such as the celebrated southern buffet and bluegrass music on opening night. While those preview party ticket holders certainly come for the antiques, there always seems to be a whole lot of eating going on. Barbecue and cherry pie help fortify buyers as they get a feel for the show. The next day many regulars are faithful participants in the Friday morning walking tour with expert guides, who point out interesting items around the floor.
Visitors also look for the special "Showcase Gallery Booth" in the center aisle. This year, dealer/designer David Drummond had put together a display titled "WEAVE: Stunning Textile Arts Born of America's Looms," which was entered through a clever woven paper façade. He explained, "It's all about American weaving—even wicker baskets—anything woven." Inside the area, visitors found everything from coverlets to Navajo rugs to wicker chairs drawn from dealers' private collections and inventory. "WEAVE" was a perfect theme because Heart has always been a strong textiles show. In 2014, no one could fail to notice the eye-catching hooked rugs with designs ranging from classic to quirky on the walls of many booths.
Susan Hunkins was selling special antiques from her own lifetime collection, including a leaping rabbit hooked rug, 1920-30, for $3500, which she had acquired from rug book authors Joel and Kate Kopp, and another rug with two pink-ribboned cats for $1200. She also offered an appliquéd cat quilt with purple squares for $575 and did a brisk business selling felines from a case full of cat-shaped toys and oddments.
Yet another traditional Heart feature is the "Under $200 Booth" in a back corner, stocked with inexpensive items from exhibitors' inventory. The space was packed at the preview party, where many obviously considered it a great place to start looking. Hunkins noted, "People who could spend $1000 on something will still go to the under $200 booth and buy something, no matter what." Everybody loves a sale.
What distinguishes Heart from other Americana shows is that—mixed in with dealers from the East and Midwest—there is a strong contingent of southern exhibitors with regional furniture and decorative arts. These include show veterans like Michael Hall from Nashville, who brought a rare Tennessee pitch pediment tall chest, as well as first-time exhibitor Rick Setser of Atlanta, Georgia. Looking around his booth, Setser said, "Virtually all my furniture is southern. This is poplar, secondary pine, from South Carolina, and this piece in cherry is from North Carolina." The dealer had long shopped the show and became friends with many exhibitors before stepping into the business himself.
As it happened, Heart's dates coincided with the February 14 opening of A Rich and Varied Culture: The Material World of the Early South, a groundbreaking exhibition at the DeWitt Wallace Decorative Arts Museum in Williamsburg, Virginia. The show, which features furniture, fine art, architecture, and decorative accessories from distinct geographic areas in the South, drew its exhibits from ten institutional lenders as well as private collections. The scholarship and attention generated by the ongoing exhibition is sure to whet the appetite of southern collectors hoping to acquire good pieces related to their own regional history.
The 2014 Heart of Country Antiques Show had about 85 dealers on its roster, with some sharing a blended booth. As the images amply illustrate, exhibitors work hard to create imaginative and engaging displays. While there is a pleasant unity in the quality and presentation of traditional Americana, there are also certain dealers who always give collectors something new to think about. That might be the surprising selections of Harvey Pranian, the Native American textiles of Steve Smoot, or Cats Cradle Antiques' display of inhuman gnomes, who probably spend their nights scampering around the show floor.
After the show, Susan Kramer Hunkins reflected, "Since the show takes place just once a year, we know how much everyone looks forward to it. We love catching up with the dealers and all of our loyal customers, all of whom do a lot of planning ahead of time to make the trip. We were thrilled with how many customers, new and veteran, were undeterred by the bluster of winter that covered most of the country and found Heart of Country to be a happy oasis where they were well rewarded for their efforts."
Dealers and collectors can follow show news at the main Web site (www.heartofcountry.com).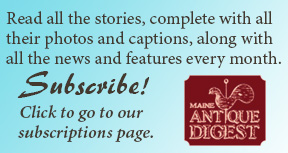 Steve White of White & White Antiques and Interiors, Skaneateles, New York, always sets up across from his brother Dave. At center left stands one of two armchairs from a set of eight Sheraton English walnut dining chairs with distinctive splats, $3995 for all. The New York state portraits from the 1830s on the wall were $13,500.
Another southern piece offered by Rick Setser was this cherry North Carolina corner cupboard with scalloped cornice for $1850.
Alan Stiegemeier of Old Town Antiques, Quincy, Illinois, used this early 19th-century walnut corner cupboard with blue interior, priced at $5650, to display pewter and decorative molds. On the door, a coverlet with the legend "Phillip Heifner/ Wane County/ Perrey Township Ohio/ 1846" was $725.
---
Originally published in the May 2014 issue of Maine Antique Digest. © 2014 Maine Antique Digest