Presidential Ephemera Sold at Roland Auctions NY
February 19th, 2016
Roland Auctions NY, New York City
Photos courtesy Roland Auctions NY
A small group of collectors gathered in the street-level salesroom of Greenwich Village-based Roland Auctions NY on February 19 to bid at the first of several auctions containing collections from the estate of Dr. Alan York.
An East Hampton, New York, optometrist, Dr. York (1925-2014) collected historical ephemera, numismatic items, bank notes, and stamps for more than 50 years. This first auction included presidential campaign ephemera from George Washington through Abraham Lincoln, a timely subject.
A dozen collectors, almost all of them men, most of whom knew one another, some of whom knew York, joked around in a relaxed atmosphere and were deftly managed by auctioneer Michael Podniesinski. Many of the 185 lots sold online through LiveAuctioneers, but the salesroom did see lots of action, especially from two men in the front row, New Jersey coin collector Dr. Arnie Saslow, and the man he was consulting with, Mark Shenkman, a private collector from Greenwich, Connecticut, whose interests include flags, currency, and American furniture from the Federal period. Together they amassed 36 lots.
This Benjamin Harrison silk and linen campaign flag, 13" x 23", bearing seven red stripes and six white stripes with a blue field containing 36 stars, with a sewn-on linen strip painted "Harrison" on the right edge, sold in the salesroom to collector Arnie Saslow for $8750 (est. $5000/7000). He competed against an online bidder.
Overall the sale brought "just shy of a quarter of a million dollars," said Podniesinski, or $245,000 (with buyers' premiums). Roland Auctions NY is owned by brothers William J. and Robert Roland, antiques dealers and wholesalers who started holding auctions in 2010.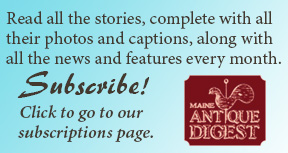 In the auction catalog's foreword, the Roland brothers wrote, "From our first viewing of this spectacular East Hampton home, we were astounded by the breadth and depth of this collection. It was like stepping into a time machine. Dr. York had assembled the most impressive survey of American political history that we had ever seen in one private collection. Buttons, ribbons, posters, medals, coins, newspapers, pins, flags, props, and drums were everywhere. Every item in the house called back to a specific moment in American history: the Revolutionary War, the Civil War, abolition, prohibition, segregation, scandals and triumphs of presidents, congressmen, and politicians of every bent."
The highlight of the sale, as well as the top lot of the sale, was a Stephen A. Douglas 1860 portrait campaign flag. Two bidders on the phone and one online vied for it. It sold to dealer Jeff Bridgman of York County, Pennsylvania, who was bidding online. The dealer of antique American flags paid $18,750 (est. $8000/12,000) for it and said in a post-sale telephone interview, "It's got a portrait, which is important, a shield-shape star pattern, which is wonderful, and it's from the 1860 election, which is significant in the political world as well as the flag world. Furthermore, the condition is wonderful."
The top lot of the sale, this 1860 glazed cotton campaign flag, with "For President, Stephen A. Douglas, Vice President, Herschel V. Johnson" printed in blue, sold on the phone to antique flag dealer Jeff Bridgman for $18,750 (est. $8000/12,000). He competed against an online bidder and another phone bidder. "The condition is excellent," Bridgman said in a post-sale telephone interview, adding,"I own five other Stephen Douglas campaign flags that are more rare." The York County, Pennsylvania, dealer explained that this flag has "a portrait, which is important, a shield-shape star pattern, which is wonderful, and it's from the 1860 election, which is significant in the political world as well as the flag world."
Auctioneeer Podniesinski had called it "one of the gems of the sale" before opening the lot for sale.
According to Rex Stark, a dealer of historical Americana from Gardner, Massachusetts, who left bids with the auctioneer and purchased a few lots, "Roland did their due diligence by sending e-mails to a large group of collectors. Everybody knew about it." Stark explained that York had been a customer of his in the late 1970s and early 1980s, but he hadn't heard from him in decades.
"They [Roland Auctions NY] got very good prices," the longtime dealer acknowledged. He successfully bid for the lot he wanted the most—a "Fremont / Kansas / Fusiliers." campaign banner, which was estimated at $1500/2000 and sold for $4375. Stark said he "purchased it for inventory along with a few other lesser lots."
This blue-dyed cotton and linen John C. Fremont Kansas campaign banner/flag sold to Massachusetts dealer Rex Stark for $4375 (est. $1500/2000). "I'm delighted. It was the item I most wanted," he said in a post-auction telephone interview, explaining that "fusiliers is an archaic term for riflemen."
In publicizing the sale, Roland Auctions NY sent e-mails to several individual collectors as well as to APIC, the American Political Items Collectors, an association of about 2000 political memorabilia collectors. Its 2016 national convention will be held July 6-10 in Harrisburg, Pennsylvania.
An association of Lincoln collectors was represented by Jonathan H. Mann, a historian and filmmaker who also publishes the Rail Splitter, a journal "written by collectors for collectors" whose "community…enjoys the commonality of a shared passion: the love of Lincoln, the love of American history," according to its website.
This printed silk bandana issued for William H. Harrison's 1840 campaign has a scarlet background behind Harrison's portrait and a wide pictorial border with multiple depictions of Lady Liberty carrying the American flag to "farmer" Harrison imploring him to lead the nation. The 25½" x 27" bandana sold in the room to New Jersey collector Arnie Saslow for $11,875 (est. $6500/8500).
This campaign jugate of John C. Fremont and William Dayton from the 1856 campaign, with opposing oval portraits in bust-length three-quarter profile poses, imprinted at the bottom "The Champions of Freedom," was published by C. E. Lewis, Buffalo, New York. The 18" x 22¾" jugate sold to an online bidder who paid $13,750 (est. $300/500).
Mann was in the salesroom and bought several lots for clients, including an 1860 Lincoln campaign songbook and an 1860 Republican Wigwam lithograph. The Wigwam, located at Lake Street and Wacker Drive in Chicago, is where Republican delegates met and nominated Abe Lincoln for president in 1860.
This 9½" x 14" (sheet size) lithograph, titled "Republican Wigwam, Erected by the Republicans of Chicago for the Campaign of 1860, capable of holding 10,000 persons...," published by McNally & Co., is based on a sketch by E. Whitefield. It sold for $1875 (est. $500/700) to Jonathan Mann, a collector, dealer, historian, and filmmaker, who was bidding on behalf of clients.
This campaign songbook from 1860, The Young Men's Republican Vocalist, published by A. Morris, New York, has an engraved bust-length portrait of Lincoln on the front cover. It sold in the salesroom for $2500 to Jonathan Mann, bidding on behalf of clients. The 5 7/8" x 3¾" songbook was estimated at $600/800 and was accompanied by an advertisement broadside with the headline "Proclamation of Emancipation / The Second Declaration of Independence!"
The York property "is the sort of holding we call 'generational.' Not often does a huge political Americana collection come to the market all at once—particularly one built decades ago," Mann explained in a post-auction e-mail.
The state of the presidential ephemera market is changing dramatically, Mann stated, citing the "graying-out of huge numbers of collectors." However, there is a "flight to quality—that which is genuinely appreciated as difficult to source is commanding big numbers. Political Americana remains a market that is vibrant and enjoys new blood—at least every four years during a national election!"
Roland Auctions NY will hold a sale of Alan York's foreign medals and space race ephemera on April 26, and part II of York's presidential and campaign ephemera will be held in July, date to be determined. Further information is available online (www.rolandauctions.com).
This memorial broadside, with the headline "Union League / Remember Lincoln!," was published by Press Print, 16 Weybosset Street, Providence, Rhode Island, in 1865. The 24" x 18" broadside sold to an online bidder for $4375 (est. $300/500).
---
Originally published in the May 2016 issue of Maine Antique Digest. © 2016 Maine Antique Digest