Scott Antique Market: You Can Get Anything You Want
July 13th, 2014
Don Scott still enjoys the excitement on the show floor during the monthly market he established in Atlanta over 25 years ago. He takes care of business in a comfortable office filled with antiques and artifacts.
Roy Bird of Ironwood Restorations, McConnells, South Carolina, specializes in pocket watches and railroad watches, mostly American, as well as clocks and navigation instruments. He said, "I love instruments. I started when I was about eight years old restoring all these things." In a drawer of plain and fancy watches, each one carefully labeled, was one at the bottom center marked "Illinois Watch Co." It was $485.
"A young couple can come in and buy a bedroom set from me and not break the bank," noted Ron Goins. Among the good condition pieces ready to take home were a Weitz dresser for $450, with a pair of nightstands, $275, and a useful bar cabinet, $225.
Kevin Scanlon of Atlanta, Georgia, filled multiple booth spaces along a wall in the North Building. A pair of industrial supports with a new top of old walnut becomes a dining or office table for $795.
Peter Sardelis Custom Designs, Jemison, Alabama, can make a lamp out of anything including grandpa's fiddle and your high school trumpet. The violin lamp was $225; industrial gear, $195; and trumpet, $195. See his work at (www.peterslamps.com).
Sean Kenney of String Theory Rug and Textile, Atlanta, was a fresh face on the floor. Young women were looking through his colorful array of "summer blankets," a type of light quilt that Indian women make out of old saris. The colorful fabric lengths from the Darjeeling area can be repurposed as clothing or upholstery.
Jeanie Kellett of Woodruff, South Carolina, one of many vintage clothing dealers at the market, specializes in Persian lamb. The mocha jacket at right was priced at $600, and the bright red alligator purse below was $875.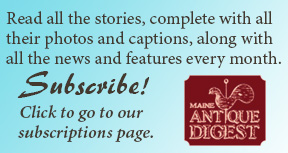 Atlanta, Georgia
The Scott Antique Market is held around the second weekend of each month in the Atlanta Expo Center, not far from the city's busy international airport. The show draws collectors, decorators, and dealers searching for that next great thing to add to their inventory. Although not as incomprehensible as Round Top or Brimfield, the show is definitely a never-see-it-all event. And many of the same dealers like to exhibit at all three of those shows. While you can browse around on the Internet, getting out there and walking through the merch is a lot more fun. The exact thing you were looking for—and perhaps something you never dreamed of—may turn up and draw you in.
Most exhibitors are set up inside the North and South Buildings, located on either side of I-285. Shoppers pay a very modest entry/parking fee, and a shuttle bus runs back and forth between the buildings. As if those vast interiors were not enough to cover, there are permanent outdoor sections, as well as tents and tables in the open air. The show runs for four days, and visitors should devote at least two to the hunt so they can relax and take time to look. There is no dealer map, but some exhibitors set up every month in the same spot, while others show up once or twice a year.
Founder Don Scott sat down in his office near the front of the North Building for an interview and then walked out to give a guided tour of the floor. He shares his love of antiques, history, and archaeology with boundless enthusiasm. He followed the familiar collector-to-dealer path and then founded his own show because he saw the need for something different. He grew up working hard on a produce farm and discovered antiques when he visited his grandmother's Victorian house.
As an adult, his career as a professional pilot took him around the world, but that urge to collect was already bubbling up as he traveled. He remembered, "When I went out on my own, I couldn't understand buying new furniture because it depreciated. With an antique, age just gives it more character and value. I started decorating with antiques. [With] every new place, I'd go out to flea markets and yard sales to decorate my home. But every time I moved, it wasn't practical to take the stuff, so I'd have a sale and sell everything." And that is how he turned into an antiques dealer.
In 1976, Scott went to Brimfield and was impressed with the honesty of the business. "Nothing was ever stolen; no bad checks. I bought and sold there. I figured out that the shoppers and exhibitors loved the objects of prior man. That shows their love for people. If you love what people made in the past, that's a measure of what you are." After many years of pursuing his passion, the show owner remains a very positive person with an affection and enthusiasm for his work.
In his early days as a dealer, Scott thought there was a need for a new type of show. "Some show promoters didn't really like antiques or antiques dealers. I thought they needed some standards in the industry." Around 1986, he leased the old Spanish-style Lakewood Fairgrounds in Atlanta with room for around 800 booths. He moved to the Expo Center in June 1990 and added the second South Building in October 1995. He advertises the current show as 3500 spaces—some are shared, but many dealers use more than one. And he also runs a second, less frequent show in Ohio where he lives. Dates, rates, and directions can be found on his Web site (www.scottantiquemarket.com).
Of the Atlanta Expo Center situation, he proudly points out the proximity to the airport and major interstates, reasonable rates at nearby hotels, and southern hospitality. "What an awesome opportunity for dealers. It's actually the most accessible facility in the world—big beautiful buildings, air-conditioned. We have a six-lane freeway running right through our show." A welcome amenity for dealers is the variety of dining options that go far beyond the usual show food. One permanent deli counter was dishing out some memorable Mediterranean specialties.
As far as the composition of the large monthly events, he said, "We have antiques dealers mostly in both buildings. We guard the show. We grade the show each time. Sometimes, we have to fight off the stuff. A little bit of diversity is OK, but we like to keep it antiques as much as possible. We're very encouraged that a younger generation is on the way. They will get married, they will have houses, and they will have the same idea I had when I started collecting—that new stuff is poorly made. The antiques are solid wood, and they have style." Scott Antique Market is the type of show where collectors can start out and evolve as their sense of style and understanding of history develops.
The April 10-13 show was actually a "light" month because many dealers had just been to Texas for Round Top. Florida regular Woody Straub said that some of the best markets are in the winter months. "A lot of northern dealers come. There's no market up there—they're buried in snow. They come here, and then they do the whole circuit of Florida shows as well." Although even the Southeast had cold spells last winter, spring came right on time in Atlanta with April dogwoods and azaleas in bloom.
Regular exhibitor Ron Goins, who lives just outside of Raleigh, North Carolina, has been with the market from the beginning. "It's pretty much the best wholesale market here in the South. A lot of these people also go to Texas; a lot of them go to Brimfield. These things here today will be seen later up there. I've been here since the very first show, going on thirty years now. We started out over at the fairgrounds, and we moved over here, and I've been in this building ever since."
Goins's range of merchandise has changed to coincide with what buyers seek out. He explained, "I evolved into this. You always have to adjust to what people are wanting. Down here it's more modern furniture than Brimfield. I'm always surprised at Brimfield—how many antiques there still are left. I don't think there's the customer base for it here. When I first started out, I was doing nineteenth-century furniture, and it just does not sell here. So, I've adjusted in the last year or so to a more finished product that is more affordable to younger people." The dealer also sells his merchandise as raleighmodern in the on-line marketplace of Etsy (www.etsy.com), a site featuring handmade and vintage items that is extremely popular with young people. After posing for a quick photo, Goins returned to answering questions for the new generation of buyers filling his booth.
Whether a collector wants to buy a diamond bracelet, a good quilt, a folk art painting, an Oriental rug, a cast-iron fountain, or a mid-century modern piece, there are many examples to choose from at any Scott Antique Market. Posters, lamps, advertising signs, oil paintings—seek and you will find. A shopper may come to buy a birdbath and end up with an 1810 silver tea set or an industrial dining table. Dealers buy, trade, and stock up for future antiques shows in other cities. As the sidebar on Atlanta points out, the area has a lot to offer, which makes Scott Antique Market an attractive antiques destination year round.
For more information, go to (www.scott antiquemarket.com).
Writhing sea creatures lined the shelves filled with majolica and Palissy ware. Cheerful French ceramic dealers Philippe Meunier and Jean Alonso Defrocourt of Paris, New York City, and Texas travel between France and the States, spending much time in Houston. Experts in the field, they would be a wonderful source for serious collectors. On the middle shelf in the selection of Palissy was a covered jar with a snake and frog by Thomas Sergent (1830-1890) for $1550 and a small fish platter by Victor Barbizet (1805-1870) for $850.
As the name indicates, Paws Antiques, near Lake Winnipesaukee in Laconia, New Hampshire, donates to pet welfare causes. The dealer was one of the many purveyors of fine jewelry on the floor and had safes set up to the side. The vintage 1920s platinum bracelet set with diamonds was $7800, and a brooch in platinum and 18k gold was $6500.
Tom Nagy of Chelsea Hill Antiques, Hampton, Connecticut, is another dealer who exhibits at both Scott and Brimfield; he likes the ebb and flow of the big events. His Connecticut cherry drop-front desk at center was $750; a shopper purchased the 18th-century Dutch harbor painting above, priced at $1200, right after the show.
---
Scott Antique Market in April coincided with the 78th annual Atlanta Dogwood Festival, which draws around 200,000 visitors to Piedmont Park each spring.
Summer visitors to Atlanta can view Dream Cars: Innovative Design, Visionary Ideas at the High through September 7. The exhibition, with accompanying catalog, was organized by the High and funded in part by Porsche. One dream car is this faithful re-creation of the Bugatti Type 57S Competition Coupe Aerolithe with a body fabricated from magnesium alloy; the design was originally unveiled at the 1935 Paris Salon de l'Automobile.
Atlanta: Focus on the Decorative Arts
Visitors to Atlanta, Georgia, can choose from an array of tempting tourist options. They can take the "Inside CNN Studio Tour" and watch familiar anchors as they broadcast breaking news, or they can travel through the World of Coca-Cola, a celebration of soft drink history. The Georgia Aquarium in the heart of the city is a popular family attraction, and the stunning Atlanta Botanical Garden often blends art exhibitions into the natural world. Plus, rumor has it, the city has a well-known baseball team, and it has fine regional restaurants such as South City Kitchen that feature "contemporary southern cuisine."
So a trip to any monthly Scott Antique Market can easily be expanded into a mini vacation. April's show coincided with the 78th annual Atlanta Dogwood Festival in Piedmont Park, an event that draws around 200,000 people yearly. Attractions include musical events, exotic food, and artworks on sale in the Artist Market. Dogwood trees bloom for only about a week before dropping their petals, and the 2014 festival was extraordinarily well timed. Blossoms were at their peak, and the spring weather was warm and storm-free.
Any collector interested in antiques and the decorative arts, however, will head first for the High Museum of Art on Peachtree Street. The museum is part of the Woodruff Arts Center complex, which also houses the symphony and theater
productions. The museum's roots extend back to 1905, and the institution received its name from Mrs. Joseph High, who in 1926 gifted her home to the Atlanta Art Association. The High's dramatic expansion in the 1980s was the result of a $7.5 million challenge grant from Coca-Cola magnate Robert W. Woodruff.
The core of the present museum is an airy 1983 architectural masterpiece created by Richard Meier. Further expansion came in 2005 with the opening of three new buildings designed by Italian architect Renzo Piano. Antiques collectors come to see the museum's extensive holdings in furniture and decorative arts, with the Virginia Carroll Crawford collection at its heart. Also notable is the Frances and Emory Cocke collection of English ceramics, 1640-1840.
Fortunate collectors may own a copy of The Virginia Carroll Crawford Collection: American Decorative Arts, 1825-1917, but the 1983 reference is no substitute for an up close and personal view. The museum has continued to supplement its 19th-century holdings with important works from the 20th and 21st centuries. Galleries are filled with familiar style icons from different eras—the great inlaid Herter Brothers bed, George Nelson's Marshmallow settee, and John Bieber's Pennsylvania dower chest. A nice selection of the collection can be viewed under the Permanent Collection tab at (www.high.org), but if you come to exhibit and shop at Scott Antique Market, consider adding a trip to the High to your weekend plans.
The High Museum of Art's important collections are housed within a cluster of buildings designed by major architects. The museum's space was tripled in 1983 with the completion of the central building, designed by Richard Meier. It features a curved central staircase open to a sky-lit atrium. Three new buildings, designed by Italian architect Renzo Piano, expanded the space to 312,000 square feet in 2005.
The High Museum of Art continues to add fine and decorative artworks to the collection. The neon sculpture Bright Star (Sirius), 2010, by Spencer Finch (b. 1962) was purchased recently with funds from the Second Annual Collectors' Evening.
Collectors come to the High to view the superb collection of furniture and decorative arts. The core of these offerings is the Virginia Carroll Crawford collection, which includes this Frank Lloyd Wright chair designed for the 1902 Willits Prairie-style house in Highland Park, Illinois.
---
Originally published in the August 2014 issue of Maine Antique Digest. © 2014 Maine Antique Digest