Society of the Cincinnati Plate Leads at Potomack
January 28th, 2017
The Potomack Company, Alexandria, Virginia
Photos courtesy The Potomack Company
The Potomack Company held its midwinter catalog sale in three stages. The gallery sale took place on January 28 at the firm's facilities in Alexandria, Virginia. On January 31, an online-only sale was conducted. That sale highlighted items from the estate of best-selling author Tom Clancy (1947-2013). On February 1 a second, broad-scope online-only sale rounded out the long weekend. In all, more than 1000 lots crossed the block.
The gallery sale offered a wide variety of lots from all categories and began with a run of Chinese export porcelain. With but a few exceptions those lots came from a single private collection, and each carried with it an Elinor Gordon provenance. The high lot of the weekend sales came from among that group. A single plate from a set decorated with the Society of the Cincinnati emblem brought $81,250 (includes buyer's premium), slightly over its high estimate. That plate is detailed in the accompanying photos.
The high lot of the Potomack sales was this Chinese export Society of the Cincinnati plate from the late 18th century. The society was formed in 1783 by officers of the Continental Army along with their French counterparts and is the nation's oldest patriotic organization. Among its goals is the perpetuation of the ideals, courage, and character of those who had risked so much in the struggle for independence. There are several Society of the Cincinnati porcelain patterns, but examples of this one, the so-called Washington service, are the most prized. According to society publications, only one 302-piece service was created in this pattern, which was purchased in 1786 by George Washington, the society's first general president. This 9⅝" diameter plate has the wide deep blue underglaze band in the Fitzhugh pattern, and the center is decorated with the winged and trumpet-wielding personification of Fame. From her left hand, she suspends the bald eagle badge of the society. With an Elinor Gordon provenance, this plate sold to a telephone bidder for $81,250 (est. $60,000/80,000).
Shown here is one of two 9½" x 14¾" Chinese underglaze blue and white tiles, sold as a single lot. The tiles are from the late 19th-century period of the Qing Dynasty (1644-1912). This tile is decorated with pairs of cranes and mandarin ducks amid stands of flowering lotus. Each framed tile has a velvet mat. The two tiles sold to an Internet buyer for $3750 (est. $400/600).
Also among the porcelain with an Elinor Gordon provenance was an oval serving platter with a simple blue and gilt-trimmed rim and a central Chadwick family coat of arms. The 11 3/8" wide platter displays what appears to be a period inscription in English on the reverse, "Canton / in China / 24th Jany. 1791." The platter sold for $2500 (est. $1500/2500).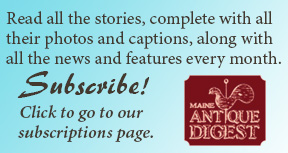 Once again, the furniture category began to creep back into the picture. There were relatively few pieces, but they held their own. A Pennsylvania Chippendale carved walnut tall chest of drawers made $4062.50, nearly double its high estimate. An American cherry two-piece corner cupboard with a 12-pane upper door brought $2000 against an estimate of $1000/1500; and a circa 1800 Federal bowfront sideboard, possibly from Baltimore, with crossbanded top and side edges and ebony inlay made a respectable $4687.50, midway within estimate.
The Potomack sale offered a number of lots from the estate of James Conway Rees IV (1952-2014). Rees served as president and chief executive officer of George Washington's Mount Vernon. During his tenure, Rees oversaw fundraising totaling more than $250 million earmarked for numerous projects to further the preservation of Washington's estate as well as to promote education and research regarding the nation's first president.
This 29½" x 24¾" oval oil on canvas was cataloged simply as a "Portrait of a Lady." The painting depicts a finely dressed young woman wearing a pearl necklace, pearl earrings, and pearls in her hair. Her dress is also decorated with pearls. Modern notations on the back indicate that the subject may have been a member of the Harbord family. An old, perhaps period, label indicates that the painting spent at least some time with a framer in the East Anglia city of Norwich. The portrait sold to an Internet buyer for $6250 (est. $1500/3000). Rees estate.
This sale included a large number of lots of Native American artifacts. The Potomack Company enlisted the assistance and expertise of Linda Dyer, a well-known appraiser and Antiques Roadshow regular, to evaluate and catalog those articles. The lots ranged from the expected array of moccasins and baskets to more unusual items such as a 19th-century bead-decorated hairbrush, fashioned from a porcupine tail, and a painted parfleche box. The brush sold for $687.50 (est. $300/400), and the storage container brought $812.50 (est. $300/400).
This Native American beaded cloth hood dates from the third quarter of the 19th century and is from the James Bay Cree Nation of northern Manitoba, Canada. The headpiece was folded and sewn on two sides to approximately 20" x 10". The inside of the hood is striped silk fabric; the outside is wool decorated with glass beads sewn in various floral patterns. There is evidence of beaded fringe. The tassel is heavy thread. The hood sold to a telephone bidder for $10,625 (est. $6000/9000).
The Tom Clancy estate material sold well, but very little of it evoked memories of the action-packed post-Cold War and political intrigue of the author's novels. The high lots from among the Clancy lots were two large dining tables, each constructed from a single slab of petrified wood resting on a heavy iron base. One brought $8750 and the other $10,625. Each had been estimated at $800/1200.
The top surface of this large petrified wood dining table is brightly striated and has been sealed. The table rests atop an iron trestle base with a pierced diamond design stretcher. There is no maker's mark, but it is believed that the table is from Gibson's Studio at West Virginia's Greenbrier Resort. The tabletop measures 77" x 36". There is no indication of what it weighs. It sold for $10,625 (est. $800/1200). Estate of Tom Clancy.
For additional information, contact The Potomack Company at (703) 684-4550 or visit (www.potomackcompany.com). For additional information related to the Society of the Cincinnati porcelain, see (www.societyofthecincinnati.org).
This striking landscape is by Paul Weber (German/American, 1823-1916). The 19" x 27" oil on canvas laid on board probably depicts the Hudson River. With a sailboat and dramatic sky, this signed and dated 1856 landscape sold to a telephone bidder for $9375 (est. $2000/3000).
This Meissen pentafoil dish excited intense bidding. The shallow 11¾" diameter dish displays an underglaze blue Meissen crossed swords mark as well as underglaze base supports. The decoration includes a central exotic bird figure surrounded by flowering shrubs. The gilt-edged rim features five different chinoiserie scenes, alternating with molded masks of a smiling, horned figure. The masks are connected with applied grape and vine swags. The dish has an old break, repaired with staples. The Meissen dish sold in the room for $7500 (est. $800/1200).
These circa 1800 Italian looking glasses have carved giltwood frames. Each crest is decorated with a plumed canopy drape element with a flower basket and scrolled base below, and the lower frame decoration features a small flower basket suspended within scrolling floral carvings. The pair of 63" x 18" mirrors sold to an Internet buyer for $5000 (est. $1000/2000).
This 36" x 14½" Chinese ink and color on paper landscape surprised many by selling for $13,750 (est. $60/80). The image shows a lone figure watching as a second figure plows a field. There is a dwelling in the distance with mountains beyond. There are two red seals, which evidently sealed its high bid.
---
Originally published in the April 2017 issue of Maine Antique Digest. © 2017 Maine Antique Digest