"The Garden Chair" Tops American Art Auction
May 21st, 2014
The cover lot of the sale, The Garden Chair, was painted in 1912 by American Impressionist Frederick Carl Frieseke (1874-1939). It sold in the room for $962,500 (est. $1,000,000/1,500,000), the highest price of the afternoon. Frieseke moved to France in the early 1900s and settled in Giverny. The 28¼" x 35¾" oil on canvas was fresh to market, having been in the Herbert and May Fleishhacker family for almost 100 years. The painting will be included in the forthcoming catalogue raisonné of Frieseke's work being compiled by Nicholas Kilmer, the artist's grandson, and sponsored by Hollis Taggart Galleries, New York City.
Untitled (shimmering stream) by Charles Burchfield (1893-1967) sold on the phone for $47,500 (est. $12,000/18,000). The 27" x 19" watercolor, gouache, and pencil on paper came from a private collection.
Horace Pippin (1888-1947) painted this 9" x 11" oil, Flowers with Four Doilies, in 1946. It sold in the room for $146,500 (est. $50,000/70,000), a bit of a surprise at so far above the high estimate, despite Pippin's solid legacy. It is signed in the lower right.
Bonhams, New York City
Photos courtesy Bonhams
Afternoon sales can bring delight, and the American art auction on May 21 at Bonhams did not disappoint.
Thirty people were in the room when the auctioneer tapped his hammer three times to open the sale. Several New York City dealers were there, some with their entourages, and good buys were made. Sotheby's had held its American art sale that morning, while Christies' all-day art sale was the following day.
Not a Rockwell nor a Wyeth was in sight at Bonhams. The cover lot, The Garden Chair by Frederick Carl Frieseke (1874-1939), sold in the room for $962,500 (includes buyer's premium). It was estimated at $1,000,000/1,500,000 and brought the highest price of the day. The sale totaled $3,053,625. Seventy-one of the 92 lots sold.
Several of the lots were watercolors, and they sold. A small one (9" x 12") by Charles Burchfield, Sunlit Willows, sold for $11,250 (est. $5000/7000) and a very small one (3¼" x 3¾") by Oscar Bluemner, Landscape with Moon, went for $8750 (est. $8000/12,000). A watercolor by John Marin and a watercolor with charcoal by Milton Avery kicked off the sale and were bought in the room by the same well-dressed man.
Still lifes and landscapes filled the viewing room. Sculptures by Paul Howard Manship, Harriet Whitney Frishmuth, Donald De Lue, Henry Merwin Shrady, Thomas Ball, and Hiram Powers all sold, except for Manship's marble Susanna, which was passed at $180,000 (est. $250,000/350,000). Manship's Briseis sold for $60,000 (est. $50,000/70,000).
A portrait by John Singleton Copley of Captain Gabriel Maturin, painted in New York in 1771, was passed at $380,000. It had an estimate of $500,000/700,000. "Colonial portraits aren't selling as regularly as before," said Kayla Carlsen, a senior specialist and head of sale at Bonhams. The portrait had last sold at Freeman's in Philadelphia in April 2011 for $23,750 (est. $8000/12,000). At that time it had been described as "from the school of Copley" and the sitter was identified as a "Livingston" because it had come down through several Livingston family members. Furthermore, it was in "terrible" condition. The buyer at the Freeman's sale, an expert in military uniforms, invested time and money to research the work and to have it conserved. It resurfaced at Bonhams as a confirmed Copley in pristine condition.
A large (34" x 40") Manhattan in Winter by Guy Carleton Wiggins sold for $134,500 (est. $125,000/175,000). Alan Fausel, vice president and director of fine art at Bonhams, was on the phone with the bidder and made the sale. The Brooklyn-born artist, known for his New York City snow scenes, signed his name "Guy C. Wiggins" in script on paintings done before 1935. In a letter from the artist's son, Guy A. Wiggins, dated March 13, 2014, and which accompanied the lot, he stated, "I judge this to be done about 1905-1910 when he was in his early twenties. This is by far the earliest of his New York snow scenes for which he is famous that I have personally seen."
Other notable sales included Horace Pippin's Flowers with Four Doilies for $146,500 (est. $50,000/70,000); a John Singer Sargent charcoal portrait of Mrs. Theodore Frothingham Jr. for $110,500 (est. $60,000/80,000); and a George Catlin oil, Blackfoot Indian Group, circa 1832, for $338,500 (est. $300,000/500,000).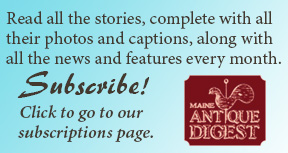 Carlsen said Bonhams was pleased with the overall results, which indicate "that the market is still responding to works that are fresh and have strong provenance." After the sale, she reported that over $1 million of the $3 million sale came from buyers new to the auction house. The Madison Avenue auction house provides detailed condition reports and artists' biographies, a welcome presale feature for potential buyers.
The fall 2014 American art auction at Bonhams will take place in mid-November. For further information, go to the Web site (www.bonhams.com), or for general inquiries about American art at Bonhams, call (212) 710-1307.
Sculpture sold at the sale. This Henry Merwin Shrady (1871-1922) 21¼" high rendition of Bull Moose is bronze with greenish-brown patina and sold for $56,250 (est. $25,000/35,000). It is inscribed "H. M. Shrady/ 1900" and "Copyright/ Theodore B. Starr/ 1900" along the base and sold on the phone through Kayla Carlsen, a Bonhams specialist in American paintings.
Richard Schmid (b. 1934) painted Jacque's Roses in 1964 in Gaylordville, Connecticut. The 12" x 18" oil on canvas sold to an absentee bidder for $18,750 (est. $6000/8000). The same buyer bought Schmid's Woman on Bed, a 9" x 12" oil on masonite, for $5625 (est. $4000/6000). Both paintings had been in a private collection in Washington, D.C.
Manhattan in Winter by Guy Carleton Wiggins sold on the phone for $134,500 (est. $125,000/175,000). Wiggins was born in Brooklyn, New York, and was encouraged to paint by his artist father, J. Carleton Wiggins. This 34" x 40" oil on canvas is signed "Guy C. Wiggins" on the lower left. The artist is known for his snowy cityscapes. Another Wiggins, Along 59th Street in Winter, a 16" x 12" oil on canvasboard, sold in the room for $22,500 (est. $15,000/25,000).
This painting by Albert Bierstadt (1830-1902), Brook in Woods, sold on the phone for $146,500 (est. $100,000/150,000). It had last sold at auction in May 2009 at Christie's, New York City, for $122,500. The oil on paper, laid down on masonite, 20 3/8" x 29¾", is signed but not dated, and the location of the work is not indicated. Bierstadt, born in New Bedford, Massachusetts, traveled throughout the West, using painting and photography to record sketches and imagery, which he brought back and used in his studio for future use. He traveled to Nebraska, Wyoming, Utah, Nevada, California, Oregon, and Washington.
A 1924 portrait of Mrs. Theodore Frothingham Jr., born Eleanor Fabyan, by John Singer Sargent (1856-1925) brought $110,500 (est. $60,000/80,000) from an absentee bidder who left an order bid with the auctioneer. The 23½" x 17¾" charcoal on paper laid down on card is signed upper left. Sargent is known to have done portrait drawings of Eleanor's brother Francis Wright Fabyan, her sister Edith (Mrs. William Read), and her brother-in-law William Read, according to Bonhams.
---
Originally published in the August 2014 issue of Maine Antique Digest. © 2014 Maine Antique Digest