Three-Day Show in Third Year at Wallace Hall
January 22nd, 2017
Wallace Hall Art, Design & Antiques Show, New York City
In its third year, the three-day Art, Design & Antiques Show at Wallace Hall, held January 20-22, continues to evolve as a destination not only for those from the Upper East Side of New York City but also for visitors who come to the Big Apple each January for Americana Week.
This weekend, however, was overshadowed by the presidential inauguration and the ensuing women's marches in the city and around the country. The gate was acceptable, but sales were scattered throughout the booths of the 33 dealers.
A Bird in Hand Antiques, Florham Park, New Jersey, sold this eagle chimney cap, first quarter of the 20th century, to a collector from Baltimore. It had an asking price of $2100.
Barbara Rew of Lewes, Delaware, exhibited at the show for the first time. She learned the business from her mother, Gladys Spare. Rew sold the Federal mid-Atlantic cherry chest, circa 1820, seen here, as well as a George III chest in quartersawn oak, 1780, to the same buyer from Long Island. The chests were tagged $1200 and $1400, respectively. The southern Federal miniature chest, mahogany with yellow pine secondary wood, was priced at $750. The penny rug, felt with a geometric design, approximately 48" x 30", from the 1930s or '40s, was priced at $375. Rew also sold some Baltimore silver, a watercolor, and smalls on Sunday afternoon.
The weather was balmy and rainy, unlike last year when a snowstorm pummeled the city and vehicles were banned from the streets. A shuttle, arranged by show managers Vandy and Brad Reh, drove back and forth to the Winter Antiques Show 20 blocks south on Park Avenue,which made it seamless for folks to attend both shows.
Held in the below-ground space of the Church of St. Ignatius Loyola at 84th Street and Park Avenue, this year's show appeared brighter and was well edited in terms of types of dealers. The Rehs, who are also jewelry dealers from New Canaan, Connecticut, decided not to have their own booth this year. Instead they focused their efforts on managing the event. It showed.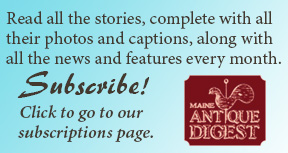 As has been the case for the last several years, some dealers had a good show, covering their costs and then some, while others did poorly. Commenting on the state of the antiques show market, Wiscasset, Maine, dealer Matthew Robinson surmised, "Doing the same thing over and over for forty years in the same way is hurting many dealers. The younger dealers get 'the mix,'" he said, noting that "antiques show" is viewed in a negative way by many people, denoting old and stuffy and, for some, too precious. Robinson and his wife, Helen, own two antiques shops in Wiscasset and have been in business for 35 years.
This tramp art cabinet, 30½" x 12" x 5½", marked "Burlington, Vermont," with one drawer signed "MR. R.," has four drawers, a storage area with two doors, rosettes on the drawers and doors, a small mirror, and original key. It was priced at $3500 by Earle D. Vandekar of Knightsbridge, Maryknoll, New York. The antler trophies, three from a set of 26, with carved foliate wood backs, German or Austrian, each measuring approximately 13½" x 4¾" x 8½", were tagged $250 apiece. Vandekar sold its entire 24-piece set of Piero Fornasetti Adam and Eve gilt plates (not shown), designed in 1954 and made circa 1965, as well as a woollie to a new collector.
These bold necklaces with interchangeable pins, designed in the 1980s by Larry Vrba, were available from TJ Antorino Antiques and Design, Oyster Bay, New York. Vrba was a designer for Miriam Haskell jewelry in the 1960s and 1970s. These pieces ranged in price from $450 to $950.
So who was there? Glen Leroux of Westport, Connecticut, brought mid-century furniture and sold a pair of Milo Baughman chairs and a pair of Baughman burled olivewood night tables. J. Gallagher of North Norwich, New York, had "a good show," selling a full range, including furniture and fireplace accessories. Barbara Rew of Lewes, Delaware, was a newcomer to the show and sold two pieces of furniture and two hooked rugs. The Bassins of A Bird in Hand Antiques, Florham Park, New Jersey, sold over 20 items, including a Crowell bufflehead miniature, a tiger maple table, a preening black duck decoy, a chimney topper, and more. And Andrew Spindler of Essex, Massachusetts, sold consistently throughout the weekend, selling all the silhouettes in his booth, as well as a silver gilt folding screen by painter Max Kuehne from the 1930s, a carved wood dog sculpture, a console table, and smalls.
A rare hair comb by Georg Jensen, of silver and rock crystals, designed by Vivianna Torun Bülow-Hübe, circa 1954, was available from Drucker Antiques, Mt. Kisco, New York, for $18,500.
"This show is riding on the momentum of Americana Week. It has the right people, there's balance and quality, and it was well promoted. The layout is easy on the eye, and there's a group of dealers who play really well together. And the Rehs are hospitable hosts," Spindler commented on the last day of the event.
Late Sunday afternoon saw returning customers looking to snag final show hour "bargains," and dealers could be seen wrapping purchases at the same time they were packing up their booths. A crew of porters was standing outside waiting to load the vans lined up in front of the church as a fine mist sprinkled the sidewalks of Park Avenue.
Brad Reh thanked all for coming and said he was already working on ideas for next year.
The pictures and captions illustrate the show. Further information can be found at (www.Rehshows.com).
Andrew Spindler offered this 19th-century New Hampshire comb-back Windsor chair for $2645. The American carved wood folk art mirror, circa 1880, was priced at $3250.
This 1920s console table with a red leather top and a Neoclassical carved wood pedestal base was sold by Andrew Spindler Antiques & Design, Essex, Massachusetts. The hand-painted Neoclassical cobalt glass vase, Venice, circa 1880, was priced at $7860.
These 14" high cut-glass cocktail shakers with sterling silver tops, made by T.G. Hawkes & Co., were priced at $1450 and $1950 by C.M. Leonard Antiques, South Salem, New York.
---
Originally published in the March 2017 issue of Maine Antique Digest. © 2017 Maine Antique Digest