Slotin Folk Art, Buford, Georgia
Photos courtesy Slotin Folk Art
The November 11 and 12, 2017, Slotin Folk Art Auction was particularly strong, with heavy emphasis on African American and slave-related material, much from the Acacia Collection in Savannah and the Old Slave Mart Museum in Charleston, South Carolina. These lots appeared to underline the close relationship of American folk art, especially acknowledged "master" folk artists, with the slave and early African American experience.
The Acacia Collection was created by Carroll Greene Jr. of Savannah, Georgia, in 1989. The displayed portions of this collection were originally seen in the historic Owens-Thomas House museum and also at the Telfair Academy of Arts and Sciences. The collection contained arts and crafts, furniture, pottery, musical instruments, quilts and other fabrics, and tools. Examples from each of these categories were included in this Slotin sale.
The Old Slave Mart Museum in Charleston, South Carolina, opened in 1938 in an 1859 building that once served as the slave market for slaves who arrived at the Charleston port. Ephemera and Charleston artifacts in the sale came from this collection.
Charleston, with its long history as one of the early coastal English Colonial cities, was well represented in this sale. Much of Charleston's economy was directly tied to the slave trade and the use of slaves in almost every commercial activity. It is believed that nearly 40% of the slaves who entered the United States came through the Charleston port.
Edgefield District, South Carolina, potteries were largely staffed with male African American slave potters and occasional female glazers and decorators. Standing slightly less than 7" tall, this face jug brought top dollar at $72,000.
The top-dollar lot, nearly tripling its high estimate, was an Edgefield-area slave-made face jug. In spite of early professional repairs, it drew $72,000 (includes buyer's premium). Typical of others that have been offered in previous Slotin sales, it was alkaline-glazed with kaolin eyes. There was an audible buzz as this lot was hammered down. The jug has an extensive exhibition history and has been illustrated in a number of publications.
Sam Doyle's Le Bit, an initialed and dated image of a seated matriarch, house paint on roofing tin, 39" x 28½", brought a strong $54,000. Among its provenance was an exhibition history that included being shown at Atlanta's High Museum of Art.
One of six Thomas Day (1801-1861) furniture lots sold in the sale, this secretary desk-and-bookcase sold for $52,800. Day, an iconic second-generation free black cabinetmaker in Milton, North Carolina, produced this nearly 8' tall mirrored-door secretary in the 1850s.
The same buyer who won the face jug added a Thomas Day secretary to his collection. At $52,800, the secretary was the third-highest dollar lot of the sale. Day was a second-generation free black cabinetmaker working in North Carolina before the Civil War. He was known for high-style Classical work featuring mahogany veneer over local woods. The piece at Slotin was one of only four known Day secretaries. Standing nearly 8' tall and slightly more than 3' wide, it featured two mirror-fronted doors mounted over a two-drawer base. Day counted a North Carolina governor, a state university, and many wealthy plantation owners as his customers. The secretary and a 6'8" long upholstered sofa ($2760) had both been included in the 2009-12 national tour of America I Am: The African American Imprint. Other Day shop lots sold included a cushioned side chair ($1800), parlor table ($10,800), and washstand ($1020). A somewhat more primitive mantel produced by the Day shop also sold ($1080).
Bill Traylor (1853-1949) drawings, usually of charcoal and colored pencil on found materials such as index cards or file folders, are frequently the top-dollar lots in a Slotin sale. Traylor's 10" x 8¼" Portrait of a Well Dressed Man sold for $46,800, below the low estimate of $50,000. It is notable that Traylor was a freed slave who created his drawings on the streets of Montgomery, Alabama. Other master folk artists were represented in the sale. Clementine Hunter (1886/7-1988) was born at, worked at, and painted many scenes from her only home, the Melrose Plantation in Louisiana.
Classic Sam Doyle (1906-1985) house paint on a 39" x 28½" piece of roofing metal is this image labeled Le Bit. It more than doubled the estimates, reaching $54,000 (est. $15,000/20,000).
Bill Traylor (1853-1949), a freed slave, created most of his pencil drawings on found materials such as cardstock. These were done on the streets of Alabama. His Portrait of a Well Dressed Man on a 10" x 8¼" piece of cardstock brought $46,800.
Charleston's well-known portrait artist Edwin Augustus Harleston seldom produced street scenes, but his 21" x 14" Charleston Shrimp Man drew a strong $40,800.
Among the scarce slave items offered were seven lots of slave tags. These metal tags, roughly equivalent to today's identification badges, would indicate the worker's particular skill and perhaps his place of work. These sold from $360 to $6000 for a stamped copper example dated 1848 and marked for the Charleston Neck community.
A wide selection of older African American fabric lots included six loom-woven coverlets and five early quilts. In spite of an extensive exhibition history, a cotton and wool jacquard coverlet, 77" x 54", brought a disappointing $120, while another example with original family identification and illustration provenance reached $1680. Quilts included a signed and dated 1940s example of traditional strips backed with fertilizer sacks that sold for $540 and an antebellum quilt in a saw pattern, identified and illustrated in print as being from Georgia poet Sidney Lanier's home, that sold for $8400.
Charleston street scenes have long been a collectable art form. Two very different examples were sold in this sale. Artist Joseph Delaney (1904-1991), while on a Rosenwald fellowship in the 1940s to sketch Eastern Seaboard scenes, produced an 18" x 28" oil on board, Old Charleston City Market,which sold for $14,400. And a work by noted Charleston portrait artist Edwin Augustus Harleston (1882-1931), Charleston Shrimp Man,surprised all by selling for $40,800!
This circa 1859 piece is not your everyday folk-made stringed instrument. Composed of a gourd sound box and four frets on a relatively short (26½") carved neck, it is an early African design. It sold for a sweet tune of $42,000.
Female slave nursemaids frequently became an integral part of their owner's family. Emmaline, nursemaid to 14 children of the Montgomery family in Missouri, had produced handmade rag dolls and other toys for her charges. A group of fully documented items including a tintype portrait of Emmaline brought a stunning $37,200.6
Many highly skilled former slaves became part of the local business scene, continuing to produce their products for sale and use in their local communities. Peter Simmons (1858-1955) worked hand-forged wrought-iron decorative items. Charleston porches and verandas are known for decorative ironwork, and much of it was made by Simmons. Four pieces, ranging from 6' to 7' tall, brought $34,800.9
One of two Elijah Pierce (1892-1984) carved, painted, and varnished plaques in this sale was this early (signed and dated 1948) floral work. Including the artist-made frame at 16½" x 13", it sold well at $16,800.
Many of the major Charleston-related lots were bought for museum collections. Amy Slotin commented, "Museums by their very nature are not as nimble as the auction environment requires. The fact that many museums sent representatives down to inspect the inventory in advance and participate both live and on the phones speaks to the significance of these objects and this collection." Twelve museums were actively bidding in this sale, including the Smithsonian National Museum of American History, the North Carolina Museum of History, and the Reginald Lewis Museum of African American History & Culture in Baltimore.
Other significant items were purchased by noted African American collectors such as Derrick Beard. Beard said, "This Slotin sale was a once-in-a-lifetime buying opportunity." Beard has devoted much time, effort, and funds into researching the history of African American craftsmen, especially cabinetmakers. These efforts have included creating a traveling exhibit and a number of presentations and published items.
Other artifacts from the Acacia and Old Slave Mart collections included a number of identified Civil War items. A metal-banded wood canteen with an ink inscription reading, "Cap. H. N. B. Benjamin…Captured at Rome GA, May 18, 1864," brought $3360. A framed presentation of an 1863 medal awarded to Pvt. William H. Everson of the Massachusetts 54th Infantry, U.S. Colored Troops, Company E (with National Archive verification) brought $2520.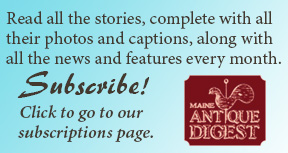 Signed face jugs by pottery master Lanier Meaders saw stable prices especially for his earlier (1970s) examples with rock teeth. Two brought $2640 each. Meaders's popular roosters were soft, but an unusual Reggie Meaders warthog brought $1020 (est. $300/500). The stars of the 111 pottery lots were extremely early (1700-1800) Colonoware pots from the Acacia Collection. These predate the establishment of actual potteries and are the probable product of slaves utilizing African skills and design merged with observed Native American techniques. These low-fired examples were originally found along the Cooper River in South Carolina and have extensive provenance. A group of three large pots, one with red coloration and serpentine design, brought $24,000, and a group of six smaller examples with similar provenance reached $10,800.
Two Joseph Yoakum colored pencil and ink landscapes reached $10,200 and $10,800, meeting estimates. Other works, including those by James Castle, Thornton Dial, Minnie Evans, Sister Gertrude Morgan, Clementine Hunter, Myrtice West, the Reverend Howard Finster, and Helen LaFrance, all brought consistently strong prices.
Three-dimensional works included two Elijah Pierce carved and painted wood relief plaques, both signed and dated. His floral image brought $16,800, and Heaven, Hope, Love reached $10,200. Here, too, prices were strong.
The sale grossed $1.6 million, including buyers' premiums, and generated almost 400,000 online hits to the catalog. With 174 in-house bidders, 129 phone bidders, and over 2000 absentee bids, this sale was a nearly frenzied two-day event. All Slotin sales are held in a restored grocery store structure in historic Buford, Georgia, about 30 miles outside of busy Atlanta but convenient to both Interstate access and minutes from the largest shopping mall complex in the state. Buford itself features the Tannery, an original 1897 industrial building with exposed brick, wooden beams, and large industrial windows that light an artist colony of 16 working artists. Visitors can view these artists at work on paintings, sculpture, ceramics, photography, fiber creations, and jewelry.
Slotin auctions are noted for a nearly reunion atmosphere as individual collectors, museum representatives, and artists mingle for the weekend. The spring Slotin folk art sale is scheduled for April 28 and 29. For catalogs and information, visit Slotin's website at (www.slotinfolkart.com) or call (770) 532-1115.
Among the international artists represented was Johann Fischer (1919-2008) with two colored pencil on paper works. This 17" x 24" example illustrates his hallucinations of severed heads with descriptive text—a $16,800 bad dream.
This unusual two-tiered basket of rye straw, pine needles, and reeds banded with split-oak bands on three carved legs came with an extensive exhibition history. Standing 21" tall x 18" diameter, it reached a robust $28,800.
---
Originally published in the March 2018 issue of Maine Antique Digest. © 2018 Maine Antique Digest