Barnebys, an Internet search engine for design, antiques, and art, has acquired Collectors Weekly, according to a press release.
Based in San Francisco, Collectors Weekly is a website that lists hundreds of thousands of objects in almost 2000 collecting categories. The site attracts roughly 1 million visitors every month. In addition to its auction listings and community of collectors, Collectors Weekly specializes in original editorial content, including essays, interviews, and long-form articles.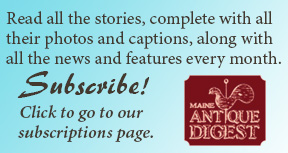 "We are thrilled to be a part of Barnebys," said Ben Marks, who has been with Collectors Weekly since 2009. "Barnebys really understands that original content is an important complement to any online-auction environment."
Combined with Barnebys' recent acquisition of Simple Auction Site (an auction software provider), the acquisition of Collectors Weekly gives Barnebys an increased footprint in the U.S., its largest market.
"Both these recent acquisitions, Simple Auction Site as well as Collectors Weekly, strengthen our client base enormously and beef up our opportunities for 2018," said Christopher Barnekow, founder and CEO of Barnebys, in a press release.
This latest acquisition is funded through new investments from two new Barnebys shareholders—Jens von Bahr, founder of Evolution Gaming, and Jonas Engwall, a private investor.
Barnebys was founded in 2011 by Christopher Barnekow, Pontus Silfverstolpe, Gustaf Grapengiesser, and Christofer Ferreira Gomes. Today Barnebys has approximately 2 million visitors a month on websites in eight markets. Barnebys also launched in Italy in late October 2017.
To learn more about Barnebys and Collectors Weekly, go to (www.barnebys.com) and (www.collectorsweekly.com).
---
Originally published in the February 2018 issue of Maine Antique Digest. © 2018 Maine Antique Digest