Leland Little Auctions, Hillsborough, North Carolina
Photos courtesy Leland Little Auctions
Two and a half weeks before the December 2, 2017, catalog sale, Leland Little's online catalog arrived in 20,000 electronic mailboxes. The curious scrolled down the opening page and found a large green button urging them to "Bid Now." Six days before the sale, many had already followed the button's enticement. With at least one presale bid on 65% of lots from the Daliah Lavi estate, 53% of lots from a private collection of American art, and 60% of the lots from the estate of the late Richard Rivoire (pronounced Riv-oar), the button had worked its magic.
There are steamer trunks, and there is this one. From France in the 1920s, this Louis Vuitton trunk has leather trim, brass hardware, cowhide lining, and intact wooden trays. Measuring 14½" x 29½" x 15", the small trunk sold to an Internet bidder for $7080 (est. $2000/4000).
Bryan Hunt (b. 1947) created Bear Run I, this 114½" x 14½" x 5½" strip of hardened molten bronze, to depict the stream running below Frank Lloyd Wright's Fallingwater house. It is one of his waterfall sculptures. A phone bidder won it for $30,680 (est. $20,000/40,000).
Two days before the sale, the percentages changed: 77% of the lots from the Lavi estate had one or more bids, 69% of the lots from the American art collection had one or more bids, and 79% of the lots from the Rivoire collection had one or more bids. With those percentages, "Bid Now" practically guaranteed a strong starting bid sale. If the phones, LiveAuctioneers, Invaluable, or the house did not respond quickly, the "Bid Now" absentees won the lot.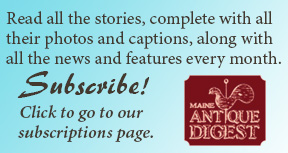 Behind the lure of the big green button is Little's custom-designed web platform. "We are taking the auction to bidders," said Leland Little before the sale. "Our real competition is not Brunk Auctions or Charlton Hall but L.L. Bean. People expect auctions to provide the same level of service as online retailers." Customers view, bid on, and win items and receive an invoice and pay and arrange for shipping without ever calling his office. Buying at this venue can be as easy as click, click, click from start to finish.
The Hillsborough showroom has changed since M.A.D.last visited in September 2016. The storage area has been greatly expanded. The building is much larger, but the seating area has shrunk. Displays of objects to be sold filled in where chairs used to be. At the peak of the sale there were probably 100 potential floor bidders, with seating room to spare.
It is impossible to see in this photograph, but there are two women behind the green-shirted lad playing the ukulele in this Alex Katz (b. 1927) oil on canvas. In its original frame from 1981, Ukulele Player was the sale's top lot at $141,600 (est. $20,000/40,000). At 54" x 48", this painting controlled a lot of wall space.
Looking over the presale bids, there was little doubt what would be the day's top lot. Alex Katz's Ukulele Player had so many interested bidders that it opened in the middle of its $20,000/40,000 estimate. The painting didn't stay there long. Five phone bidders and the Internet chased the Katz to $56,000. At the next increase, two phone bidders dropped out. At $64,000, an Internet bidder joined the fray. Someone on the Internet then jumped the bid twice. At $100,000 an overseas bidder wanted to play. Ukulele Playerwent to an Internet bidder for $141,600 (with buyer's premium).
Close to the same size as her teacher's Ukulele Player, Janet Fish's Les Petits Poissons measures a wall-filling 38" x 56". At $38,940 (est. $20,000/40,000), her signed and dated oil on canvas was the sale's second-highest lot.
Nothing came close to the price of Katz's green-shirted ukulele player with long eyelashes. But there was a Katz connection to the artist who painted the second-highest lot of the sale. Janet Fish (b. 1938) studied under Alex Katz (b. 1927) at the Yale School of Art in the early 1960s. Her signed and dated (1984) oil on canvas Les Petits Poissons was big and colorful in the style of her teacher. Fish's fish sold to a phone bidder for $38,940.
The Katz and Fish paintings were part of a private North Carolina collection of contemporary American art. Three other works in the sale's top lots hailed from that popular group. Harvey K. Littleton's Double Sliced Descending Form was four pieces of blown and shaped case glass with blue, coral, and pink interiors. The circa 1990 work sold to a phone bidder for $17,700. Coral Sonata, a glass sculpture by Jon Kuhn (b. 1949) of North Carolina, had onlookers asking, "How did he do that?" The 1986 sculpture sold to a woman sitting in the back row for $17,700. Standing alone in a corner of a back gallery during preview was Bryan Hunt's Bear Run 1. It was neglected by many but not all. An on-site bidder battled the phones for possession of the 9½' tower of hardened molten bronze, but the phones won at $30,680.
Film actress Daliah Lavi (1942-2017) had a supporting role in the 1967 James Bond spoof Casino Royale. Her string of pearls with a diamond clasp brought $18,880 (est. $4000/8000).
Israeli singer and movie actress Daliah Lavi (1942-2017) resided in Asheville, North Carolina, at the time of her death. Of the 39 items in the sale from her estate, her South Sea pearl and diamond necklace was in the sale's top ten. The 31 graduated pearls with an 18k white gold clasp set with 24 round brilliant-cut diamonds brought $18,880. Of Lavi's ten gowns, the high price leader was a diaphanous Egyptian Revival kaftan by Thea Porter (1927-2000) for Giorgio Beverly Hills at $2242.
Jewelry consumed the first hour and a half of the sale. The top jewelry lot by a wide margin was an unmounted brilliant-cut diamond weighing 3.93 carats. The stone was originally set in a wedding ring given to Margaret Manning in the early 1920s at her wedding in Havana, Cuba. The diamond sold for $37,760 (est. $25,000/35,000).
She is Lilla, the daughter of E.M. MacLaurin, and she married "N.H. Signor Sacha De Jordanow," according to a note on the back of this painting. Her arresting portrait was painted in oil on canvas by Frank Cadogan Cowper (English, 1877-1958) in 1930. The 49½" x 39" painting sold to a phone bidder for $5900 (est. $1000/3000).
While none of the late Richard Rivoire's collection made it to the sale's upper levels, his estate consigned what was described in the catalog as "an arresting portrait of a fashionable woman confidently posed in a green patterned dress." English artist Frank Cadogan Cowper's Portrait of Madame de Jordanow was indeed arresting, stunning, and fascinating. There was no Mona Lisa smile, but you could not take your eyes off her. The portrait, painted in 1930, sold to a phone bidder for $5900.
This is the North Carolina-made child's chest of drawers that Bill Ivey bought for $7670 on an $800/1200 estimate. The 20" x 15" x 12" birch chest with poplar and yellow pine secondary stands on its original dovetailed base.
Now here is a wardrobe with style! In mahogany and mahogany veneer, this 87" x 80" x 23½" work of art has bookmatched flame veneers, two hinged doors, interior drawers, and a paneled door that opens on the side. Probably Philadelphia, it sold to a lucky phone bidder for $1888 (est. $2000/3000).
Asheboro attorney and author William "Bill" Ivey is a self-proclaimed North Carolina preservationist. His mission is to keep North Carolina artifacts in the state. Ivey arrived late to the sale, scooped up two pieces of North Carolina furniture, and hit the trail. His first acquisition was an early 19th-century North Carolina birch inlaid child's chest of drawers. The chest came from the collection of the late Stuart and Doris Walston of Winston-Salem. Ivey bought it for $7670 (est. $800/1200). His second purchase was a circa 1800 southern Chippendale cherry corner cupboard from either Virginia or North Carolina. Ivey paid $1888 for the 16-pane cupboard.
Allen Lister of Raleigh, North Carolina, liked this tall Federal mahogany serving table attributed to Baltimore in the early 19th century. The legs on the 37¾" x 45" x 21" table are ring-turned, reeded, and tapered. It sold to the phones for $3422 (est. $600/900). Prunkl photo.
Leland Little made headlines in July when his firm was one of two auction houses that dispersed the estate of Charlotte businessman Richard Siskey. Siskey took his life soon after allegations arose that he had masterminded a Ponzi scheme that cost investors over $49 million. The sale was held at the Charlotte Convention Center and included Siskey's fleet of luxury automobiles and a 5.07-carat diamond ring that Siskey had bought for his wife. The ring, which Siskey purchased for $389,500, sold for $195,500. The sale raised $2.1 million, a respectable figure for a North Carolina auction, but a fraction of what bilked investors were demanding.
For more information, visit the website at (www.lelandlittle.com) or call (919) 644-1243.
Inside this 25½" x 6¼" x 5¼" glass rectangle, North Carolina's Jon Kuhn (b. 1949) inserted a series of crystal blocks in various colors and patterns. Coral Sonata from 1986 sold to an on-site bidder for $17,700 (est. $10,000/20,000).
Houses on a Hill by Francis Speight (1896-1989) was purchased by a collector bidding absentee who owns many Speight paintings. The circa 1942 work was one of Claire Fraser's personal favorites—she is Little's fine art and silver director. The 21¼" x 29¼" signed oil over tempera on canvas sold for $15,340 (est. $10,000/15,000).
All the modern furniture and art was in a back showroom that few seemed to explore. Donna Payne of Greenville, North Carolina, not only explored but also tested. The circa 2000 32" x 84" x 31" Herman Miller leather sofa designed by Mark Goetz went to another on-site bidder for $3068 (est. $1000/3000). Prunkl photo.
---
Originally published in the March 2018 issue of Maine Antique Digest. © 2018 Maine Antique Digest