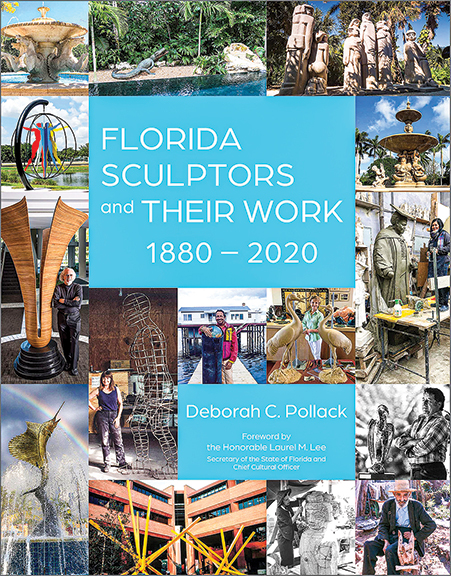 Florida Sculptors and Their Work: 1880-2020 by Deborah C. Pollack (Schiffer Publishing, 2022, 184 pages, hardbound, $65 plus S/H from Schiffer Publishing [www.schifferbooks.com] or [610] 593-1777).
The first thing you should do with Deborah C. Pollack's Florida Sculptors and Their Work: 1880-2020 is flip through its pages to scan the images of gorgeous sculptures defining Florida's diverse landscapes. Pretty soon you will notice the pages turning more slowly because you're skimming the captions; then you're scouring select paragraphs; then you're reading whole pages. Thus inspired, you will certainly turn back to page one and delve into this unique chronicle of Florida's sculptures and their artists, the first such chronicle, according to the author.
Divided into seven regions of the Florida landscape, the book documents artists, whether they lived in the state as full-time residents or as winter snowbirds. Those regions contain museums, universities, state commissioning agencies, arts organizations, and related cultural institutions, all of which have offered artists a secondary income from teaching and employment plus a platform to publicly exhibit their art. Perhaps most importantly, Florida's natural beauty has inspired the artists of the past and continues to inspire the artists of today.
Pollack covers all genres of three-dimensional art, "from realistic to abstract to folk art," while she tells the many stories of Florida sculptors and their work from 1880 to 2020.
-------------------------------------------------------------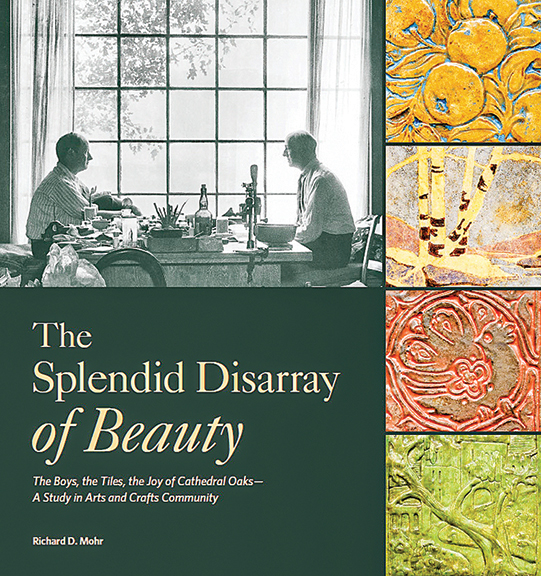 The Splendid Disarray of Beauty: The Boys, the Tiles, the Joy of Cathedral Oaks—A Study in Arts and Crafts Community by Richard D. Mohr (RIT Press, 2022, 141 pages, hardbound, $75 plus S/H from RIT Press, [www.rit.edu/press] or [585] 475-5819).
The second monograph in a series from RIT Press on the Arts and Crafts movement, this book tells the story of Cathedral Oaks, the first summer-only art school on the West Coast that was not part of a larger institution. Whether in materials used or through design implemented, the movement celebrated skill and craft while incorporating a theme of nature and the natural world. Spanning all art forms, the Arts and Crafts movement was short lived. Cathedral Oaks was no different, operating from 1911 to 1914 and then disappearing altogether in a fire just a year after it closed.
Richard D. Mohr's book is much more than a mere description of the obscure and forgotten school. It is also the story of the two men, George Austin Dennison and Charles Frank Ingerson (the Boys), who launched Cathedral Oaks as their honeymoon project to start their 55 years of life together. Among the many disciplines, Cathedral Oaks concentrated on crafting exquisitely designed but technically flawed tiles (the Tiles), which were the lone survivors when the school went up in flames in 1915. There was a magic to the school (the Joy): lifelong friendships between the students were forged and careers were launched. Cathedral Oaks stayed unabashedly true to the Arts and Crafts movement, embodying a style of life (the Community) as much as a philosophy of creating art and its corresponding aesthetics.
The surviving tiles constitute many of the illustrations of the book. They also illustrate author Mohr's puzzlement that the tile department failed at Cathedral Oaks. After all, it was led by Albert Louis Solon, a university-trained ceramic engineer on staff who went on to become one of America's greatest art tile makers. Tiles exploded. They cracked. They warped. Glazes fell. Even so, Mohr describes the tiles that have survived as "mysterious, beguiling, and beautiful," even with their debilitating flaws. The same might be said about the Cathedral Oaks experience during its four short years of existence, perhaps adding "inspiring, ambitious, and passionate" to describe this first summer-only art school in California.
-------------------------------------------------------------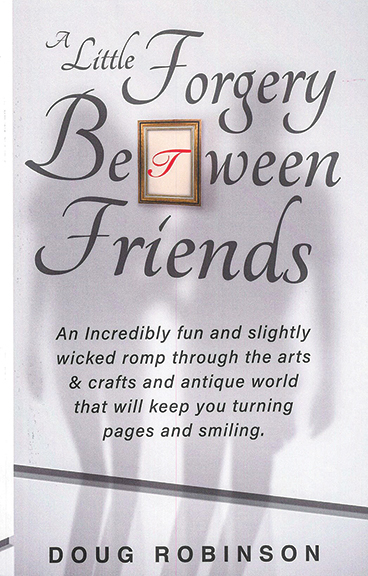 A Little Forgery Between Friends by Doug Robinson (Lulu, 2023, 245 pages, softbound, $25 plus S/H from Lulu [www.lulu.com/shop] and from other online booksellers, or email Doug Robinson for an autographed copy [[email protected]]).
Although A Little Forgery Between Friends is fiction, at times it reads like nonfiction, perhaps because, as author Doug Robinson notes, the Pennsylvania and New Jersey locations are real, and the settings include country auctions, while the events describe a dealer's hunt for a treasure and the big find—all things this author/antiques dealer knows about. In addition, Robinson has done research about forgery and the forger's mindset of cunning deception and careful ambition, both of which can get out of hand to start the wheels of failure and discovery turning.
The book's main character, Clark Westfield, is a struggling antiques dealer who starts a secret scheme of forging the signatures of little-known deceased artists on lookalike unsigned paintings that he buys cheaply at small auctions. Simultaneously and an hour away in Lambertville, New Jersey, Beth Turner, whose grandfather started painting late in life to pass the time of his retired days, is trying to make ends meet at her small gallery. Beth had spent many afternoons as a young child watching her grandfather work. In fact, her own painting style closely resembles her grandfather's style.
When Clark and Beth meet, a clandestine partnership—commercial and otherwise—threatens to unravel both of their careers as they join forces to avoid exposure. Throw in a famous unscrupulous art dealer who knows how to promote art and make money, and you have some fun twists to the plot.
A Little Forgery Between Friends is Robinson's fifth book and second novel.
-------------------------------------------------------------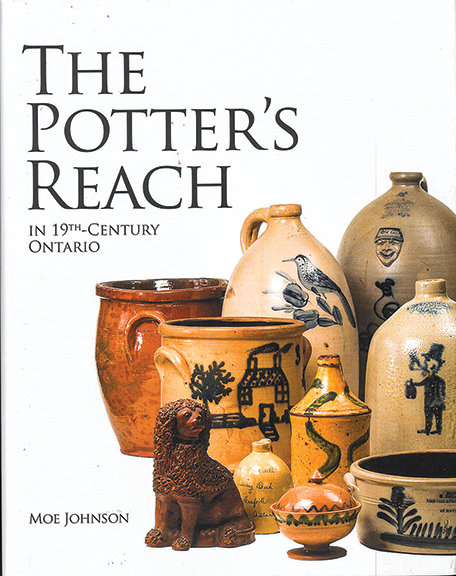 The Potter's Reach in 19th-Century Ontario by Moe Johnson (Sonderho Press, 2023, 684 pages, hardbound, $135 [Canadian] or $99 [U.S.] plus S/H from Moe Johnson [www.moejohnson.ca]).
Moe Johnson has written a refreshing history of Ontario's pottery in the 19th century in the context of the region's economy. He looks at the technological developments of the industry and at its social impact. As a result, this is not simply a book of names and pictures but is a chronicle of why Ontario's potters immigrated to the region from Europe, where the protective but age-old guild system was declining, and from the United States, where, as had already occurred in Europe, industrialization was extending into all areas of commerce.
Canada was a place where potters could continue their craft and make a living. Their concentration on the craft of pottery advanced the establishment of stoneware for the pervasive consumption of wine and spirits and also for the economically significant home dairy industry, which utilized pottery in every facet of production and storage.
But by the 1870s jugs and jars were being replaced by glass, and the dairy industry was transitioning to tin pails, treadle-powered barrel churns, and, ultimately, large creameries. All signaled the demise of Ontario's pottery industry. As a last gasp, the potteries produced a short-lived run of decorative pieces for the home, which kept them afloat for a while longer.
By 1910 there were only a few potteries still operating in Ontario, and those had mostly been reduced to firing bricks and flowerpots. In 1919 the last pottery, operated by the determined and ambitious Humberstone family, succumbed.
Johnson details the work of Ontario's talented potters with gorgeous illustrations. Just as importantly, he also tells us the whole story of that region's pottery industry: how it started, how it innovated, and how it was an economic driver for the potters and for the people who lived there.
-------------------------------------------------------------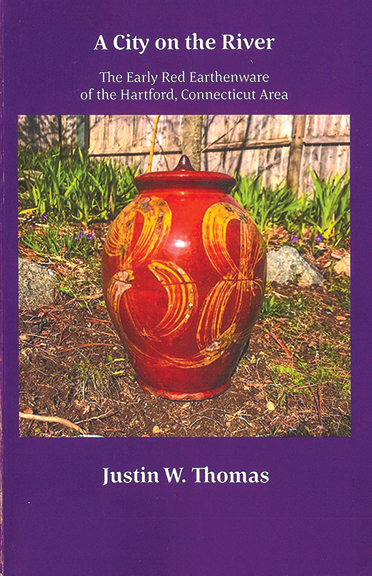 A City on the River: The Early Red Earthenware of the Hartford, Connecticut Area by Justin W. Thomas (Historic Beverly, 2023, 538 pages, softbound, $58 plus S/H from Historic Beverly, [www.HistoricBeverly.net/shop] or [978] 922-1186).
Although Massachusetts is commonly known as having employed the greatest number of potters in 18th-century New England, the industry in Hartford, Connecticut, also included pottery and brick making. Made from red clay found in the area, red earthenware pottery was the original type of household pottery produced in the Hartford area. In the 18th and 19th centuries, thousands of pieces were produced there, many embellished with dramatic styles of hand-applied slip decoration.
The research and documentation of author Justin Thomas in A City on the River credits Ebenezer Faxon as having a significant—and newly recognized—impact on the red earthenware industry in the Hartford area. Before moving to West Hartford in 1772, Faxon began his career in nearby Braintree, Massachusetts, most likely at a pottery owned by well-known Peter Clark (whose mother was related to the Faxon family) or possibly John Henry Benner, another prominent potter in the area. The Seymours, the Goodwins, and Hervey Brooks have been recognized as important potters, but until now Ebenezer Faxon has been overlooked. Thomas discusses the influence of regional New England potters and pottery in the Hartford area, these and other major producers, special pottery finds, and more history and discoveries.
At the end of the book is a list of "Some of the Potters Employed" in the Hartford, Connecticut, area. It is notable that the list is not yet comprehensive, as denoted by the word "some," promising additions of names as Justin Thomas discovers more potters operating in the area.
Using extensive research together with many illustrations, Thomas chronicles the makers, owners, and types of early red earthenware found and manufactured in the Hartford area. A City on the River is a valuable resource on Hartford potters and pottery, deserving a spot on the bookshelf. There is a bibliography but no index, although the table of contents clearly indicates what each chapter contains. ---
Originally published in the June 2023 issue of Maine Antique Digest. © 2023 Maine Antique Digest