The exhibition Planed, Grained, & Dovetailed: Cabinetmaking in Rural New England at Old Sturbridge Village (OSV) in Sturbridge, Massachusetts, highlights rarely seen objects and primary source materials from OSV's collections. Centered on three main themes—form, process, and people—the exhibition examines the tools, products, and livelihoods of rural cabinetmakers in the early 19th century.
A tool chest and tools used by Mendon, Massachusetts, carpenter William Torrey Metcalf.
The exhibition illustrates a wide range of objects by rural cabinetmakers, including clock cases, sofas, sideboards, and coffins. Delicate inlay, figured veneers, intricate carvings, and grain-painted surfaces represent the diversity of decorative processes practiced by New England cabinetmakers to adorn their work. Interpretive labels and graphics reveal the material story behind the objects—a receipt for a coffin, an account book from a local cabinetmaker, a recipe for green paint.
"The exhibit touches on woodworking, craftsmanship, the stories of individual craftsmen, and the objects they created," said Caitlin Emery Avenia, curatorial director at OSV. "It's a wonderful opportunity to highlight not only the finished products but also the process of production and all of the components that went into making a piece of furniture."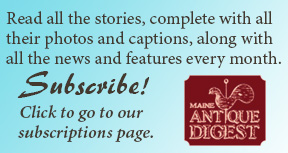 Last year OSV acquired John Ritto Penniman's 1831 portrait of Tilly Mead (1794-1849), a cabinetmaker from Hardwick, Massachusetts. In lieu of a body of furniture, Mead left a trail of land transactions, patterns and graphic materials, some papers, architectural resources, and significant social connections. This evidence supports conclusions about Mead's personality and his aspirations in the thriving yet competitive field of fancy painted furniture but offers only hints of his actual products. Mead's lively but meager career represents one cabinetmaker's response to the fluid and unstable state of the trade in mid-19th-century New England.
The exhibit compares Mead's history with that of Samuel Wing (1774-1854), a cabinetmaker from Sandwich, Massachusetts, to provide a deeper understanding of the craft and business as it existed in the 19th century. Unlike Mead, Wing left a body of furniture and documentary material as well as the contents of his shop, including tools and patterns.
To promote techniques of preindustrial craftsmanship featured in the exhibition, OSV will host woodworking demonstrations by experienced craftsmen trained in historic methods for seven weekends this fall from Labor Day to Columbus Day. During this time, OSV will host Maker's Weekend (September 23 and 24), highlighting preindustrial craft methods including cabinetmaking. Skills to be demonstrated may include prepping wood, turning on a lathe, creating dovetail and mortise-and-tenon joints, and finishing processes such as carving, veneer, inlay, and grain painting.
For more information, visit the website (www.osv.org).
---
Originally published in the September 2017 issue of Maine Antique Digest. © 2017 Maine Antique Digest