Carol B. Cadou Named Director and CEO of Winterthur
Carol B. Cadou has been appointed the first Charles F. Montgomery Director and CEO of Winterthur. Currently senior vice president of historic preservation and collections at George Washington's Mount Vernon, Cadou will succeed David P. Roselle in late spring when Dr. Roselle retires after ten years as director.
Cadou has more than two decades of experience in the museum field and earned her master's degree from the Winterthur/University of Delaware program in American Material Culture.,p> Cadou said in a press release, "I am honored and delighted to be chosen for this position. Henry Francis du Pont had a remarkable vision for the role of his collections in telling the American story. I look forward to working with the highly engaged Board of Trustees and talented staff to bring those compelling stories to a wide range of visitors, and to broaden Winterthur's educational outreach as we build a future for the study of America's past."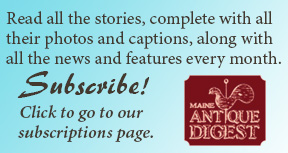 Cadou began her career at Mount Vernon in 1999. She subsequently held the positions of Robert H. Smith Senior Curator and vice president of collections and since 2014 has been senior vice president of historic preservation and collections. Cadou was responsible for overseeing the Donald W. Reynolds Museum in addition to managing the care, administration, and exhibition of Mount Vernon library holdings. She played a crucial role in the planning and construction of the Fred W. Smith National Library for the Study of George Washington, working closely with architects, designers, and contractors.
Cadou has curated numerous exhibitions, including Saving Mount Vernon: The Birth of Preservation in America (2003) at the National Building Museum; Treasures from Mount Vernon (2006) at the Winter Antiques Show; and A Son and His Adoptive Father: George Washington and the Marquis de Lafayette(2006-07) at Mount Vernon.
She lectures frequently and is the author of several publications: George and Martha Washington's Mount Vernon: At Home in Virginia, 1759-1799 (forthcoming, 2020); The George Washington Collection: Fine and Decorative Arts at Mount Vernon (2006); and The Installation of Historic Architecture at Winterthur (1998), coauthored with Nancy A. Holst. She is the editor of Stewards of Memory: The Past, Present, and Future of Historic Preservation at George Washington's Mount Vernon (forthcoming, 2019) and contributed to Dining with the Washingtons (2011).
---
Originally published in the May 2018 issue of Maine Antique Digest. © 2018 Maine Antique Digest