Rockport, Maine
The 41st Camden-Rockport Antiques Show & Sale took place over the weekend of July 22 and 23. The show is owned and managed by John and Elizabeth DeSimone of Goosefare Antiques & Promotions, Saco, Maine, and this year marked a historic change of venue for the show. Instead of taking place at the Camden Hills Regional High School, the show entered its fab 40s at the Midcoast Recreation Center on Route 90 in Rockport. The reason for the change was not made clear, but what was clear is that it could have been a risky endeavor, given that an audience consisting largely of antiques enthusiasts might not be the among the most receptive to sudden changes. In addition, the whole venue needed to be rewired for air conditioning, and given what electricity prices have been like lately, that was no joke.
On a personal note, this show was the first antiques show I've attended since outgrowing a stroller, and my first ever as a correspondent. I had first-day-of-school-style jitters (Will people like me? Where do I sit?), but I can confidently report that I have never felt more welcomed. Buyers and sellers alike were more than happy to answer all of my questions.
From Edward T. Pollack Fine Arts, Brunswick, Maine, Cat and Canary by Will Barnet (1911-2012), a color lithograph, 1971, from an edition of 225, printed by Galerie Mourlot, New York City, and published by Associated American Artists, 14½" x 17¾", was priced at $1500. It was still available for purchase as of press time. It strongly resembles this author's personal pet cat, Neko.
"Surfin' Safari"by the Beach Boys started playing as the doors opened and the crowd streamed in. The high ceilings of the rec center helped dissipate the noise from all the chatter, so that the show seemed full and vibrant, but not so much that I had to shout my questions to the dealers. My ears also picked up French and German being spoken among the shoppers. The booths were decked out in eye-catching yellow, pink, and slate backing, each one set up in the dealer's preferred house style. There was nevertheless a cohesiveness to the show that would not have been out of place in an Instagram post.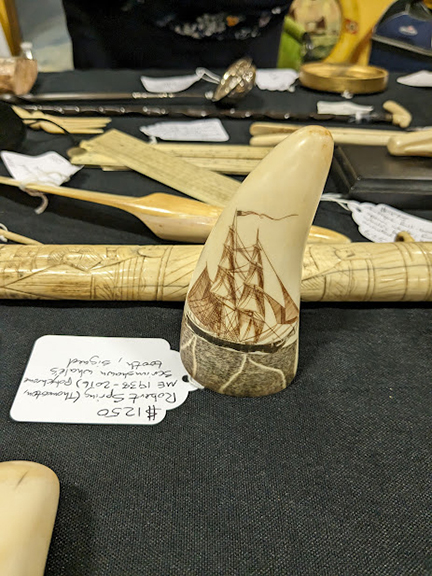 Polychrome scrimshawed whale's tooth by Robert Spring (1938-2016) of Thomaston, Maine. Signed by the artist, it was $1250 from East Boothbay Trading Co., which exhibits at the Wiscasset (Maine) Antiques Mall and the Freeport (Maine) Antiques and Heirlooms Showcase.
The show seemed like a roaring success by the time I left, but as part of my journalistic due diligence I talked with John DeSimone a few days later in a debriefing session. Indeed, the show went "extremely well," according to DeSimone; he was "very pleased." The show was interrupted for a few years by COVID-19; this was their second year back, and they are fully into the swing of things. The customers were happy that the dealers were back post pandemic, and the dealers were certainly happy that their customers had remained loyal. Sales went well, which did not come as a surprise to this correspondent, who nearly spent her gas money for the trip home on a statuette of a Boston terrier. Toward the end of my morning on the show's first day, I saw many "sold" signs beginning to pop up on the larger items. All told it was a successful event, and Goosefare plans to go back to the rec center again next year.
And most importantly—the air conditioning worked perfectly.
For more information, contact Goosefare Antiques & Promotions at (800) 641-6908 or see the website (www.goosefareantiques.com).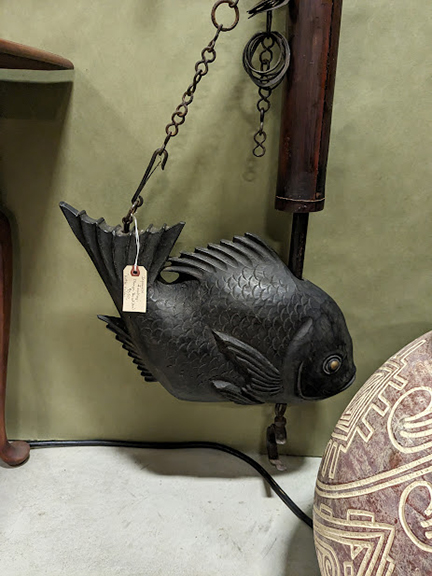 Roger Williams of Boat House Antiques, Wiscasset, Maine, displayed this circa 1900 Japanese jizaikagi—an adjustable pothook used to suspend cookware over a sunken hearth. The beautiful carp is not only decorative; it is deceptively heavy and would be used to raise and lower the pot. It dates from Japan's Meiji era (1868-1912), and Williams said it was the only one at the show, a claim this journalist could not independently confirm but suspects is most likely true. It was $850.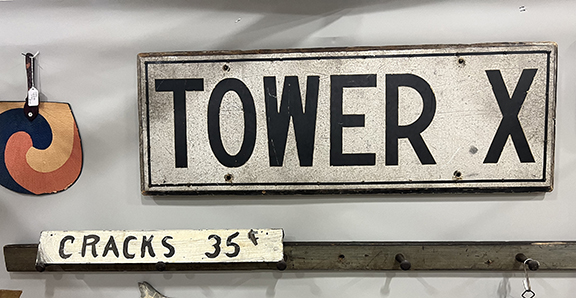 This "Tower X" sign from DocEngine Antiques, Holliston, Massachusetts, was a source of mystery to owner Jim Luskay, who did not know precisely what it refers to. We thought it might have come from a railroad. It was $195. As for the "CRACKS 35¢" sign, he conjectured that it perhaps hung on a lobster shack or was used by "a cheap chiropractor."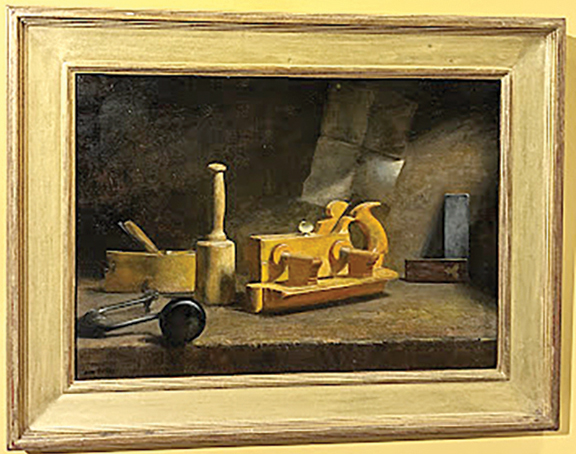 Tools of the Artist by Stan Phillips (1923-2012), oil on canvas, is signed by the artist. This still life most likely depicts the artist's own woodworking tools, as he was an accomplished cabinetmaker and a painter. It was shown by Martin J. Ferrick Antiques, Lincolnville, Maine, and priced at $1950.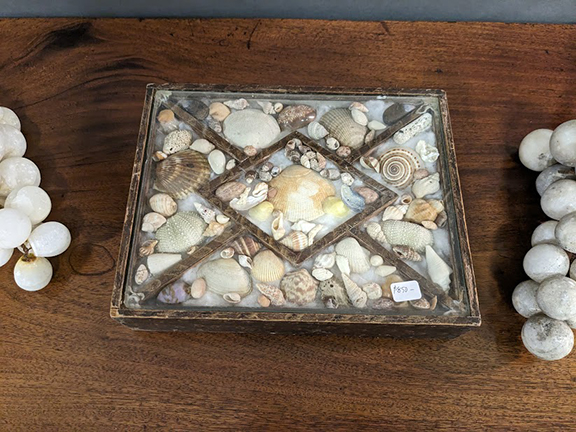 Bethany Kelly of BDK Antiques & Design, Limington, Maine, displayed this paint-decorated box of shells, akin to a sailor's valentine. Some long-ago mystery mariner's affection has been sealed, shut in it since circa 1830. It was $850.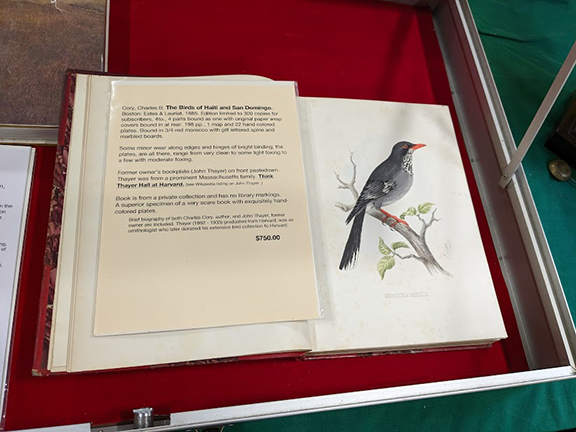 Offered for $750 by The Reynolds Antiques & Books, Brunswick, Maine, was The Birds of Haiti and San Domingo by Charles B. Cory, 1885, one of 300 copies. It has 198 pages, one map, and 22 hand-colored plates (all present). It is bound in three-quarter red morocco goatskin with a gilt-lettered spine and marbled boards. The bookplate in front marks it as once belonging to John Eliot Thayer (1862-1933), an ornithologist who belonged to a prominent Massachusetts family.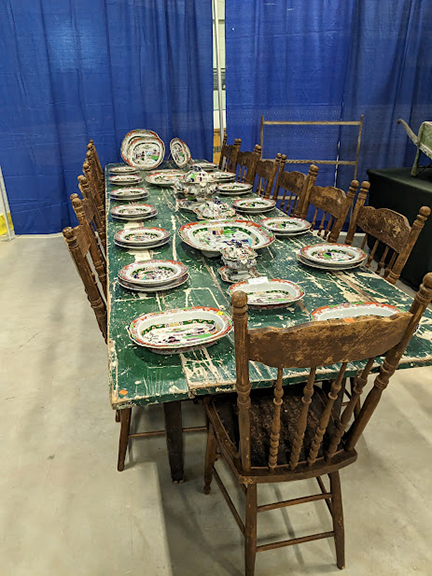 Stone Block Antiques, Vergennes, Vermont, displayed this sumptuous Hicks & Meigh china dinner service from 1815. Observed up close, the pattern is a brightly colored, Asian-inspired landscape scene. Full place settings and multiple serving dishes were included. It was $3900 for the set.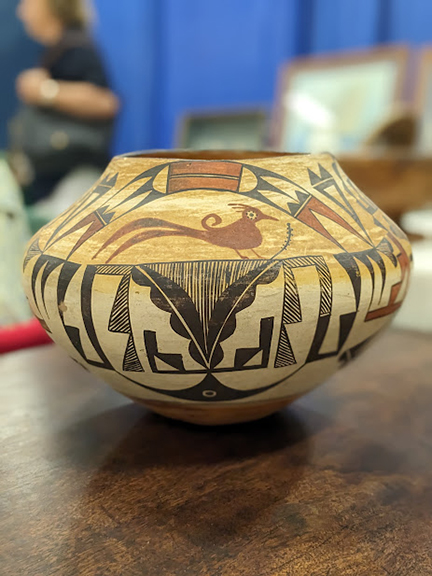 Tom Moser Antiques, Gray, Maine, had this beautiful olla on display. Originating in the Southwest, this Native American vessel is both beautiful and practical, with geometric and bird images. Originally it would have been used for cooking or food storage, although it certainly has a decorative aspect. The early 19th-century pot was $4050.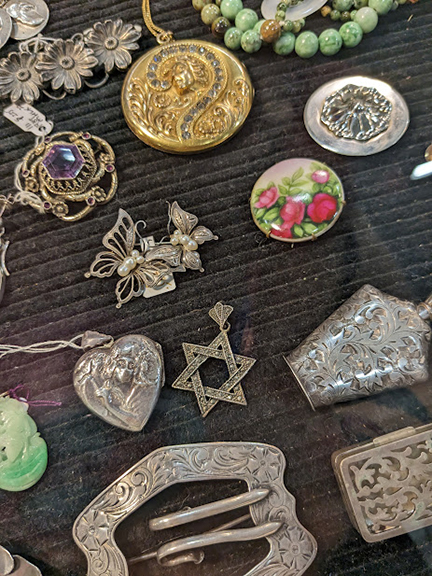 A selection of pendants, brooches, and other tempting sparkly objects from Massachusetts dealer Abroms Antiques & Jewelry. Prices at this booth ranged from $3.99 to $2850.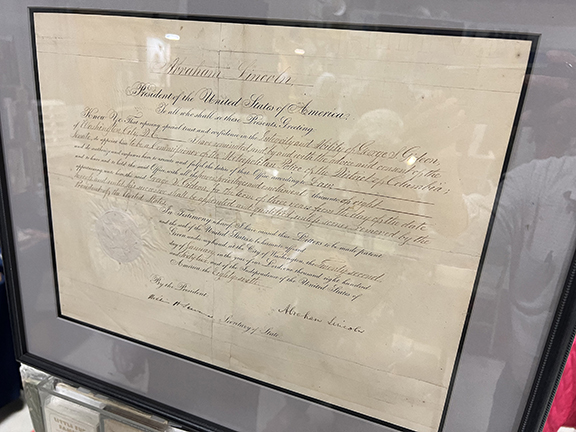 Richard Mori of Mori Books, Franklin, New Hampshire, posing with an 1862 document appointing George S. Gideon to be the commissioner of the Metropolitan Police of Washington, D.C. This Civil War-era piece bears the signatures of President Abraham Lincoln and Secretary of State William Henry Seward. A rare find for antiques hunters and history lovers, it was $14,000.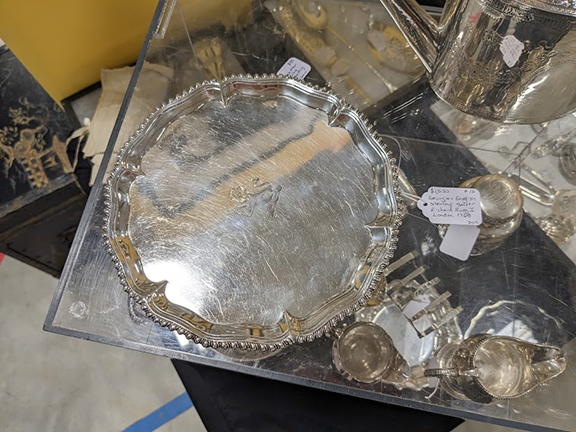 Deirdre O'Callaghan of Partridge Hill Antiques, Georgetown, Maine, had several silver pieces for sale. This Georgian English sterling silver salver caught my eye with its lion crest. Dating to 1768, it was made by silversmith Richard Rugg I of London and was $1500.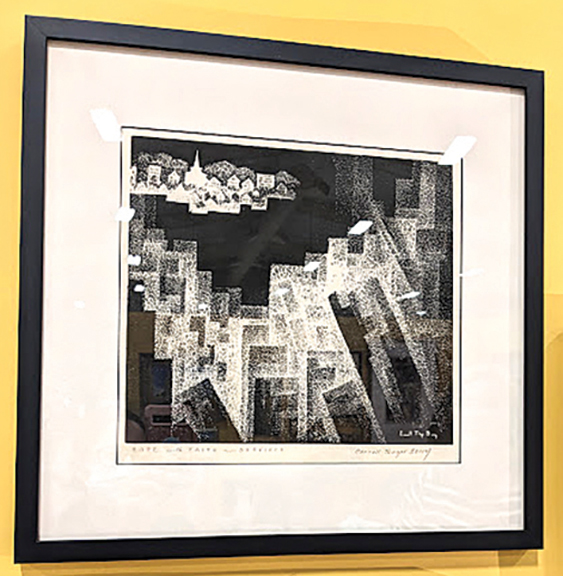 Hope with Faith—Survives, #2 by Maine artist Carroll Thayer Berry (1886-1978), a woodblock print, 1976, one of a limited edition (under 40), part of the artist's final works, his "End of Our World" series, was $595 from Deirdre O'Callaghan of Partridge Hill Antiques. A smart display choice by O'Callaghan, as we could certainly use more of this message these days.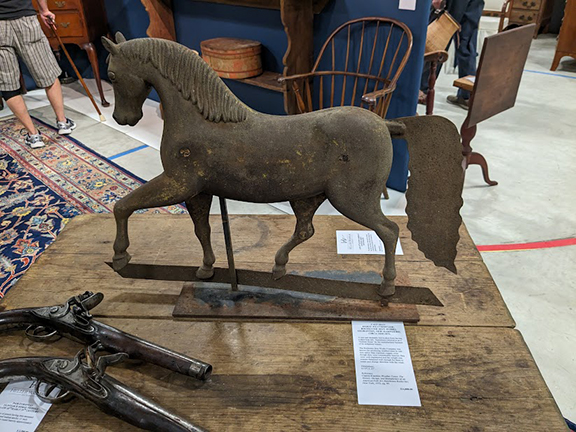 Heller Washam Antiques, Portland, Maine, showed this cast-iron horse weathervane, made by Rochester Iron Works, Gilmanton, New Hampshire, 1850-75. It is 19" x 27" and was billed as "a rare and desirable full-bodied form." The sheet-iron tail caught my eye. It was $14,800.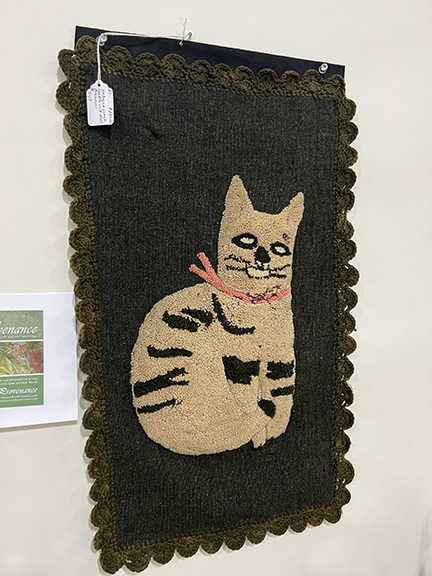 The wool punch needle cat was $250 from Interiors with Provenance, Granite Point (Biddeford), Maine, and Park City, Utah.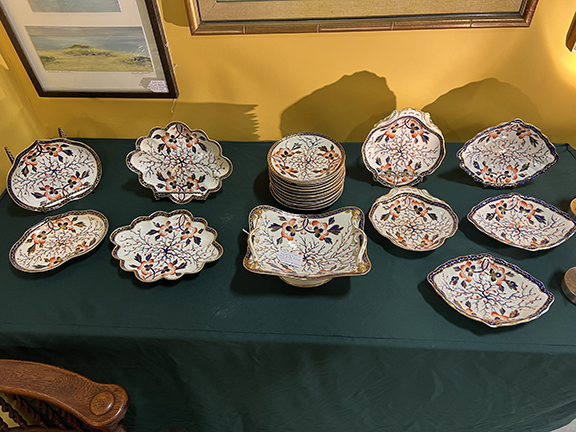 This circa 1810 English Derby luncheon service with an Imari palette, 22 pieces in all, was $1300 from P. D. Murphy Antiques, Bath, Maine.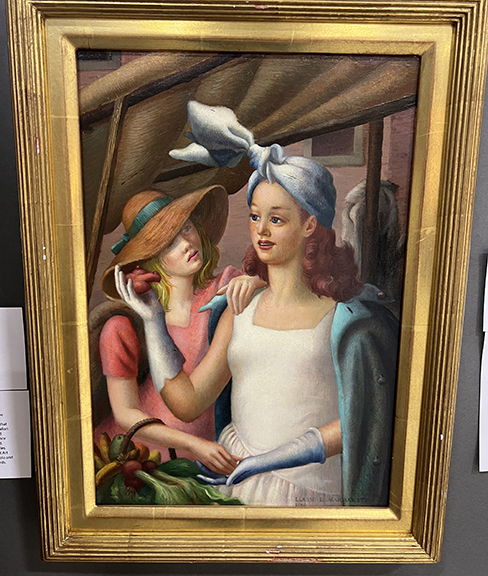 Two Women by Providence, Rhode Island, artist Louise Marianetti (1916-2009), egg tempera on panel, 14" x 10", was $2200 from Susanna J. Fichera Fine Art, Brunswick, Maine. A graduate of Rhode Island School of Design, Marianetti continued her studies at the Art Students League in New York City. In the 1940s she joined the Providence Art Club. She had a solo exhibition at Vose Galleries in Boston in 1947 that traveled to the Newport Art Museum.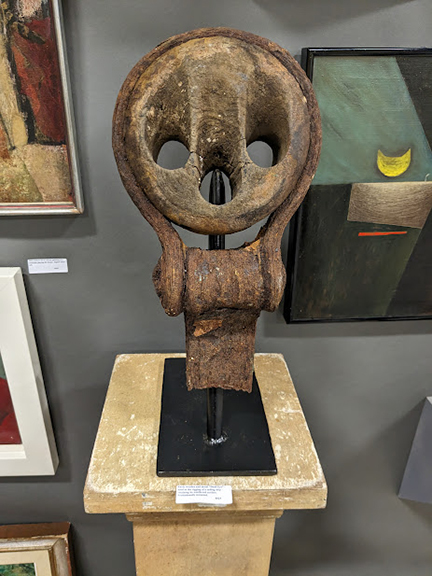 This is not a piece of avant-garde art or a tribute to Edvard Munch's The Scream, although you'd be forgiven for the mistake. This early wood and metal deadeye was vital to the rigging of a sailing ship. The weathered surface indicates that this piece saw a great deal of service. From Ed and Lilly Miller of Pioneer Folk Antiques, LLC, Ellsworth, Maine, it is professionally mounted and was $525.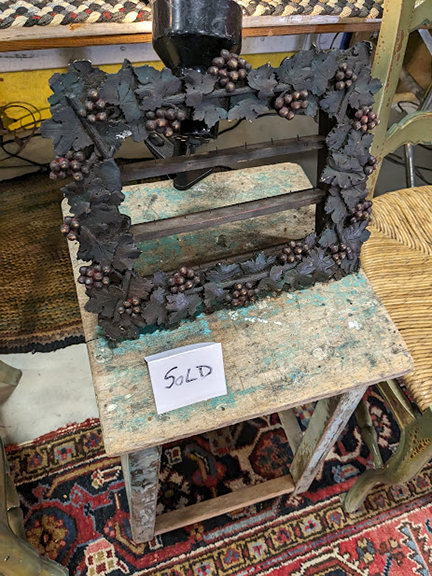 It didn't take long after opening before "sold" signs started popping up.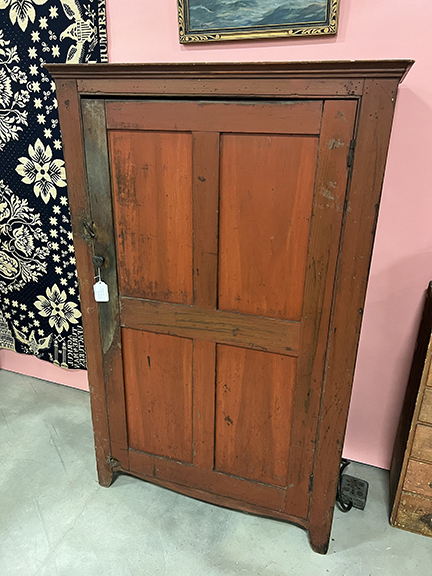 The one-door cupboard in old red paint was $850 from Goosefare Antiques & Promotions, Saco, Maine. ---
Originally published in the October 2023 issue of Maine Antique Digest. © 2023 Maine Antique Digest