Change has come to the Boston Athenaeum with the appointment of John Buchtel as curator of rare books and head of special collections beginning in June. He succeeds Stanley Ellis Cushing, who announced his retirement in 2017 after 47 years. Most recently Cushing was the Bromer Curator of Rare Books and Manuscripts, and previously he was chief conservator. Cushing will become curator emeritus of rare books.
Cushing and David B. Dearinger, the Susan Morse Hilles Curator of Paintings and Sculpture at the Athenaeum, are the coauthors of Acquired Tastes: 200 Years of Collecting for the Boston Athenaeum, published in 2007 on the 200th anniversary of the library. Dearinger has also retired; his last day was December 19. Their collaboration produced the first in-depth scholarly study of the Boston Athenaeum's collections and the manner in which they were gathered from the early 19th to the early 21st centuries. These topics are expanded and brought into sharper focus in the fully illustrated catalog entries on a wide variety of objects that represent the breadth of the Athenaeum's holdings.
Buchtel comes to the Boston Athenaeum from Washington, D.C., where he was director of the Booth Family Center for Special Collections at Georgetown University Library since 2008. Before that, he was curator of rare books at the Sheridan Libraries at the Johns Hopkins University. Since 2001, Buchtel has served on the faculty of the Rare Book School, University of Virginia. Buchtel, who holds a Ph.D. in English from the University of Virginia, has also taught at Georgetown University, University of Maryland, University of Virginia, and Case Western Reserve University.
At Georgetown, Buchtel planned and oversaw a successful $5 million renovation of the university library's special collections center and led an effort to increase object-based learning that has tripled the use of the special collections by students and faculty. Buchtel's exhibitions have addressed topics ranging from Jane Eyreto Tin Pan Alley and Renaissance music. His noteworthy acquisitions include the Paul F. Betz collection, consisting of books, manuscripts, and artworks related to Wordsworth and his circle, and the rediscovered archive of the Harlem Renaissance composer Margaret Bonds. Buchtel worked to reassemble the Bonds archive after its dispersal at a storage locker sale, and he then arranged to celebrate its rediscovery with an exhibition, catalog, performance, and symposium.
When asked about his new role, Buchtel said, "I am tremendously excited about joining the vibrant cultural community of the Boston Athenaeum. Its extraordinarily rich collections of rare books and manuscripts present exceptional opportunities to engage the Athenaeum's members and the public in nurturing a sense of wonder, cultivating a tangible enjoyment of the past, and fostering the creation of new knowledge."
From its founding in 1807, the Boston Athenaeum's primary mission has been to provide collections that stimulate study, discussion, and debate on all topics of interest to the enquiring mind. In the Enlightenment of the late 18th and early 19th centuries—the historic period that saw the founding of the Boston Athenaeum and similar organizations—it was believed that intellectual endeavors more easily germinated and thrived in an atmosphere that was spacious, comfortable, quiet, and aesthetically pleasing. Here, books and manuscripts could be preserved, logically organized, and made accessible, and utilitarian objects could be logically grouped with didactic ones for comparison and discussion. In this setting, too, fine examples of paintings, sculpture, drawings, and engravings fulfilled their traditional purposes of education and inspiration and—together with items from the world of science—stimulated imaginations, improved morals, and refined aesthetic tastes. Among the Athenaeum's holdings are the largest extant portion of George Washington's personal library; a major collection of Confederate imprints, first assembled by the historian and Athenaeum trustee Francis Parkman; an important collection of tracts and broadsides, including those gathered by John Adams and John Quincy Adams; major works of natural history, including John James Audubon's Birds of America(to which the Athenaeum was an original subscriber); the 17th-century theological library of King's Chapel, Boston; private press books by Kelmscott, Ashendene, Doves, Eragny, and Vale; the archives of the Merrymount Press; and one of the nation's finest collections of contemporary artists' books.
The national search for the position was conducted by what Elizabeth Barker, the Athenaeum's Stanford Calderwood Director, described as a "blue ribbon" committee. In addition to Barker, it included three Athenaeum board members—vice president Susan Weatherbie, trustee Earl M. Collier Jr., and trustee emeritus Alexander Altschuller, M.D.—as well as Robert Darnton, the Carl H. Pforzheimer University Professor and university librarian emeritus at Harvard, Christian Dupont, the Burns Librarian and associate university librarian for special collections at Boston College, and Christina Nielsen, the William and Lia Poorvu Curator of the Collection and Exhibition Program at the Isabella Stewart Gardner Museum.
Barker characterized the committee's selection of Buchtel as "unanimous" and "enthusiastic." Dupont observed that Buchtel "enjoys immense respect in the field of special collections librarianship" and "is the ideal person to take up this new role at the Athenaeum."
Darnton described Buchtel as a "rarity" in the world of rare books and observed that he "combines impeccable scholarship with an ability to address a general public, bibliographic expertise with an understanding of the needs of non-experts, and administrative skill with a warm manner that will win the affection of everyone at the Athenaeum."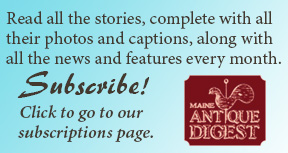 Dupont concurred. "He is truly passionate about books and has a unique ability to spark that passion in everyone he meets."
Barker said, "In John Buchtel, I believe we've found an inspiring curatorial leader who will help to make the Boston Athenaeum's extraordinary special collections even better known and more widely enjoyed. I'm really looking forward to working closely with him in the years ahead."
For more information, check the website (www.bostonathenaeum.org).
---
Originally published in the February 2018 issue of Maine Antique Digest. © 2018 Maine Antique Digest