Freeman's, Philadelphia, Pennsylvania
Photos courtesy Freeman's
A taste for modern design flourished in the Philadelphia area. By the late 1940s architects were commissioned to design flat-roofed low-slung modern houses, which were furnished with Knoll, Herman Miller, and Scandinavian modern, and also with furniture by local studio artists and craftsmen. Wharton Esherick was the pioneer studio artist-craftsman in wood, working in his studio in Chester County. George Nakashima created his studio workshop on Aquetong Road, Bucks County. Paul Evans and Phillip Powell opened their studios in the nearby town of New Hope.
This fine 1979 Conoid bench in American black walnut and hickory by George Nakashima is signed with the clients' name, "ROTH." The bench is 31" x 89" x 37", and it sold on the phone for $75,000 (est. $30,000/50,000), a strong price for an exceptional Conoid bench.
The early customers of these masters are now dying or downsizing, so works by Esherick, Nakashima, Powell, and Evans have become a mainstay of Delaware Valley auctions. On October 8, 2017, just two weeks after Rago Auctions in Lambertville, New Jersey, sold more than 64 lots of furniture by Nakashima, Evans, Powell, and Esherick, more than half of Freeman's 99-lot sale, 56 lots to be exact, were by Nakashima, Esherick, Powell, or Evans.
George Nakashima (1905-1990) made this settee with a free-edge arm in 1959. It was created from American black walnut and is 30½" x 82" x 36". It sold to a man in the salesroom for $21,250 (est. $10,000/15,000), underbid by someone on the phone.
This pair of 1980 American black walnut and hickory Conoid chairs by George Nakashima, each 33½" x 34½" x 34", sold for a strong $43,750 (est. $20,000/30,000) after a bidding battle between an absentee bidder and a phone bidder.
George Nakashima made this double sliding door cabinet circa 1960 in American black walnut and pandanus cloth. The 36" x 66" x 16" cabinet sold to a bidder in the salesroom for $17,500 (est. $10,000/15,000)—the very same price a cabinet of the same design brought at a Rago auction two weeks earlier.
Most of these furniture lots were by Nakashima, nearly half of which came from the collection of the late Arnold "Archie" and Corinne "Cookie" Roth, who married in 1950 and began furnishing their Brooklyn apartment with Nakashima tables and chairs. They continued a close relationship with George Nakashima when they moved to Livingston, New Jersey, and ordered furniture over every decade through the early 1980s. The Roths' collection ranged from an early turned-leg coffee table that sold with buyer's premium for $2750 (est. $4000/6000) to a spectacular bench and rare cushion chairs in Nakashima's Conoid design in 1979 and 1980 respectively. Their fine Conoid bench sold for a strong $75,000 (est. $30,000/50,000), and their pair of Conoid cushion chairs brought $43,750 (est. $20,000/30,000).
The Nakashima Sanso "Reception House" table and six Conoid chairs, which sold for $187,500 (est. $100,000/150,000), were made for the family of Stanley Frosh, a judge in Washington, D.C. Nakashima named the table after the reception house he built for himself and called Sanso, the last building he designed on his New Hope, Pennsylvania, compound in 1975-77, for which he made a similar table. Sanso tables are made of two large book-matched slabs of crotch wood cradled by a delicate support system. The Frosh table is likely one of the earliest of these Sanso forms, a design that was later adapted by George Nakashima for his even larger Altars for Peace.
Nakashima planned to build Altars for Peace beginning in 1984, one for each of the seven continents. The first one was consecrated and installed at the Cathedral of St. John the Divine in New York City in 1986. There are Altars of Peace in Russia (installed in 1995) and in India (2014), and South Africa will receive the next one. A mini peace table was in the personal quarters of the White House during the Obama administration. The Altars for Peace project has been continued by Mira Nakashima and the George Nakashima Foundation for Peace.
A stool by Wharton Esherick (1887-1970) of Paoli, Pennsylvania, made in 1954 of hickory and leather, has his carved signature "W.E. 1954," as shown in the detail. This 13¼" x 24" x 14½" stool sold to Sam Freeman on the phone for $13,750 (est. $4000/6000).
This classic Wharton Esherick stool with a cherry seat and striped oak legs, 26" x 11½" x 10½", sold for $4688 (est. $3000/5000). Not shown, another Esherick three-legged stool of walnut with the same estimate sold for $3750. Esherick stools generally retail for around $6000; one for sale at the Main Line show that same weekend was $8500.
Louis Kahn designed this desk for the Morton and Lenore Weiss house in East Norriton Township, Pennsylvania, in 1949, and it was fabricated by the Alexander Woodwork Co., Philadelphia, in 1950 in walnut veneer, birch, and brass. It is 27¾" x 78" x 36". It is unique but well used, and it sold on the phone for $33,750 (est. $10,000/15,000).
At this October 8 Freeman's auction, some pieces of Nakashima furniture sold for strong retail prices, and others fetched reasonable wholesale prices. For example, a set of six Conoid chairs sold for a bargain $20,000 (est. $20,000/30,000). A Minguren II coffee table, 1979, sold via Invaluable for $18,750 (est. $20,000/30,000)—a good deal.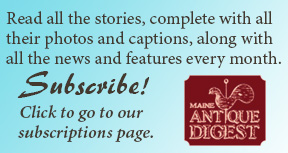 With the exception of a rare four-legged stool that sold on the phone for $13,750 (est. $4000/6000), furniture created by Wharton Esherick was a bargain at this auction. Iconic three-legged stools by Esherick that retail for $6000 to $8500 sold for $4688 for one with a cherry seat and striped oak legs and $3750 for a similar one in walnut. An Esherick end table with sliding shelves sold for $9100 (est. $10,000/15,000). And a pair of ash chairs with leather seats, dated 1957, sold on one bid for $6250 (est. $10,000/15,000) via Freeman's new house bidding platform. A single cherry and ash chair with a rawhide seat, created in 1952, sold for only $1300 (est. $4000/6000) via Invaluable. Is Esherick furniture so rare that it cannot create as deep a market as the more available work from the Nakashima studio? And this was the result after Freeman's sponsored a showing of the new Wharton Esherick documentary at the Barnes Foundation on September 22.
I Am Known as an Artist is a docu-mentary about Wharton Esherick by Carolyn Coal, an award-winning writer and director who teaches communication and film studies at California State University, Fullerton. The film was followed by a panel discussion with Wharton Esherick Museum's Laura Heemer; Moderne Gallery's Robert Aibel; and Freeman's design specialist Tim Andreadis. The 41-minute DVD can be purchased from Carolyn Coal's website (www.whartonesherickdocumentary.com), Moderne Gallery in Philadelphia, or the Wharton Esherick Museum store.
John Vesey (1924-1992) is known for his adaptations of 18th- and 19th-century designs in metal, such as aluminum Thonet rockers and Campeche chairs. One of John Vesey's most coveted designs in the late 1950s and 1960s was this desk made of steel and with gilt bronze trim and a leather top fitted with three false drawers and three true drawers, lined in suede. The left-hand drawer is fitted as a safe with a combination lock. This one has gilt bronze handle pulls stamped "PEG 843" (for P.E. Guerin, New York) and stands 29" x 59½" x 30½". Howard Hughes is said to have owned one, as did fashion designer Bill Blass and jewelry designer Kenneth Jay Lane. This Louis XVI desk, Model V-60 by John Vesey Inc., New York, sold for $32,500 (est. $4000/6000).
This "faceted" Cityscape II cabinet, designed by Paul Evans (1931-1987) for Directional, USA, circa 1976, Model PE-354, is chromed steel and lacquered wood. The 32½" x 60" x 25" cabinet sold for $35,000 (est. $10,000/15,000) on the phone.
Louis Kahn (1901-1974) furniture is even rarer than Esherick creations. Very few pieces of furniture designed by Kahn appear on the market. A much-touted simple desk, designed by Louis Kahn for Morton "Bubby" Weiss and his wife, Lenore, for their house in East Norriton Township, Pennsylvania, sold on the phone for $33,750 (est. $10,000/15,000). Kahn, in partnership with Anne Griswold Tyng (1920-2011), designed the Weiss house, begun in 1947 and completed in 1950. The desk was one of three tables Kahn designed for the house, though only two were built. The Weiss house and its furnishings are documented in George H. Marcus and William Whitaker's publication The Houses of Louis Kahn (Yale University Press, 2013). In 2004 the desk was bequeathed to Bubby Weiss's cousin David Wenger and his wife, Joan, who used it for the last 13 years and then decided it was time to sell it.
"It is in used condition, and we were advised not to restore it," said Joan Wenger after the sale. "We had no idea of its value."
This classic chair, designed by Finn Juhl (Danish, 1912-1989) in 1945, is the NV-45 lounge chair. It is teak with upholstery and cushions and branded with the manufacturer's mark, "Niels Vodder Cabinetmaker Copenhagen Denmark Design: Finn Juhl." The 32¾" x 27" x 29" blue chair sold on the phone for $10,625 (est. $3000/5000).
There were a few surprises in the sale. A stainless steel and bronze desk designed by John Vesey after a Louis XVI bureau plat, made in New York in 1958 and similar to one owned by Howard Hughes, sold for $32,500 (est. $4000/6000). A Cityscape cabinet, designed by Paul Evans and manufactured by Directional in 1976, was a crowd favorite and sold on the phone for $35,000 (est. $10,000/15,000).
The Clay Studio in Philadelphia, a nonprofit studio and gallery dedicated to ceramic arts with a permanent collection of 600 artworks by emerging and established artists, consigned seven lots, hoping to raise funds for the housing and care of its special collections. The results were disappointing. There was not enough pottery in a sale focused on furniture to attract many collectors of works in clay. Lots estimated at $1000/1500 hammered down for $50, $100, $110, $500, $550, and $800.
The design sale brought just over $996,200 for 97 of the 99 lots. Half the lots sold on the phone, and 42% went online to one of three competing platforms—Invaluable, with the largest reach; Freeman's, which recently introduced its own platform; and Artsy, which has been appearing at sales lately bidding for its own clients. Absentee bidders and a few successful bidders in the salesroom made up the remaining 8% of the Sunday bidding.
For more information, see (www.freemansauction.com) to find the online catalog.
This grass-seat chair made by George Nakashima in 1963 of American black walnut and woven sea grass is 27½" x 23" x 20". The chair sold for $2625 (est. $1000/2000). Not shown, a set of four grass-seat chairs and one grass-seat ottoman sold for $8125 (est. $5000/7000). These chairs have increased in price in the last few years.
---
Originally published in the January 2018 issue of Maine Antique Digest. © 2018 Maine Antique Digest