Dr. Anne-Imelda Radice, the executive director of the American Folk Art Museum (AFAM), will retire in early March after five years at the helm of the museum. The board of trustees has designated Stacy C. Hollander, currently AFAM's deputy director for curatorial affairs, as acting director, effective the day after Radice's departure. Hollander has been at the museum since 1985 and has held her current post since 1992. In addition to being deputy director for curatorial affairs, she is chief curator and director of exhibitions. The board has formed a search committee to identify the museum's next executive director.
Monty Blanchard, president of the board of trustees, noted in a press release, "Anne Radice came to the museum at a difficult time. Her leadership helped restore the museum's position in the New York cultural landscape and its financial health."
"What Anne has done at the American Folk Art Museum is nothing short of miraculous," said Darren Walker, president of the Ford Foundation. "Her tenure has been marked by tremendous vision, unyielding energy, and a collaborative spirit that has transformed an institution into an essential and inspiring museum, one that is well prepared for the future."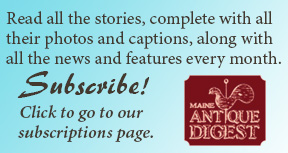 Radice said, "I was determined to take this museum that I had loved for many years to a place of security and growth. With Stacy Hollander and the immensely talented staff, along with the continued stewardship of the board, I am leaving it in the very best of hands."
Before her tenure at the American Folk Art Museum, Radice served as director of the Institute of Museum and Library Services. She also served as acting assistant chairman for programs at the National Endowment for the Humanities, chief of staff to the federal secretary of education, and chief of the creative arts division of the United States Information Agency. She was previously the first director of the National Museum of Women in the Arts and an assistant curator at the National Gallery of Art.
---
Originally published in the March 2017 issue of Maine Antique Digest. © 2017 Maine Antique Digest