Helaine Fendelman and Daniel Farrell have joined the board of directors of the Center for Painted Wall Preservation (CPWP), a not-for-profit, 501(c)(3) organization dedicated to the research and preservation of historic American paint-decorated plaster walls from 1800 to 1860. The mission of the organization is to survey and document paint-decorated walls in situ or in collections to create a permanent record and encourage the appreciation of this rare and vulnerable art form, as well as to serve as a resource for conservation and preservation.
Helaine Fendelman is a generalist appraiser with interest in paint-decorated objects. She is a past president of the Appraisers Association of America (AAA), television co-host of Treasures in Your Attic, adjunct professor at New York University, and instructor at the AAA Appraisal Institute. She also has served as a governor of the National Arts Club and is a board member of the Salvador Dali Research Center. She is the author of more than 14 books on art and antiques.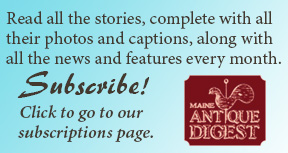 Daniel Farrell brought the Antiques Roadshow to America and currently serves as the show's consulting producer. He is the principal of Daniel Farrell, LLC, an art consultancy and appraisal firm. He has written numerous articles for the insurance trade regarding insurance coverage for fine arts, art fraud, and damage and loss appraisals. As an accredited member of the AAA, he often lectures on these topics.
Learn more about the CPWP's work online at (www.pwpcenter.org) and sign up for Plaster Bits, the free monthly online newsletter of the organization. CPWP accepts donations via PayPal or by check mailed to Center for Painted Wall Preservation, PO Box 187, Hallowell, ME 04347. For more information, e-mail <[email protected]>.
---
Originally published in the December 2017 issue of Maine Antique Digest. © 2017 Maine Antique Digest