Irish national Michael Hegarty, 40, pleaded guilty on September 29 in U.S. District Court in Miami to fraudulently facilitating the transportation and concealment of a rhinoceros horn libation cup that was smuggled from the United States to Great Britain in violation of the Endangered Species Act (ESA).
In mid-April 2012, Hegarty and co-conspirator Richard Sheridan traveled to Miami from London. Later that month they joined a Miami resident to attend a Leland Little auction in North Carolina. At the auction, Sheridan, working as the bidder on behalf of the three, placed the winning bid for a rhinoceros horn libation cup and paid $57,500 (includes buyer's premium).
On May 4, 2012, Hegarty, who was then in Coconut Grove, Florida, called FedEx to ship the rhinoceros horn from North Carolina to Florida. On May 7 Hegarty and his co-conspirator received the rhinoceros horn libation cup in Florida. They assured the Miami resident, who had funded the purchase of the cup, that it was an excellent investment and that they were experienced in such transactions. They further advised that a flaw in the cup could be repaired and that they were associated with individuals in the U.K. who could effect the repairs and enhance the value of the libation cup. Hegarty and Sheridan stated that they would take the cup to the U.K. for that purpose. Hegarty further claimed that he would need to "make up documents" so that the rhinoceros cup would "make it through customs and pay taxes." By cutting and pasting from several sources, a false invoice was created.
The ESA makes it unlawful to knowingly deliver, receive, carry, transport, or ship in interstate or foreign commerce, by any means whatsoever and in the course of a commercial activity, endangered species, including rhinoceros, and to sell and offer to sell endangered species of wildlife, including rhinoceros, in interstate and foreign commerce. Federal regulations also require that, upon exportation of any wildlife, exporters or their agents must file with the U.S. Fish and Wildlife Service (USFWS) a completed declaration for importation or exportation of fish and wildlife. All wildlife exports must be cleared by a USFWS officer.
On May 16, 2012, Sheridan smuggled the libation cup out of the United States in his luggage when he traveled from Miami, via Atlanta, to London. He failed to declare to the USFWS the export of the rhino horn libation cup as required by law and neither applied for nor obtained the permit required under the Endangered Species Act.
On July 19, 2012, Sheridan, along with two other Irish nationals, was arrested by Metropolitan Police in Wandsworth, London, while attempting to sell the same rhinoceros horn libation cup to a Hong Kong native.
Sheridan, who claimed ownership of the item, had in his possession the lot tag from the auction house identifying the libation cup, as well as wrappings and other material from the North Carolina sales transaction.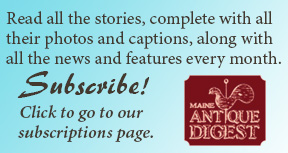 Scientific analysis conducted at the National Fish & Wildlife Service Forensics Laboratory in Ashland, Oregon, determined that the libation cup was in fact fashioned from the horn of an ESA-protected great Indian rhinoceros.
Hegarty was arrested on the charges on an INTERPOL Red Notice and extradited to the United States from Belgium. Sheridan was convicted on unrelated charges in England and is currently incarcerated there; he remains wanted to face wildlife trafficking charges in the Southern District of Florida.
Hegarty will be sentenced on November 14. He faces a maximum penalty of up to ten years in prison, followed by a term of supervised release of up to three years, and a maximum fine of $250,000 or up to twice the gross gain.
---
Originally published in the November 2017 issue of Maine Antique Digest. © 2017 Maine Antique Digest