Ross Auction Company, Chillicothe, Ohio
On Saturday, July 21, Ross Auction Company in Chillicothe, Ohio, sold a large trove of Independent Order of Odd Fellows (IOOF) ceremonial objects. Heart-in-hand staffs, oversize bows and arrows, decorated axes and pikes, carved torches, swords, shields, robes, collars, and even a coffin with a human skeleton were sold. It was a virtual catalog of objects used in initiation and regular ceremonies, most made by one of several companies and now prized by collectors. The objects all came from long-closed lodges in southern Ohio that had deposited them in a Chillicothe lodge. Recently that lodge sold its building to Kevin Ross, the owner of Ross Auction Company, so the provenance couldn't have been better. Most were in good original paint and gilding, which helped drive prices.
As collectors and dealers know, it is very unusual for so many fraternal order things to be in a single sale, which convinced me to fly in from San Francisco. There were 1324 registered online bidders plus at least 80 in house, with the online bidders focused on the rarer items such as the heart-in-hand staffs. This was an unreserved sale (bidding opened at one-half of the low reserve). It totaled $200,698.30 (includes buyers' premiums) with 523 lots sold and only 33 passed.
Felt-covered coffin with a real human skeleton, with Kevin Ross, owner of Ross Auction Company. The coffin and skeleton, definitely an item for the very advanced collector, sold for $5225 (est. $1000/2000).
Ross Auction Company, Chillicothe, Ohio. A 1940 replica of Ohio's first statehouse, with dressed sandstone facing and a prominent lantern above the hipped roof, it was built by the Chillicothe Gazette, Ohio's oldest newspaper, and has been well adapted to an auction house.
IOOF ceremonial objects: carved chains, oversize quill pens, Aaron's budding staff, torches, arrows, and bows. Each item was manufactured by one of several firms that catered to fraternal orders. Most have original paint and gilding. The largest torch (red and gold) is 33" high.
Four heart-in-hand staffs, two pikes, and an ax. The heart-in-hand staffs sold from $2310 to $4400, with the miniature bringing the top price. Two pikes sold for $385 and $550. The ax with the heart in hand sold for only $440 because of some loss of paint, but it was still a good value. The pointing hand is new; the runners sometimes used it to point to items being sold.
Speaking Dog cast-iron mechanical bank by Shepard Hardware Co. It looks as if it has original paint, so the price of $715 (est. $1000/2000) was a good value. The other mechanical banks also seemed to be good buys, such as the J. & E. Stevens Co. Boy Scout bank (shown below) at $2420 (est. $2000/3000).
The sheer number of IOOF pieces was awesome. There were four heart-in-hand staffs, which sold at $2310, $3575, $3850, and $4400 for the rarest, a miniature. All of them had painted rather than carved hearts, but when did you ever see a sale with four of these? There were nine carved and painted torches, all with turned staffs trimmed in gold, red, and black. They sold from a low of $27.50 to $412.50, depending on size and complexity of turnings. Four gilded bows, the largest 60", sold for $192.50 to $550. Three pikes, all with various decorating and the linked chain, went from $385 to $880. Six lots of arrows sold from $44 to $467.50, and a large one, 65", sold for $880. I got that one.
Three arks of the covenant, one with angels on the cover, underperformed at $66 to $412.50; the highest-priced had a pair of kneeling angels on the cover. I was able to buy a handsome pair of kneeling angels for $715; they are unattached now but had been on top of an ark, and the price seemed to be a good value. There were at least a dozen spears, some of which sold in groups. Two Aaron's budding staffs sold for only $77 and $247.50, probably because both had a missing bud.
This Buddy "L" Tank Line pressed steel tanker truck, 25" long, sold for $1430 (est. $500/1000) after lots of bidding. Several other Buddy "L" trucks did well, including an express line delivery truck.
IOOF ram horns ceremonial staff, 41" tall, rare and in good condition, $1320 (est. $200/400). I wish I had stayed in the bidding.
A 14" tall IOOF beehive, a fraternal order symbol of industry. It's very rare and in excellent condition except for possible replacement of the rear feet. Two determined bidders pursued it, and it sold for $3300 (est. $500/1000) to an Internet bidder. There was lots of buzz on this one.
Pennsylvania walnut Bible box with original feet, sold for $1870 (est. $2000/4000) to an Internet bidder.
No replica here. A genuine 19th-century cast-iron cannon, 2½" bore, on an original carriage. No markings are visible. It sold for $3080 (est. $1000/2000) to an Internet bidder. Ideal for home defense.
The real rarities attracted many bids: a pristine beehive (symbolic of industry) on a platform (possibly with replaced rear legs) fetched $3300. The most bizarre item, a full-size felt-covered coffin with a real skeleton inside, generated spirited bidding and sold for $5225; it was definitely for the advanced collector.
Ceremonial robes, sashes, and collars went for peanuts. Some of the robes had extraordinary fabrics and needlework and surely represented many hours of sewing. A fantastic pair of small ram horns on a staff provoked a hot battle and sold at $1320. I dropped out and regretted it, but I was grateful to get two torches, a painted pike, the 65" arrow, and the pair of angels with wings that had originally been on an ark cover. The arrow ($880) and the angels seemed to be good values. I had never seen anything like the ram horns before so was unsure what the pair was worth. I know now. Interestingly, Ross said that most of the rare items (heart-in-hand staffs, beehive, etc.) were bought by Boston-area collectors.
The auction was by no means all IOOF items. There was a good collection of cast-iron mechanical banks, most in original paint, including an 1885 Shepard Hardware Co. Speaking Dog that made $715, a J. & E. Stevens Co. William Tell that sold for $302.50 (est. $500/1000), and a J. & E. Stevens Co. World's Fair for $440 (est. $500/1000), all definitely good buys. The rarest, a Boy Scout, made $2420. A handsome J.W. Fiske & Co. cast-iron stag with several rust holes in the base but with intact antlers sold for $2200. An early 18th-century Pennsylvania walnut Bible box went for $1870. A full-size cannon with 2½" bore, on an original carriage, not a replica, sold for $3080. A set of 12 Gothic Revival chairs, including two high-backed armchairs, made $2200 (est. $4000/6000), which was definitely a good value. They were striking, in good original condition, and identical to church chairs. A charming painted child's sled brought $1100 (est. $400/800). There were at least five Buddy "L" pressed steel trucks, most in original paint, with a tanker bringing $1430 and an express delivery truck making $935 (est. $500/1000).
J.W. Fiske & Co. cast-iron stag on base, 61½" tall, antlers intact but base with several rust holes, $2200 (est. $4000/6000).
IOOF gold-painted ark of the covenant with twin angels, 32" high x 33" wide. One angel has a wing missing; still $412.50 (est. $200/400) seemed to be a bargain.
J. & E. Stevens Co. Boy Scout cast-iron mechanical bank, 1875, 6" tall x 10" long, in original paint, very scarce, $2420 (est. $2000/3000). Ross Auction Company photo.
Cigar-store terra-cotta gnome in original paint, 17" high, $1650 (est. $2000/4000).
Gambling wheel by H.C. Evans & Co., Chicago, 7½' tall, in excellent condition, $2090 (est. $3000/4000).
Another big attraction was the 10% buyers' premium for cash or checks; 18% was charged for Internet sales and 20% for LiveAuctioneers. Another big plus was that there was no sales tax because a recent Ohio law exempts the first three auction sales each year in an effort to encourage auction businesses. This saved 5.75% for all buyers.
Ross Auction Company's building is remarkable. It is a 1940 replica of Ohio's first statehouse, a handsome dressed sandstone structure with a prominent lantern on a hipped roof. It was built and used by the Chillicothe Gazette, which is now owned by Gannett and housed in a different building. The paper had added a large addition for modern presses, which is now used as the auction room. The auctioneer and the bidding staff are in the mezzanine, overlooking the big auction room. The ceiling height is at least 20', and the building is a great example of a successful adaptive reuse. Kevin Ross has been in the antiques business since he was 12.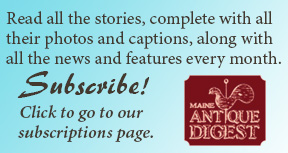 It was a real schlep to Chillicothe but worth the effort. I was able to see more fraternal order things than I would have seen in several years of shows and was able to nail five of them. I had hoped to meet a few collectors, but that didn't happen because most were using the Internet to bid. Chillicothe is a small, attractive town, with some terrific Greek Revival houses and an architecturally intact downtown. The courthouse is a magnificent 1852 Renaissance Revival stone building that was wisely restored rather than demolished. Today the city is suffering like many in southern Ohio from industrial flight. An enormous paper mill complex owned by a German company is operating with greatly reduced staffing, and its long-term prospects do not look good. And of course the opioid crisis has affected the entire area. But much of southern Ohio is very pretty, with acres of soybeans and corn set between rolling hills with miles of big trees. For this writer, from a state plagued with drought, everything looked very green. And I would be selfish not to mention that I gobbled one of the best pecan pies ever at Carl's Townhouse, a local diner.
For more information, check the website (www.rossauctionco.com) or call (740) 773-7368.
---
Originally published in the November 2018 issue of Maine Antique Digest. © 2018 Maine Antique Digest