New England Auctions, Branford, Connecticut
Photos courtesy New England Auctions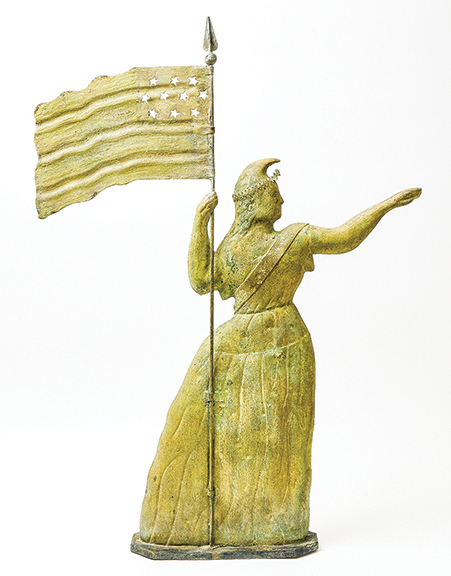 The large full-bodied molded and sheet-copper weathervane in the form of Lady Liberty holding a ten-star flag and raising her right arm was made by Cushing & White (formerly A.L. Jewell), Waltham, Massachusetts. The substantial figure, 38¾" x 27½", retains the original brass plaque identifying the maker and the date of the patent, September 12, 1865, and its painted and gilded surface, along with some historic bullet-hole repairs. Estimated at $25,000/50,000, it realized $43,750. The Garthoeffners had acquired it from Fred Giampietro. In a video posted on the New England Auctions website, Giampietro discusses the weathervane. He described it as the largest of its type known, with historic yellow paint over gold leaf and rare original parts, such as the tabs holding the flag. Most weathervanes made were intended for use on farms and had agricultural subjects. The Lady Liberty is rare; Giampietro said he's handled only five in his 40 years in business.
Fine folk art from the collections of Pat and Rich Garthoeffner of Lititz, Pennsylvania, dealers for a half-century, sold on day one at New England Auctions' January 14 and 15 sale in Branford, Connecticut. The Garthoeffners are each gifted with an amazing eye, as reflected by the unique and fine objects they had gathered. Many examples were drawn from Pennsylvania. The highlight was a Lady Liberty weathervane by Cushing & White, Waltham, Massachusetts, that brought $43,750 (includes buyer's premium). Fred Giampietro of New England Auctions had sold it to the Garthoeffners.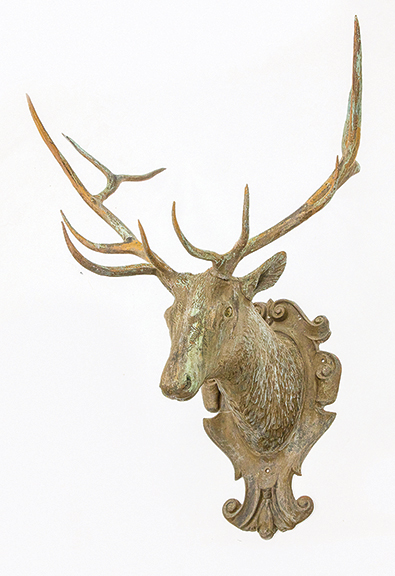 The monumental (60" x 52" x 42") molded copper elk head, circa 1900, with faceted glass electrified eyes sold for $20,000 (est. $10,000/15,000).
Day two offered an array of 430 lots of Native American items, folk art, and objects of historical interest from estates and collections that gave buyers great variety. A large (60" x 52" x 42") copper elk head, circa 1900, was impressive and in original condition, and it brought $20,000. It likely came from an Elks lodge.
For information, visit the website (www.neauction.com) or call (475) 234-5120.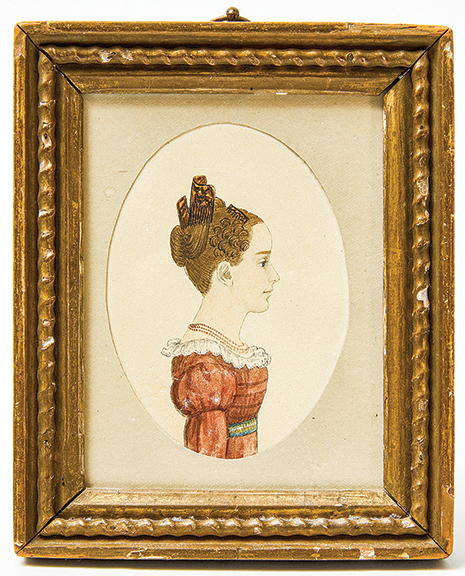 This delicate watercolor miniature portrait of a young woman by Rufus Porter (1792-1884), 3¾" x 2¾", is inscribed on the wooden backing "Sarah Bartlett 1825" above "Rufus Porter" and a somewhat illegible date, presumably 1825. In original condition and estimated at $2000/4000, it brought $11,875. It had previously sold at Sotheby's October 11, 2001, for $9000. Garthoeffner collection.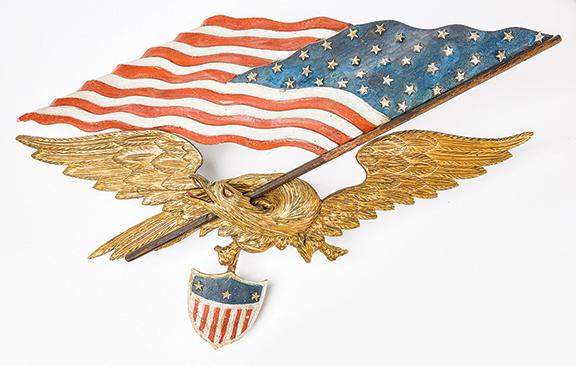 Before becoming a carver, George Stapf (1862-1958) opened a Lancaster County confectionery; the candy-making venture was so successful that he sold a recipe to Milton Hershey. Around 1890 he and his brother began a construction business in Harrisburg. He supplemented his income during the winter making patriotic eagles. His late 19th-century eagle plaque with a flag and shield, in original paint and gold leaf, 24" x 38", is finely carved and brought $22,500 (est. $10,000/15,000). Garthoeffner collection.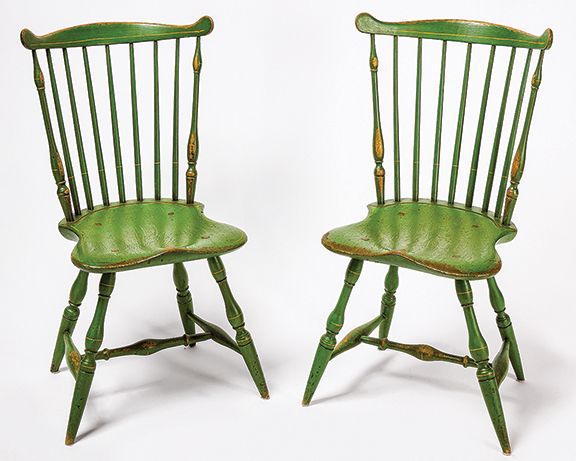 The pair of fan-back Windsor chairs, circa 1780, made in the Northeast was given a 19th-century coat of apple-green paint with yellow highlights and sold for $6250 (est. $2000/4000). They are ex-Paul Flack. Garthoeffner collection.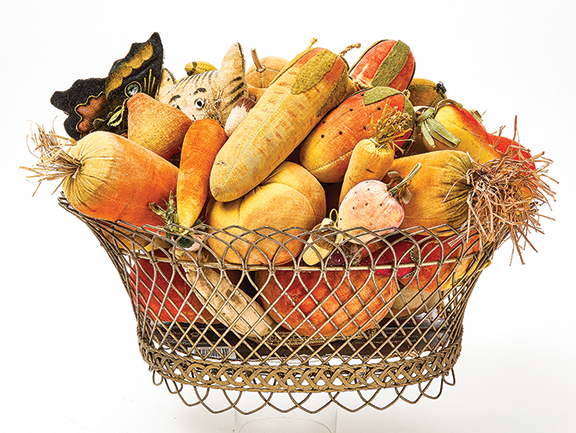 Impressive and lifelike, this collection of 54 luscious velvet fruits and vegetables, along with a velvet butterfly, a velvet two-faced moon, and a velvet cat with glass eyes, had been gathered over 40 years. The wire basket and its contents date to sometime between 1850 and 1900. Estimated at $18,000/25,000, the group sold for $37,500. Garthoeffner collection.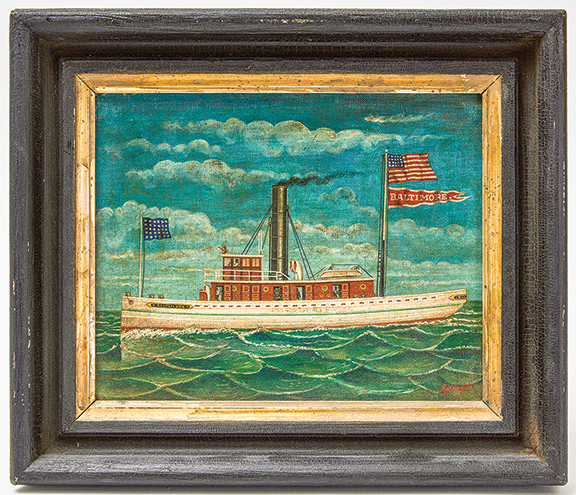 This portrait of the tug Baltimore by Otto Muhlenfeld (1871-1907), who was known as the "Baltimore port painter," was painted around 1892. The oil on board, 8" x 10", brought $18,750 against the $4000/6000 estimate. It had sold in the 2015 auction of the J. Jefferson and Anne Weiler Miller collection at Pook & Pook for $6600. The tug flies the Union Jack, the American flag, and the Baltimore banner. Garthoeffner collection.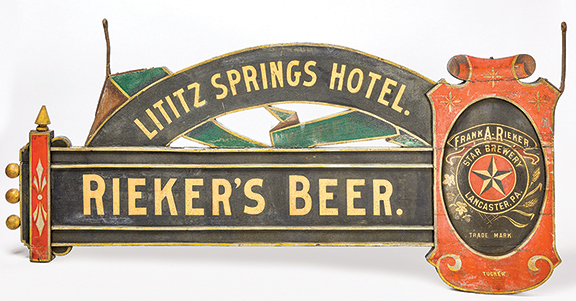 The Lititz Springs Hotel was established in 1764 in Lititz, Pennsylvania, and Frank A. Rieker began brewing beer in nearby Lancaster in 1876. The blending of the two is reflected in the substantial carved wood double-sided sign, circa 1880, that retains the original paint and iron hardware. It was removed from the inn in 1929 when the hotel was renovated. The 39½" x 84" sign sold for $42,500 (est. $18,000/22,000). Local lore claims that during Prohibition Rieker ferried its kegs on trolleys to the bottling facility and pumped its beer through basements in fire hoses so it could be bottled and shipped to Canada for sale there. There is also a suggestion that fire hoses were used to supply the local speakeasies. Garthoeffner collection.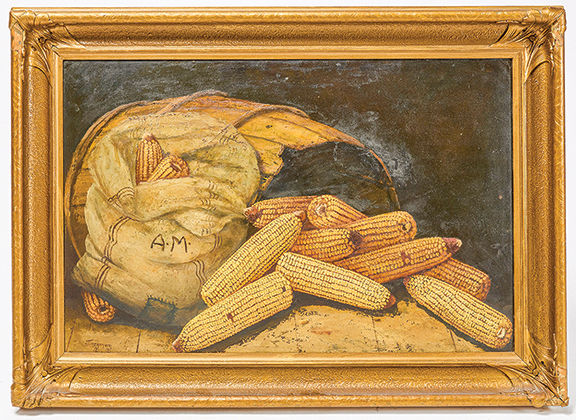 Born in Illinois, artist Alfred Montgomery (1857/58-1922) earned the epithet "Corn Artist." His detailed still life of corn, an oil on artist's board, 21" x 32 3/8" (sight size), sold for $5000 (est. $2500/3500). He initialed the sack full of corn. Garthoeffner collection.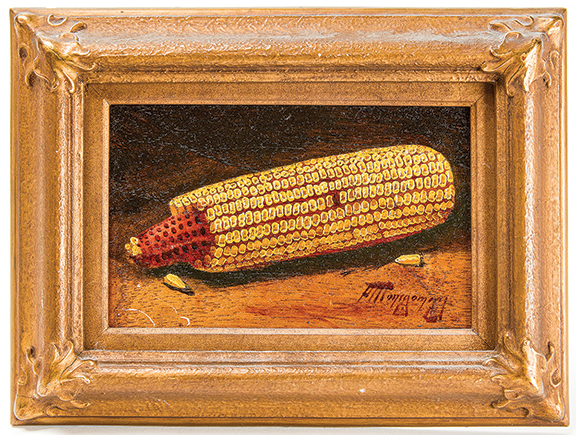 Alfred Montgomery's still life of a single ear of corn, oil on a cigar box lid, 5¼" x 8¾" (sight size), brought $4062.50 (est. $800/1200). Montgomery's scenes of single ears are the rarest. The reverse side is inscribed "to JM Vernon / because I had to." One wonders. Garthoeffner collection.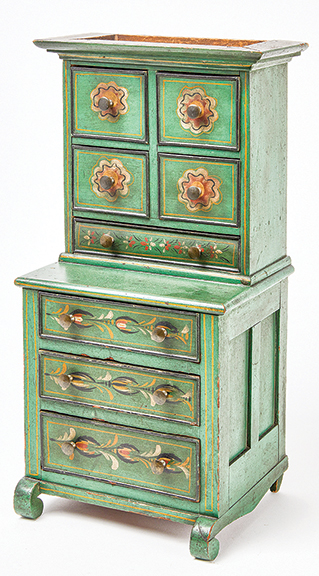 Granville Harrison Pool (1822-1915) of Grayson County, Virginia, would have been about eight years old when this miniature cupboard in green paint with polychrome decoration was made. Either he was very precocious or he was the lucky recipient of an exceptional well-constructed child-size piece, 19¼" x 9¼". It had sold previously in 2015 at the Skinner sale of the collection of Ellie Hoover Walker for $11,070. This time around, estimated at $1000/2000, it realized $4062.50. Garthoeffner collection.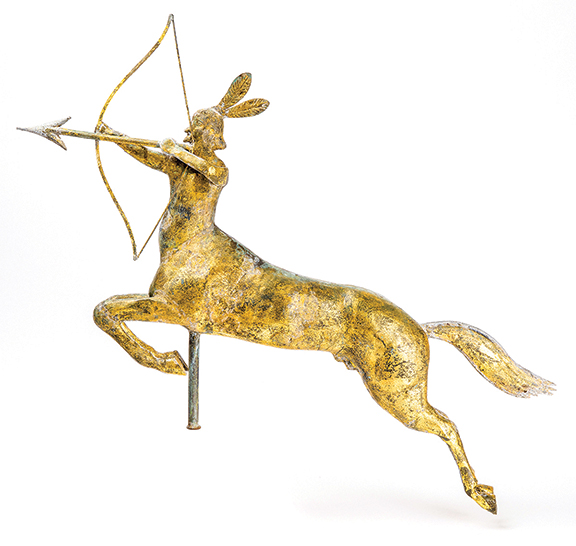 This molded copper and zinc weathervane, circa 1895, in the form of a centaur with a feather headdress, 24" x 33", brought $8750 (est. $4000/6000). It has natural verdigris, old bullet-hole repairs, and historic gold leaf with some restoration.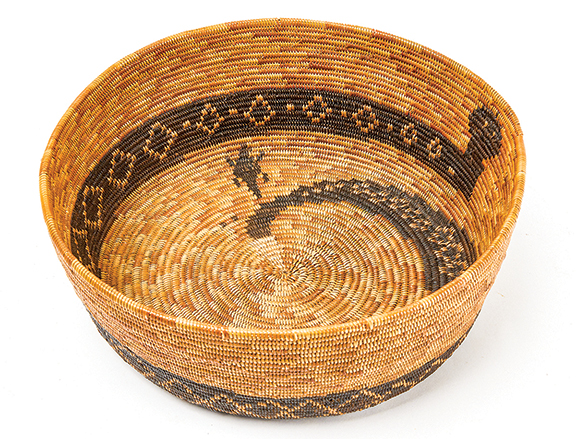 A late 19th-century Mission Indian rattlesnake basket, 4" high x 11" diameter, estimated at $5000/10,000, realized $18,750.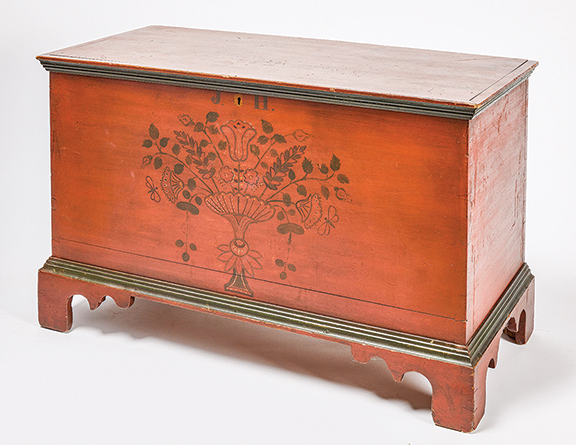 Joel Palmer (1812-1884) of Sideling Hill, Fulton County, Pennsylvania, decorated this circa 1850 blanket chest, 23½" x 36" x 18", with a large fanciful urn of flowers and the initials "J. H." On a well-carved base and in fine original condition, with a covered interior till, it brought $10,312.50 (est. $8000/12,000). Garthoeffner collection.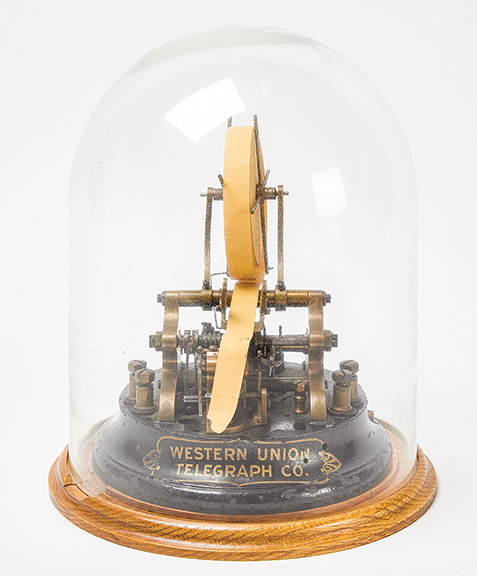 Among the array of important early mechanical devices invented by Thomas Alva Edison (1847-1931) was the automatic telegraph in the 1870s. A Western Union Telegraph Co. machine, 9" x 8", complete with tape, brought $8750 against the $800/1500 estimate. It is cased within a glass globe.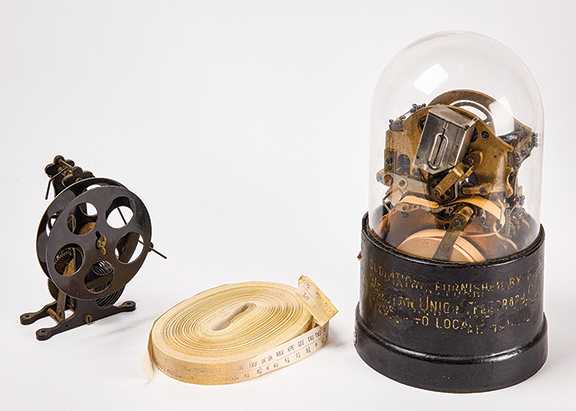 This stock ticker stamped "M.F.D. by T.A. Edison, Inc." operated by incorporating Edison's telegraph machine to deliver the latest stock prices. This type of machine was used from the 1870s into the 1950s. From the collection of Rick McLennon, this one realized $15,000 (est. $2000/4000).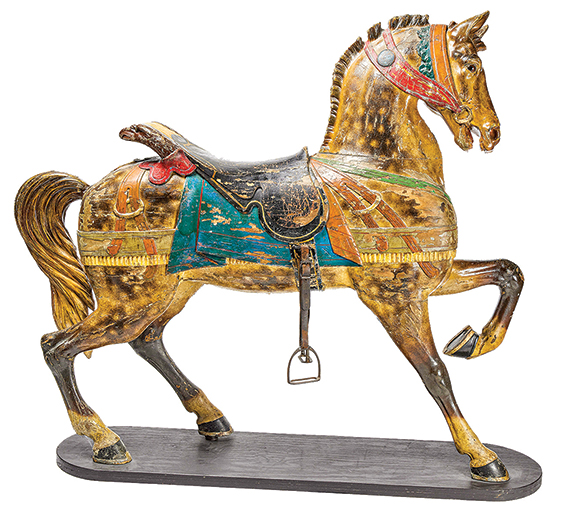 An outside row stander carousel horse with an eagle-form cantle, circa 1880, by German/American maker Gustav Dentzel (1846-1909) of Philadelphia brought $11,250 (est. $8000/15,000).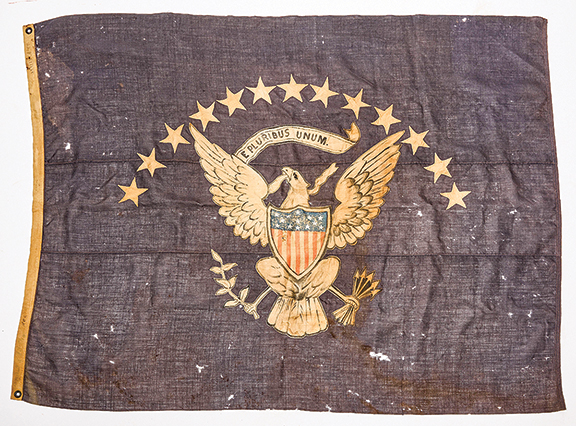 This 19th-century flag, 49" x 55 3/8", in dark blue with 13 stars and a hand-painted eagle, is mostly hand stitched. Estimated at $1000/2000, it brought $22,500.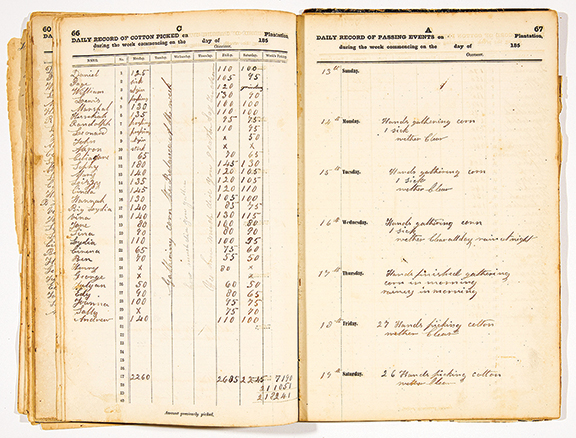 Two slave journals were sold in a single lot. The first was The Cotton Plantation Record and Account Book, No. 1. Suitable for a Force of 40 Hands, or Under by Thomas Affleck, fifth edition, published by B.M. Norman in New Orleans in 1854. The roughly 104-page account book was a daily detailed record of events on the Point Breeze Plantation on the Mississippi River in Louisiana from September 1, 1857, to mid-May 1858, with a list of slaves, the amount of cotton picked each day, how many hands were picking, how many were sick, how many were sewing, and clothing allowances. It includes a printed section on "The Duties of an Overseer." The second book (not shown), an 1805 estate inventory of the goods, chattels, and credits of Zachariah Janson beginning with three slaves, their names, respective ages, and value, and a one-third interest in a "Negro Boy Named John," has no location given. The journals were estimated at $800/1000 and sold for $16,250. ---
Originally published in the April 2023 issue of Maine Antique Digest. © 2023 Maine Antique Digest