Hilliard & Co., Madison, Virginia
Photos courtesy Hilliard & Co.
Hilliard & Co. held its late summer eclectic auction at the firm's Madison, Virginia, gallery August 5. The sale consisted of a broad mix of consignments, offering examples from many categories. The sale was conducted live and untimed. Internet bidders used the LiveAuctioneers platform, and bids from telephone and absentee bidders were executed in real time in the facility.
Quality consignments continue to flow into the Hilliard pipeline. It is encouraging to note that the firm is scheduling sales more frequently, and consequently any backlog is being addressed in earnest.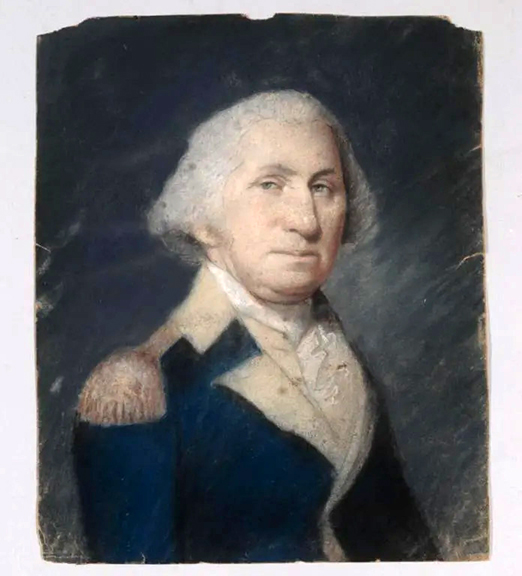 The high lot of the sale was this pastel on paper portrait of George Washington. Neither dated nor signed, the pastel is believed likely to have been the work of a member of the Sharples family. Two examples of portraits of George Washington, one in this pose, within the collection of the National Portrait Gallery in London are attributed to Ellen Sharples, after James Sharples. James's son Felix is also known to have worked in pastels. The 8¼" x 6¾" pastel is in very good condition and sold for $18,750 (est. $300/500). The portrait was sold along with an 1885 letter between artist Sala Bosworth and Lyman Beecher Todd that was found when the pastel was removed from its frame.
The high lot of the sale was a small pastel portrait of George Washington. According to André Hilliard, few specifics are known about the history of the lot. The consignor had found it in a "box of stuff" in the basement. Regardless of where it was found, the portrait garnered significant interest from many potential bidders, and it sold for $18,750 (including buyer's premium) against its modest $300/500 estimate.
The George Washington lot actually consisted of two pieces, which may have increased interest in it. When examining the pastel, Hilliard removed it from its 20th-century frame. He found that a letter had been hidden behind the backing. That letter, dated 1885, and its response on the reverse were between Ohio artist Sala Bosworth (1805-1899) and Lyman Beecher Todd (1832-1902). In this correspondence Bosworth requested assistance in learning the whereabouts of an artist whom he had encountered many years earlier, Oliver Frazer (1808-1864). It is hoped that the winning bidder of the lot will explore the possible interrelationships among these three individuals. Bosworth and Frazer are prominent artists from the nation's early 19th-century westward expansion; and Todd, Mary Todd Lincoln's first cousin and one of Abraham Lincoln's doctors, was present after the president was shot and also participated in the Lincoln autopsy.
Another Bosworth-related lot included photocopies and original letters plus genealogical information related to the Bosworth family. Some of that correspondence indicates that Bosworth was interested in the abolitionist movement. In that vein, while the letter found behind the George Washington pastel was written 20 years after the Civil War, it raises the question of how Bosworth might be connected to Dr. Todd, Mary Todd Lincoln's cousin, and possibly to the man Todd may have been named after, Lyman Beecher, the father of Uncle Tom's Cabin author Harriet Beecher Stowe. The correspondence lot sold for $625, well over its $100/200 estimate.
For additional information, call Hilliard & Co. at (540) 317-1947 or see the website (www.hilliardandco.com).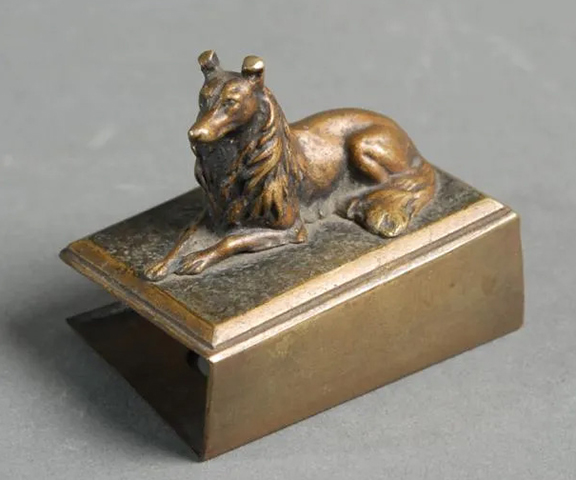 This matchbox cover is topped with an alert but resting dog figure. The underside is marked "Made In Austria." The figural piece of tobacco memorabilia is slightly out of square and measures 1½" x 2¼" x 2". It sold for $275 (est. $50/80).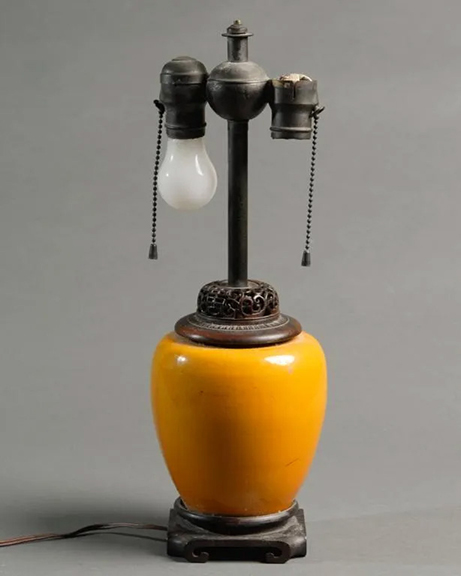 The antique Chinese yellow-orange vase that was converted into a table lamp in the late 19th or early 20th century sold for $475 (est. $100/200). The ovoid vase rests on a rosewood base and is fitted with a reticulated rosewood cap. The two-socket fixture is by Benjamin. The lamp's overall height is 17". Portions of the fixture components are in need of restoration.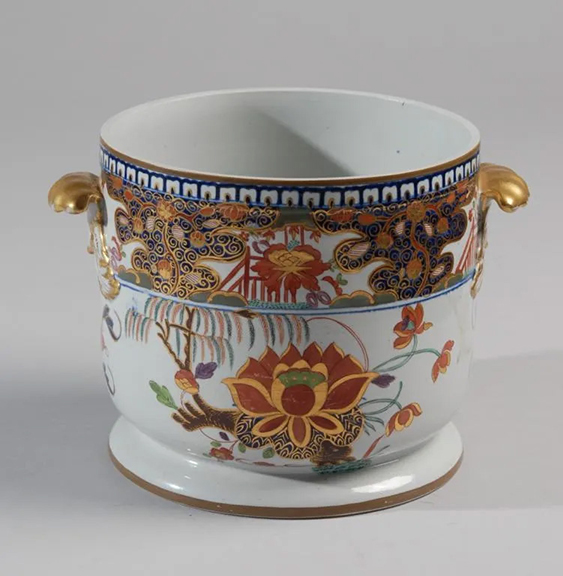 This circa 1805 ironstone ice bucket was one of seven lots of similarly decorated tableware made by the Turner family of potters in England. Decorated in a brightly colored Imari-inspired water lily and willow pattern, the cylindrical body measures 6¾" high x 7¼" diameter and rests on a pronounced gilt-trimmed foot. The "Turner's Patent" mark in iron red under its base dates it to between 1800 and 1806, and it sold for $450 (est. $200/300).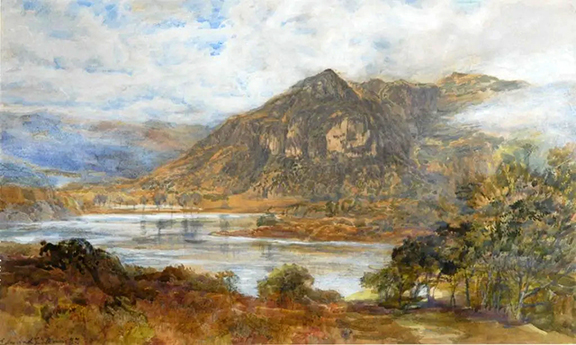 The watercolor landscape is signed lower left "Edmund George Warren RI." Warren (British, 1834-1909) was a member of the Royal Institute of Painters in Water Colours, a group that promoted the medium as an acceptable form of "serious art." Not identified or dated, the approximately 12¾" x 21¼" watercolor sold for $250 (est. $400/600).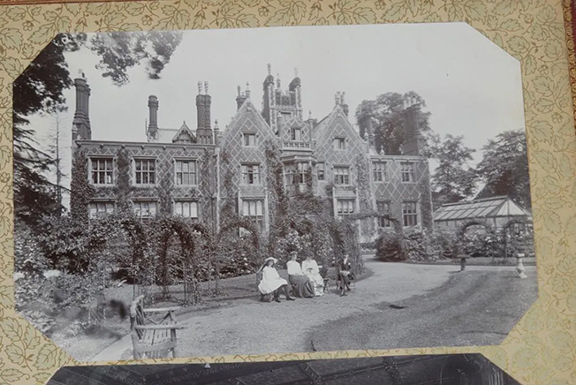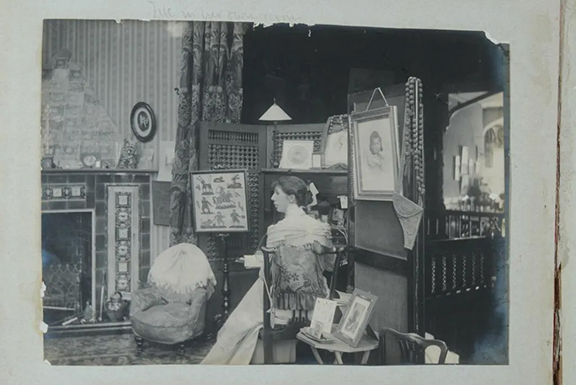 These two images from a 19th-century photo album offer a glimpse into late Victorian upper-class life at Ashburton House, Putney Heath, in southwest London. The photos show members of the John Carlisle family and details of the Elizabethan-style house and grounds. The unidentified woman seated in the interior scene is surrounded by the elements of her everyday world. The leather-covered album with 38 photos sold for $375 (est. $80/120).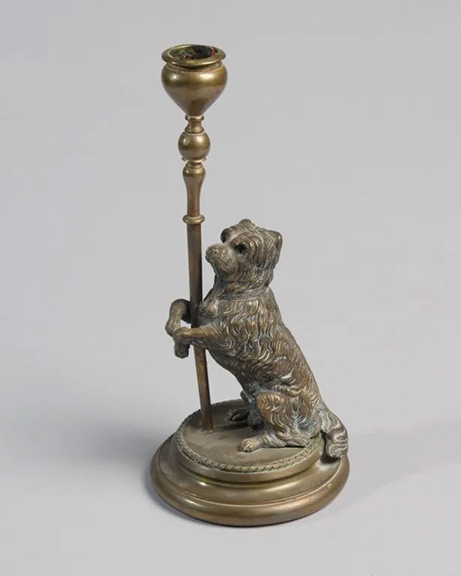 This brass candlestick in the form of a terrier holding a standard topped with a single candle socket, 8¼" tall, is not marked, but it drew considerable attention and sold for $237.50 (est. $30/50).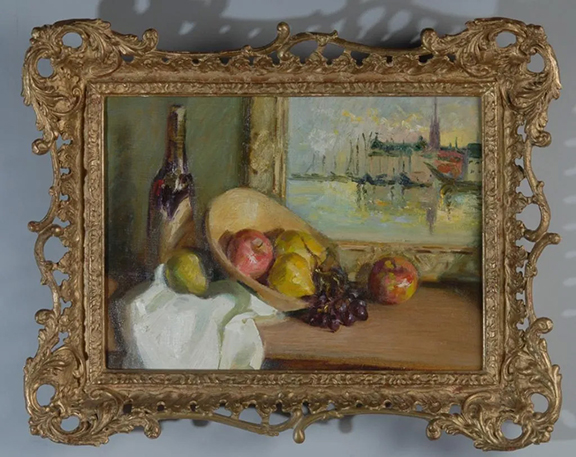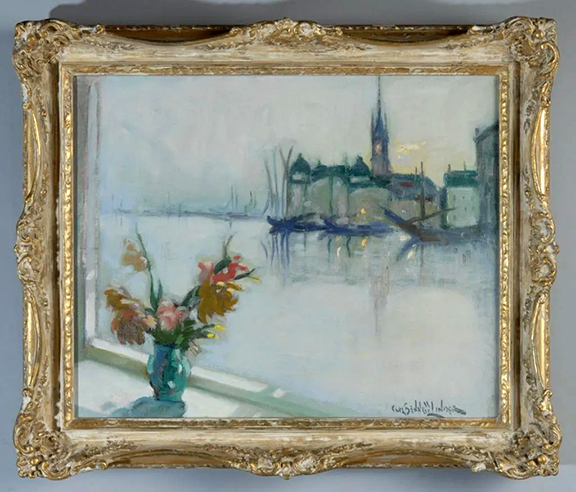 These two oil on canvas paintings are by Finnish/American artist Carl Bennett Linder (1886-1981). One shows a harbor scene as viewed through a window. There is a vase of flowers on the window sill. The other is a still life with an overflowing bowl of fruit and a wine bottle. In the background the artist has included a framed painting of the harbor scene depicted in the first painting. The scene with the vase, 12¼" x 15¼" (sight size), is signed and sold for $575 (est. $200/300). The still life, 10½" x 14" (sight size) is unsigned and sold for $475 (est. $200/300).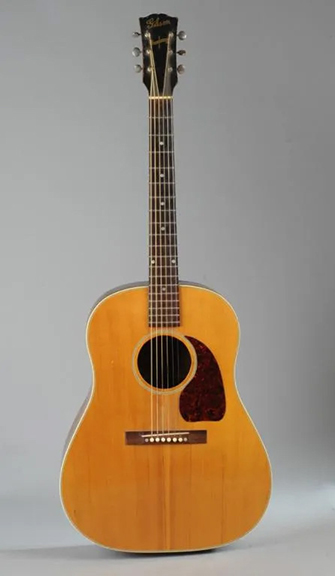 This is not just any guitar. It is one of the prized Gibson flat-top "Banner" model J-45s ("J" indicating jumbo, and "45" indicating the original $45 cost). These guitars were produced only between 1942 and 1945 at the Gibson plant in Kalamazoo, Michigan. They acquired the "Banner" moniker because of the scrolling banner decal on the headstock that reads "ONLY A GIBSON IS GOOD ENOUGH." The guitars also achieved iconic status because they were crafted by a group of women at the plant who became known as the "Kalamazoo Gals." The guitar is constructed of mahogany and spruce and has had some repairs and replacements. It sold for $10,000 (est. $2000/3000).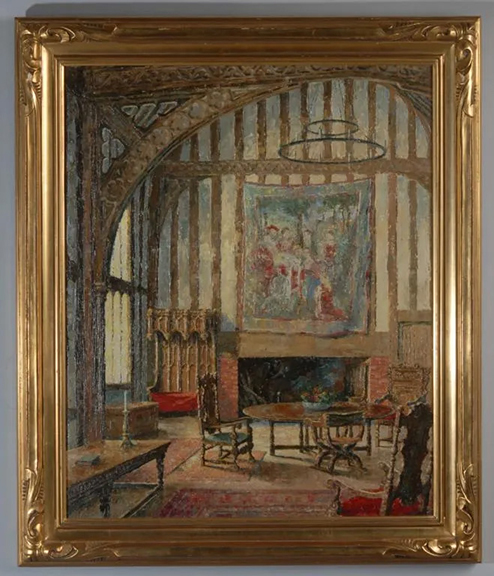 This oil on panel by designer and artist Willard H. Bond likely depicts an English drawing room. It has Elizabethan-style furnishings, including a large open fireplace with a large tapestry above and an ornately carved canopied settle. The painting, signed "W. H. Bond," is housed in a Newcomb-Macklin frame. The lot included a matted and framed copy of the cover of the January 1932 issue of Arts & Decoration magazine (not shown), featuring this painting. The 21¼" x 17½" (sight size) painting sold for $1875 (est. $400/600).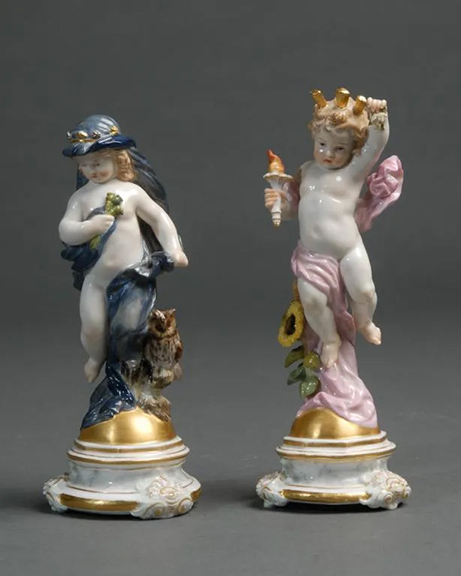 One of these Meissen porcelain putti represents day, and the other represents night. Day is positioned beside a large sunflower, draped in pink and holding a torch in one hand and a rose in the other. Night is modeled with an owl at his side, draped in blue, wearing a crown and holding a small bouquet of flowers. Each of the approximately 7" high figures is marked with a blue Meissen crossed swords mark. Both display a few minor chips. The pair sold for $1500 (est. $600/800).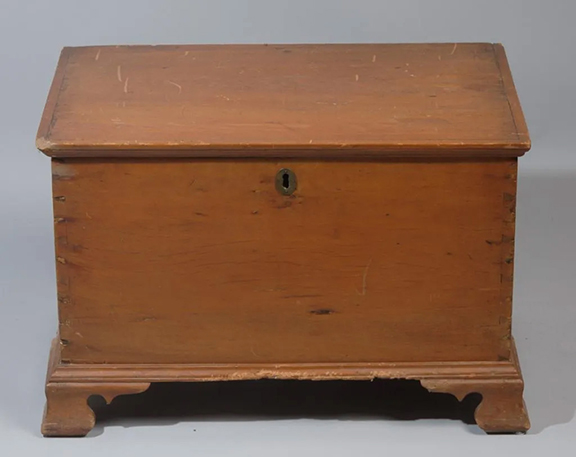 The diminutive antique blanket chest appears to be constructed of pine. The case is finely dovetailed, and the lid has an applied molded edge. The chest is raised on Chippendale-style ogee bracket feet. There is evidence that there may have once been a removable internal tray. The lock is missing, the hinges may have been repositioned, and the surface is worn and scratched. The approximately 18½" x 28¼" x 17¼" chest sold for $137.50 (est. $40/60).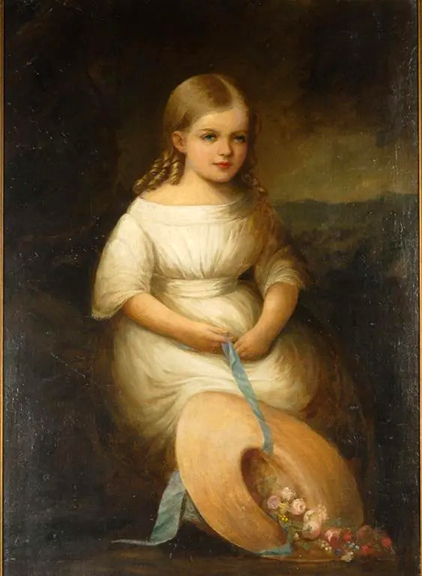 The 19th-century oil on canvas portrait of a young blue-eyed girl is attributed to Sala Bosworth of Ohio (1805-1899). The sitter is not identified but is believed to be Bosworth's daughter, Martha Frances (known as Frances). She is seated, wearing a white dress, and holding the ribbon of a straw hat that is overflowing with roses. The 47¼" x 35½" (sight size) painting, mounted on masonite, sold for $5312.50 (est. $400/600).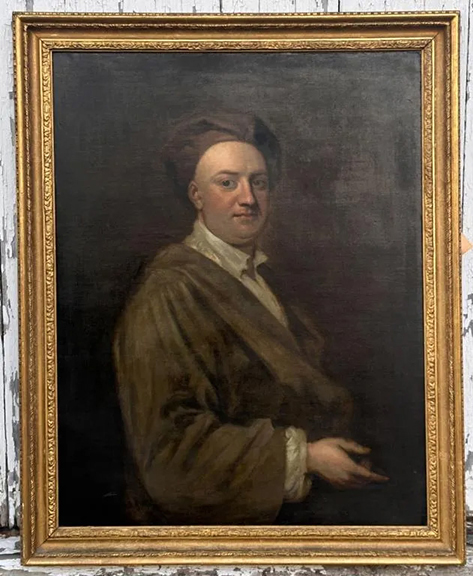 The oil on canvas portrait of London publisher and bookseller Jacob Tonson the Younger (1682-1735), attributed to William Aikman (1682-1731), after an earlier portrait by Sir Godfrey Kneller, depicts Tonson seated, his right arm outstretched, and wearing a velvet boudoir cap. Jacob Tonson the Elder, Jacob's uncle, was also painted by Kneller in a very similar pose but holding a book in his right hand. This 35" x 26½" (sight size) painting is neither signed nor dated and sold for $875 (est. $1000/2000).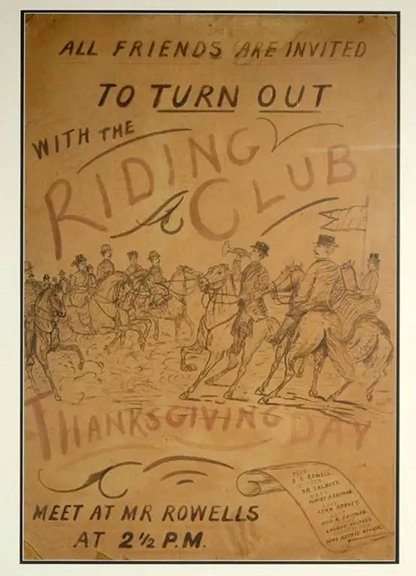 This large matted and framed hand-painted poster is an invitation for "All Friends" to "Turn Out with the Riding Club" on Thanksgiving Day. Exactly which year and which club is issuing the invitation are unknown. The late 19th-century illustration was executed in sepia and red on brown paper by an unknown artist. Names of the club officials are listed on a scroll lower right. The 37" x 25" (sight size) poster sold for $3250 (est. $300/500).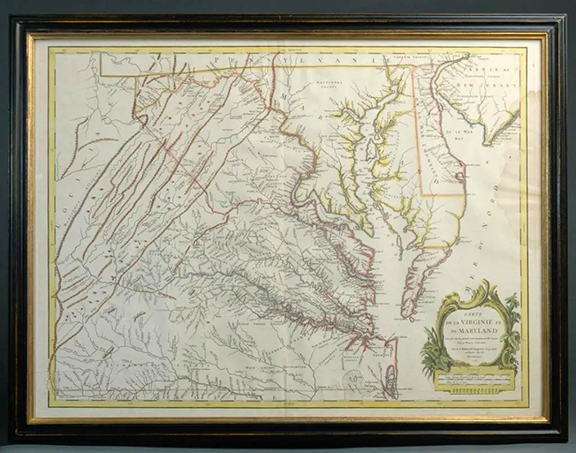 Here is a first state example of Robert de Vaugondy's 1755 French edition of Joshua Fry and Peter Jefferson's map of Virginia and Maryland. The map makers are identified as "Josué Fry and Pierre Jefferson" in the cartouche. The hand-colored map was engraved by Elisabeth Haussard, whose signature appears below the cartouche. Framed under glass and with a label from The Old Print Shop (New York City) on the reverse, the approximately 19½" x 26½" map has a center crease and some damp staining along the right margin. It sold for $3250 (est. $1500/2500).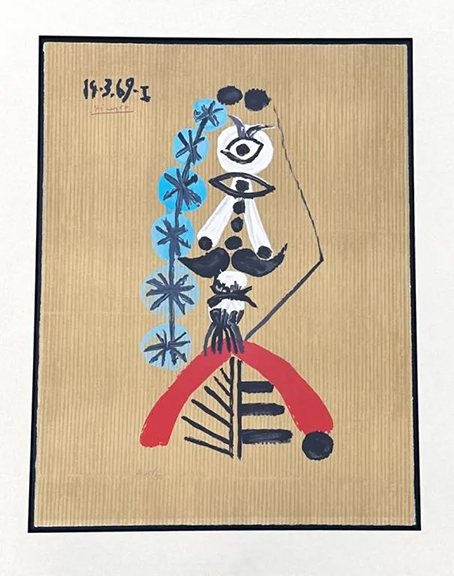 This color lithograph is from the series "Imaginary Portraits," published by Harry N. Abrams in 1969. The series consists of 29 portraits after Pablo Picasso (Spanish, 1881-1973). Executed on heavy wove paper, this example is identified as "A 45/250" in pencil lower left, indicating that it is from the American edition of 250. The series was based on original paintings on cardboard by Picasso, who collaborated with Marcel Salinas in the creation of the lithographs. The unframed lithograph, approximately 25½" x 19½", sold for $3125 (est. $1000/2000).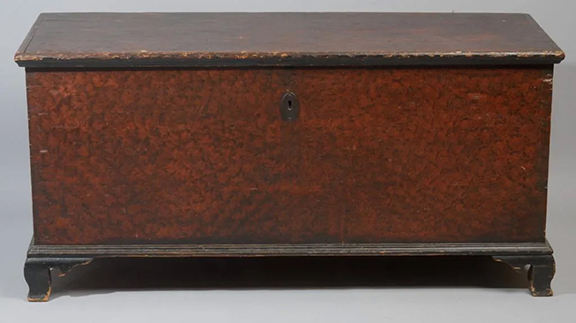 The 19th-century Pennsylvania blanket chest is constructed of white pine. The dovetailed case is sponge painted in brick red and brown. The numbers "18" and "36" are marked in the paint of the front panel on either side of the escutcheon. The lid features an applied molded edge and is secured with iron strap hinges. There is an internal till. The chest is raised on black-painted ogee bracket feet. It has some wear and paint loss from use. The chest measures approximately 23¼" x 48 7/8" x 19¼" and sold for $400 (est. $600/800).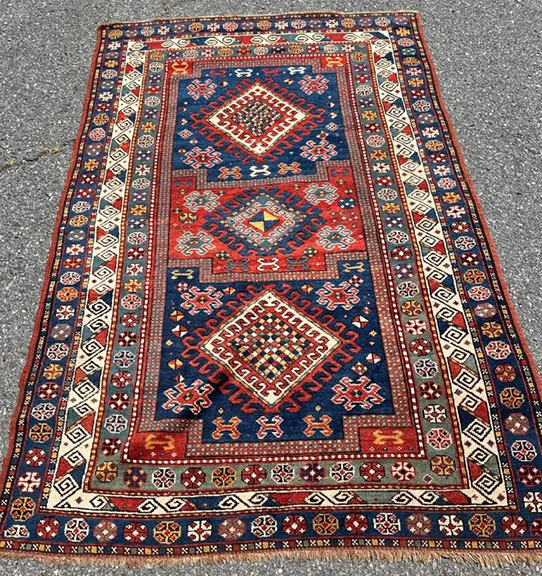 This antique rug displays the design patterns and motifs associated with Kazaks. There are decorative bands surrounding the three geometric medallions in the center field. The tightly knotted rug measures 7'6" x 4'9" and sold for $2250 (est. $800/1200). ---
Originally published in the October 2023 issue of Maine Antique Digest. © 2023 Maine Antique Digest