Treasures abound at "Casa Markowitz," home to antiques collector and dealer Robert "Bob" Markowitz, whose day job is practicing pediatric medicine in Boston and its environs.
The good doctor runs the Optimal Wellness for Life program specializing in pediatric obesity at Children's Hospital and its satellite locations in Waltham and Peabody, Massachusetts.
"The diagnostic skills are similar," he said, explaining that he started collecting antiques while doing pediatric internships and fellowships at Yale University in New Haven, Connecticut.
He and his brother were the first ones in their family to graduate from college. Bob went to Cornell University in Ithaca, and his brother, now a dentist, went to Stony Brook University on Long Island. They were born in Manhattan and lived in Brooklyn, Queens, and the Bronx growing up. Bob attended Bronx High School of Science, majored in biochemistry at college, and continued his studies at Albert Einstein College of Medicine.
"I slipped in to antiques," he said. "I enjoy that world. It's an alternative to my regular workaday world." He started collecting at shows held at the New Haven Coliseum. Entirely self taught, Bob did not grow up with antiques, nor did anyone in his family.
His first passion is 19th-century American clocks, and Bob enjoys "living with my stuff." To that end, his living room is filled with his passions—clocks, folk art, silhouettes, hooked rugs, and furniture. So too are the basement and the garage. "I walk around the house and pull stuff out," when prepping for a show, he said. "I see the individual pieces through the jumble," he pointed out.
For the last ten years or so Bob has been exhibiting at shows in New Hampshire, Maine, and Massachusetts, ones run by Rachel and Joshua Gurley, Peter Mavris, and Goosefare Promotions. He had rented spaces in antiques centers but found "my stuff needs an explanation," and so he gravitated to shows, preferably with walls, so he can engage better with attendees.
"I collect what I like, and I like what I collect," he stated.
Uncharacteristically, Bob conducts business with neither a website nor Instagram, but he does post on Facebook before an event to show the objects he's bringing. He'll get response calls and emails and says for now that works for him.
As for the numerous clocks at Casa Markowitz, "some work and some don't. Some are approaching two hundred years old. They've done their jobs" he said.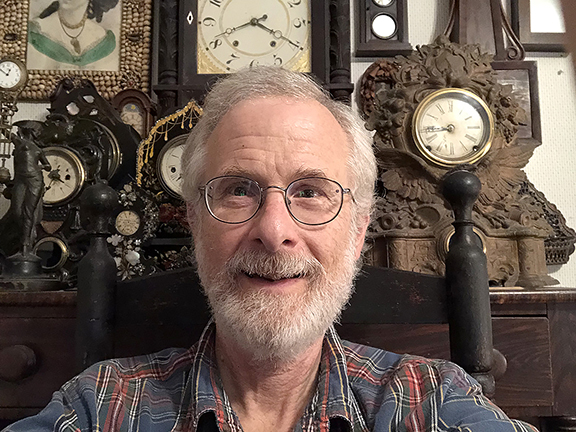 A selfie of Bob Markowitz surrounded by a cross section of his interests.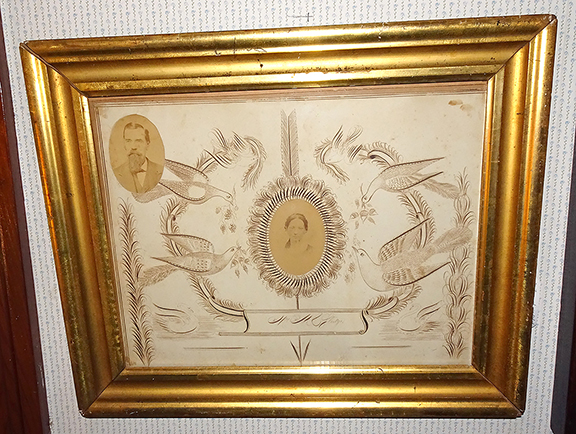 This steel pen and ink Spencerian drawing ("some call it calligraphy," noted Bob) was acquired at the weekly Milford Antiques Show, which recently closed after 46 years. It features "Mrs. M. Sledge." The photo of a man, top left, "appears to have been added after," said Bob. The doves bear acorns and bunches of grapes. Bob enjoys speculating as to the meaning of the piece. "I've had leaping lions, prancing ponies, eagles rampant, swooping doves, and so on."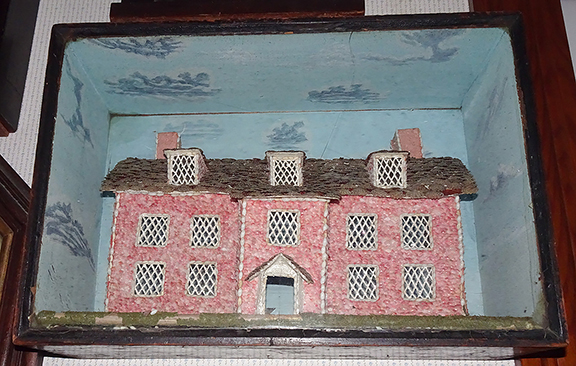 "I have and have had quite a few dioramas," said Markowitz, and this one of a shell-encrusted Georgian house is one of his favorites. The windows are of mica and decorated with tiny shells. Bob believes it dates from the late 18th to early 19th century. "I am amazed at the diversity of materials employed—from cork to feathers to shells to seaweed to hair to paper to paraffin to dried flowers to cloth to felt."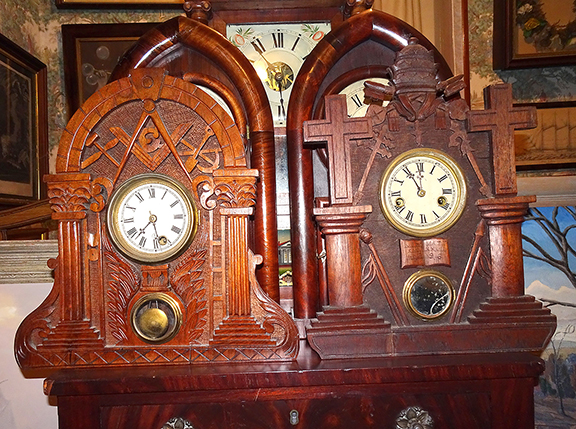 Seen here are two clocks with cases produced by Kittery, Maine, artist John Haley Bellamy (1836-1914), who is best known for his eagles, said Bob. "Typically, these clocks are found with Masonic iconography and other fraternal organizations, although less often." The clock on the left is one of Bellamy's Masonic clocks, he noted.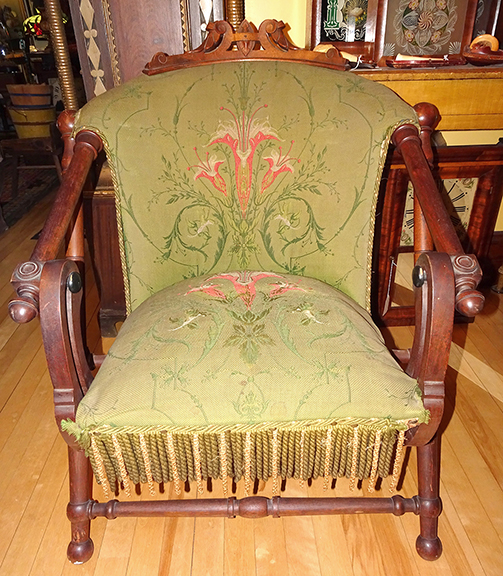 Bob has a particular interest in furniture by Merklen Brothers and George Hunzinger, both of New York City. Seen here is Hunzinger's Universal Folding Chair, with original upholstery. It is signed.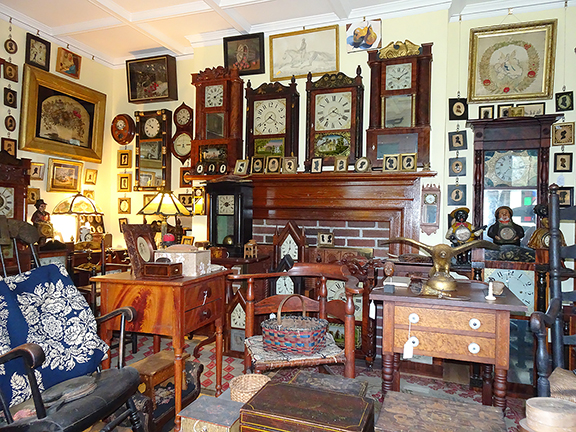 Seen here is a corner of the living room showing Bob Markowitz's "wide range of interests," including American clocks, silhouettes, folk art, hooked rugs, furniture, and more. "I do not focus on one period," he said, "as every period has produced, in my humble opinion, worthwhile objects (I have seen some ugly two-hundred-year-old things), and every piece has a story which taps into an interest."
This large three-dimensional needlework of silk crepe ribbon, chenille, and floss has an old note on the back indicating it was created by Eliza Redsecker Young, who, according to Patricia T. Herr's book "The Ornamental Branches": Needlework and Arts from the Lititz Moravian Girls' School between 1800 and 1865, attended the Lititz school in 1840 when she was 16 years old. Markowitz acquired the needlework from dealers Hanes & Ruskin at the long-defunct Peabody Essex Museum Thanksgiving show.

This sign was produced by Ithaca Sign Works and holds special meaning for Bob, who spent time in Ithaca while attending Cornell University. "I love advertising signs as well as advertising clocks," he said. Joseph Solovich?s clothing store was in Bath, Maine. ---
Originally published in the December 2023 issue of Maine Antique Digest. © 2023 Maine Antique Digest