Richmond, Indiana
For anyone driving rural back roads to the Heartland Antique Show in Richmond, Indiana, on the morning of November 18, 2017, something quickly became apparent. It was the opening day of deer season, as evidenced by an abundance of pickup trucks and SUVs edged off country roads near adjacent woods.
While hunters took to tree stands and deer blinds, a different kind of pursuit was taking place as the semiannual Heartland show returned to the Wayne County Fairgrounds. Promoter Jennifer Sabin put together 80 dealers who drew a respectable crowd that has come to expect some of the finest offerings of American country antiques in the Midwest. Heartland's dealers seldom disappoint. However, that couldn't be said of the weather.
Mortars and pestles, $115 to $395 a pair; a strand of 12 sleigh bells, circa 1890, nickel over brass in various colors of paint, $275 from Rona Andrews of Wellesley, Massachusetts. It was her first time at Heartland.
Creamware pitcher with seaweed decoration, brown ground with green bands, circa 1800, $1850; Liverpool pitcher with an American eagle motif, "Arms of the United States / May Success Attend Our Agriculture Trade and Manufactures.," circa 1800, $1650; Pennsylvania wallpaper box, $595; slip-decorated redware plate, possibly North Carolina, $450 from Lisa S. McAllister of Clear Spring, Maryland.
Buddy "L" station wagon with its original box, mostly wood and dating to World War II, $395 from Wayne and Madeleine Powell of Powell's Antiques, Dayton, Ohio.
Blanket chest in old blue paint, $975; Maine apothecary in red over black, 19th century, $1450 from Bill Kelly of Limington, Maine. In the background are (left to right) a paint-decorated cupboard, $950; a corner cupboard with butterfly shelves, white paint, circa 1800, western New Hampshire, $4650; a portrait, $1450; and a stepback cupboard in old blue paint, $3950.
Customers crowded just inside the main doors of the show for a 9 a.m. opening that was accompanied by a steady rain drumming against the tin roof. The worst was yet to come. The forecast called for the possibility of severe weather, leaving some dealers a bit apprehensive about the day's prospects.
They had reason to be leery. Throughout the morning and early afternoon, cell phone screens glowed in various shades of green as radar weather apps indicated rain across the area, while an intense storm front colored in vibrant yellow and red advanced toward east-central Indiana.
Some dealers throughout the building faced a more immediate issue of a different sort—a skimpier-than-normal selection of merchandise to offer their buyers. For a number of those dealers, strong sales at shows in Ohio and Illinois during late October and early November had whittled down their inventory. Although it wasn't something that affected everyone, it was obvious that a number of sellers had switched to a more spacious look. In an effort to fill as many holes as possible, dealer trade during setup was said to have been brisk.
By the time the crowds arrived and the rain set in, the weather was temporarily forgotten. The hunt had begun in earnest. Among the merchandise on the floor was an especially fitting item for the day: a 1937 oil painting by E.W. Mueller, A Hunter's Greed, showing two dead deer—a buck and a doe—hanging between two trees, with a spotted fawn watching from the background. The work was priced at $265 by Craig and Meredith Illa of Craig W. Illa Antiques, Palmyra, Missouri.
Other artwork at the show ran the gamut from formal, including a variety of 19th-century portraits, to Outsider art, with a naïve work by Bertha Halozan (1917-2004), oil on board with glitter, dated July 1993, tagged $1200 by Larry Lewis and Chris Warne of Clay City, Kentucky. The busy scene included a prominent depiction of the Statue of Liberty, a favorite theme of the artist.
Furniture at Heartland is still primarily country-based, from cupboards to blanket chests, with an abundance of paint. However, this is still a show where finer furniture can also be found. Robert Zollinhofer of Medina, Ohio, offered an inlaid mahogany secretary attributed to the Seymour shop of Salem, Massachusetts, 1780-90, priced at $4800.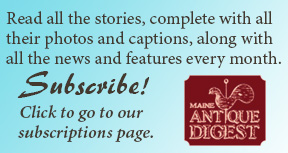 "I think every house should have a parlor with formal furniture," he said.
Zollinhofer had a good morning, with sales that included an oval-top tavern table, Stiegel glass, and a candelabrum. Items still available included a Boston wing chair, circa 1840, priced at $15,000.
Secretary attributed to the Seymour shop of Salem, Massachusetts, mahogany with eagle inlay and eagle finial, 1780-90, $4800 from Robert Zollinhofer of Medina, Ohio.
Outsider art painting by Bertha Halozan (1917-2004), oil on board with glitter, dated July 1993, the artist's trademark Statue of Liberty at the left, 24" x 36", $1200 from Larry Lewis and Chris Warne of Clay City, Kentucky.
Hooked rug lettered "Renard 1923," the fox and some of the birds with bead eyes, $2200; bird-decorated churn, $3600; horse weathervane, iron, $2750; slant-lid meal bin, $750 from Christopher and Bernadette Evans of Waynesboro, Virginia.
Other large-ticket items on the floor included a Sharples Separator Company lithographed tin sign priced at $17,500 by Don and Marta Orwig of Corunna, Indiana. Picturing a fair-haired child, a woman in a gown, and a calf at a cream separator, the piece was fresh to the market, having been acquired out of a private collection in New York two nights before the show. "I never thought I would get to buy this," said Don Orwig.
Orwig was finishing up another strong year, which included what he described as an amazing show at Round Top, Texas, in September. Buyers all but cleaned him out. "I came home from Texas with nothing but a few signs," he said. Yet in three weeks he put together an entire booth for Heartland—no small feat considering the quantity and quality of merchandise carried by the Orwigs.
Hanging trade signs, double-sided: optician, blue eyes painted on one side, green on the other, foil behind the pupils, 9" high x 23" wide, $2250; fishmonger, Atlantic salmon, copper with brass fins, probably from the Boston area, 14" high x 42" long, $3900 from Halsey Munson of Decatur, Illinois.
Pair of brass candlesticks, $295; 18th-century joint stool, $895; child's paint-decorated settee with a two-chair back and rush seat, sold; grain-painted blanket chest, $995; child's Windsor rocking chair, early 19th century, $1195 from Inez Allen and Nan Donovan of City Mouse Country Mouse Antiques, Cincinnati, Ohio.
A Hunter's Greed by E.W. Mueller, oil on board, dated 1937, $265 from Craig and Meredith Illa of Craig W. Illa Antiques, Palmyra, Missouri.
Several dealers were new to the show, including Christopher and Bernadette Evans of Waynesboro, Virginia, who offered an impressive selection of Americana, from a salt-glazed churn with freehand decoration of a long-necked bird, priced at $3600, to a slant-lid meal bin in pine with an old red wash at $750.
Christopher Evans noted that the pace of the show was different from those farther east, where most sales occur during a flurry of activity in the first two hours. "People buy differently here," he said. "It's been slow and steady all morning long."
There were no major changes to the show this time. One minor switch, moving the closing time up an hour, proved to be beneficial to buyers, who were able to get on the road before the worst of the thunderstorms rolled through Richmond. Dealers weren't so lucky, being left to pack out in the heaviest wind and rain.
Reverse-painted game boards $595 (upper left), $285 (upper right), and $645 (lower); grain-painted sugar-cutting box, $435; drop-leaf table in old red paint, $465 from Suzanne Baker of Westville, Indiana.
Sharples Separator Company lithographed tin sign, self-framed, about 38½" x 28", $17,500 from Don and Marta Orwig of Corunna, Indiana.
Looking forward, the summer edition of Heartland, to be held in Richmond, Indiana, on Saturday, June 2, will mirror last year's show—featuring about 100 dealers under one roof. However, Sabin has added an event to the schedule. Heartland @ Hilliard will be held on Saturday, August 25, on the Franklin County Fairgrounds in Hilliard, Ohio.
Originally called Antiques in 2 Barns, Sabin's first stab at a show in Hilliard in 2016 had limited success. Designed to piggyback off the Springfield Extravaganza, the debut show was held on a Wednesday, which led to fewer shoppers than anticipated. Sabin put the show on hiatus in 2017 while she reconsidered the event. The resulting new-and-improved version, Heartland @ Hilliard, will follow the same format as the original—a simple, one-day, 50-dealer event of genuine antiques without a lot of fuss. However, the weekend date is expected to draw more buyers.
The event's structure also follows Sabin's philosophy. "I'm focused on low-cost, quality shows," she said.
For information on shows run by Sabin, phone (843) 812-0282 or visit (www.heartlandantiqueshow.com).
---
Originally published in the March 2018 issue of Maine Antique Digest. © 2018 Maine Antique Digest