The Young Collector
We hate to be the bearers of bad news. No one wants to hear this, but we have all been dancing around the problem for way too long. It is time to simply put it out there, so here goes. We hate to break it to you, but your kids don't want your stuff.
We are kidding. Surely there is no one in America who has not heard this by now. Simply do an online search with these words "your kids don't want your stuff," and you will get more than 19 million results. (Most of it, if you look closely, is about a half-dozen original articles, and the rest are all reaction pieces to the original articles.) We've talked before about why—frequent moves, minimalist lifestyles—but it all boils down to your kids really don't want your stuff, no matter how much you love it. But what is it that they really don't want? Here are a few of the likeliest candidates.
China: They do not want china, yours, grandma's, or even 18th-century Wedgwood. We have an enormous kitchen, and in it, in addition to our everyday dishes, we have three additional sets of dishes. And this is only because at various points in the past, we either rejected or deaccessioned at least two other sets. We have packed and stored and moved these sets multiple times now, and yet, aside from a small reproduction set, we have not eaten off of them a single time. That's not really because we are terrified that they would get damaged, but more because they aren't our style—they are much more formal than we normally are at meals. Kids with space may want a set for sentimental reasons, but do not be surprised if they feel the "costs" of a large set of formal dishware outweigh the benefits. If you want to increase the odds that they'll want it, use it. Make it part of a holiday, get it out when they visit, and talk about it. Otherwise, the same applies to glassware and china cabinets/hutches. If we do not want the china, then we do not want a space to store it either.
Dining furniture: Ditto. These things are cyclical and at some point formal dining, in some form, will be a thing again. Just now, however, for much of the current generation, entertaining means pizza on the couch while watching the new episode of Game of Thrones, a potluck, grilling out, or a trip to the local tapas joint. The highly polished table that seats 12 with all the chairs literally and stylistically does not fit most younger folks' lifestyles today (or it is seen as a large flat space that will collect piles of mail, library books, craft supplies, and other stuff).
"Surface": What you call surface, some people in the market call "grunge" for a reason. Remember those guys your kids listened to in high school, the ones with the scruffy beards, unwashed hair, and ratty flannel? They did not look clean. Neither, to your kids, does furniture with "surface." For a generation of people influenced by IKEA and retro/vintage trends, grungy surface is about as appealing to them as their music was to you. They will indeed "turn that crap down."
Weathervanes: "You made me go to a state college, but you paid how much for that copper chicken?" We know. We're entitled and unappreciative.
Piano: Not only do your kids not want the piano, no one wants the piano. Check Facebook Marketplace or Craigslist sometime and see how many pianos are out there looking for good homes. Pianos were once a hallmark of the successful, cultured middle-class home, but now they just take up space, and younger people will have to really be invested to take on hauling them in and out of apartments until they settle somewhere. Andrew's uncle wanted the piano from grandma's house, but it still took him 30 years to claim it and move it across the country.
Old toys: If they really wanted many of their old toys, really wanted them, those toys would not still be in your basement or attic. (Never hurts to check on their value though.) This is one of those areas affected by the increased volume of consumption in modern American life. Hollie's mother had one real doll, just one. Andrew, on the other hand, got at least three stuffed Garfields per year for a decade. What exactly would we do with those? What purpose does it serve to move them from one closet to another? Surely posterity has all the stuffed Garfields it can use. If only we had taken the china hutch, we could have displayed all our stuffed Garfields in there, said no one ever.
Ephemera: This hurts, we know, but most people's kids do not want ephemera. As someone who is in charge of collecting and weeding those little scraps of paper with messages like, "Mom, I love you and scones," we know how hard it is to make the decision to toss that stuff. But they very often don't want their own ephemera, three bales of kindergarten worksheets, coloring book pages, and youth soccer award banquet programs, and they definitely don't want yours either. Your best bet here is to digitize and organize. If you give them three totes full of everything from the last 70 years of your life jumbled together, they're going to be just as overwhelmed by it as you are. And don't force them to make the hard decision to throw out photos because they don't recognize anyone in them. If you know who is in a photo, label it. If you don't, consider doing a little of the emotional work yourself and toss it. Put photos in albums or sort them into accordion files. Weed as you go: prom picture vs. prom corsage, for instance.
Art: Art is very personal. Don't be surprised if they don't want art (even your Ammi Phillips portrait of a girl and her cat), and don't be surprised if the art they do want is something you wouldn't have expected (like landscapes with happy trees). Art has to speak to us, and what spoke to you may very well not speak to them.
Various collections: Your kids will almost assuredly not want your collection of antique iron lighting or your shelves full of carved wooden birds. And again, you saw dozens or even hundreds of those objects over your years of collecting, and presumably you picked the ones that said something to you, that filled some gap you wanted to fill. They won't be received the same way by others—especially others who don't want to dust.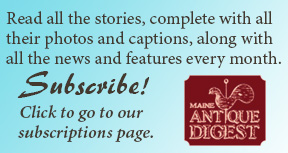 All that said, take heart! An informal poll of friends (full disclosure: most of them were museum people) showed that all of them did take some of these things from their parents' collections. They took the special Christmas dishes (see, you might be able to trick them!), a favorite from a larger collection of similar objects, and some furniture (especially if it was old enough to have been from previous generations). Overall, they typically took things not because they were lovely or expensive but because they cued specific childhood memories. Here are some other things younger folks are likely to take:
Bookshelves: Despite the rise of the Kindle, if you have readers in your family, it's almost certain that they don't have enough shelf space. Bookshelves with their multipurpose functionality are rarely passed up, especially if they're older and of better quality than the laminated particleboard from the big box office supply store.
Other practical furniture or useful storage: Smaller pieces like end tables, stands, and coffee tables often can be tucked in somewhere, especially if they're of better quality and not too flashy in any particular style. Ditto for boxes and buckets—the kind of stuff that Pottery Barn reproduces!
Lighting: Not the rusty iron stuff, but the kind with actual switches. Decent lamps are expensive, so table lamps, floor lamps, and novelty lamps will all likely be popular with younger folks. You know what this means? Go ahead and make a lamp out of that Burger jug; it just might be what keeps it in the family!
Kitchenwares: Unless they've gotten lucky with a nice set of Le Creuset or they never cook, quality kitchenware is completely different from glassware and china. Good pots and pans are useful at any stage in life and are the kinds of things few people treat themselves to. And iron collectors, take heart! Cast-iron cookware is on the upswing, so there might yet be hope for your Wagner collection!
There are things that will completely surprise you. They will treasure the cookie cutters, the silly crocheted dog toilet paper holder in the guest bathroom, a costume jewelry necklace they played with when they were small, an old gardening jacket, or the mug they drank soup from when they were sick. This is hard for all of us, this letting go and holding on, this parsing of the meaning of all the tangibles in our lives and their complicated connections with the intangibles. So have the conversation, make the plan (we're going to keep saying that), and remember that regardless of what they treasure, this is how the magic happens. What is loved matters less than that something, anything, is loved. Our children and grandchildren can treasure us without treasuring the same things we treasure. Much of what we surround ourselves with is still here, in our homes, because it spoke to someone before, maybe when it didn't speak to anyone else. All of us have to learn to hear that for ourselves.
We welcome ideas, tips, criticisms, and questions regarding "The Young Collector." We may be reached by e-mail at <[email protected]> or on Facebook (www.facebook.com/TheYoungAntiquesCollectors), or by writing The Young Collector, c/o Maine Antique Digest, PO Box 1429, Waldoboro, ME 04572.
---
Originally published in the May 2018 issue of Maine Antique Digest. © 2018 Maine Antique Digest