One of just two surviving movie posters for the 1931 horror movie Dracula set a world auction record for movie posters when it sold for $525,800 (includes buyer's premium) on November 18, 2017, at Heritage Auctions in Dallas, Texas.
Dracula (Universal, 1931), one sheet (27" x 41"), style A. Before its recent discovery, only one other copy of the style A format had surfaced, a rare find unearthed in the early 1990s. This copy has pinholes in the corners and a small quarter-coin-size hole repaired in the right horizontal fold approximately 2" away from Bela Lugosi's chin. The poster has very slight centerpoint paper loss and a small amount of fold separations. The colors have been enhanced in some areas of the poster because of uneven wear, and the yellow in the title has been touched up because of slight grease pencil bleed through. Photo courtesy Heritage Auctions.
The previous auction record was $478,000, set twice by Heritage Auctions, in July 2017 for the only known surviving Italian issue movie poster from 1946 for Casablanca, and in November 2014 for the only known 1927 copy of the poster for London After Midnight.
This Dracula poster was recently discovered in the San Diego, California, collection of noted film historian Lt. Col. George J. Mitchell Jr., an associate member of the American Society of Cinematographers. Mitchell had owned the poster since the 1950s.
"The reason my dad purchased the poster is because he loved horror films. He was drawn to the Bela Lugosi poster because it brought back childhood memories of seeing the film when it was first released," Mitchell's son Arthur Mitchell said. "He remembered going to the theater…and remembered that there was an ambulance stationed in the lobby, in case anyone was so scared they needed medical attention."
The elder Mitchell was a longtime cinematographer and photographer who after World War II and a 20-year career in the U.S. Army started a small film production company in San Diego and did video work for AFL Films, NFL Films, and the San Diego Zoo and training films for assorted branches of the military.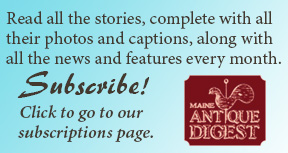 For more information, contact Heritage Auctions at 1-877-437-4824 or e-mail <[email protected]>.
---
Originally published in the January 2018 issue of Maine Antique Digest. © 2017 Maine Antique Digest