Grogan & Company, Boston, Massachusetts
Grogan & Company celebrated its 30th year on November 5, 2017, with an approximately $2.55 million sale, drawn primarily from jewelry and paintings. The auction house is earning a reputation as the bijou auction house in Boston. It's small and located conveniently, and the small size of the material it usually sells makes it easy to carry away—right up the street to buyers' homes.
Grogan & Company has made its mark on the jewelry business since it relocated to Boston. A collection from South Carolina, replete with diamonds, rubies, and emeralds, brought the most impressive results (something in the neighborhood of $700,000 total). An oil on canvasboard by John Singer Sargent (1856-1925), an impressionistic sketch called Candelabra with Roses, was the highlight of the day when it brought $457,500 (with buyer's premium). The gallery audience broke into applause as Michael Grogan hammered it down to a collector.
The high lot of the collection of mammoth-plate (18" x 22") photographs by Carleton Watkins (1829-1916) was The First View of Yosemite Valley from Mariposa Trail No. 1, dated to 1865 or 1866. It brought $27,450 (est. $4000/6000) on the phone. Grogan photo.
Carleton Watkins's North Dome, Front View, Yosemite is inscribed "The North Dome 3730 ft. Yosemite No. 85" and dated to 1865 or 1866. It sold for $2074 (est. $1500/2500). Grogan photo.
Since Grogan & Company relocated to Boston's Beacon Hill, not much in the way of heavy lifting has occurred. A couple of exceptions were tall-case clocks, two of which are pictured. Some transportable lots were two Italian school ink wash drawings, one a design for a fountain, 6½" x 4½", and the other a Classical figure, 9" x 5½", which together brought $45,750 from an Internet bidder. The drawings came from the collection of the late Agnes Mongan, curator, art historian, and director of the Fogg Art Museum in Cambridge, which is now part of the Harvard Art Museums. Each drawing retained labels from the Fogg. A parchment diploma of the Society of the Cincinnati with sepia signatures of George Washington and Secretary of War Henry Knox was engraved by Jean Jacques Leveau (1729-1786). It had descended from Samuel Seabury, the first American Episcopal bishop, and sold for $9760 (est. $3000/5000). An icon, 18" x 15", depicting the Virgin and Child amid two angels, one bearing a cross and the other holding weapons, came from a South End Boston collection. It was estimated at $1000/1500 and sold for $25,620. Some bidders thought it was Greek; others disputed that. In any case, the successful bidder was in Greece, as was the underbidder.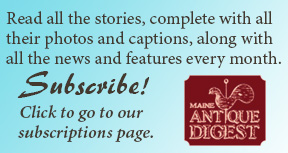 Several artworks by Aiden Lassell Ripley (1896-1969) drew bidding. The Chinaman, a 24" x 16" oil on canvas, was the cover image for the February 1927 issue of Everybody's magazine. It sold for $6710 (est. $1000/1500). Ripley is well known for his wildlife depictions. Less known is that late in life he created a series of paintings depicting the exploits of Paul Revere for the Paul Revere Insurance Company. Retreat from Concord, a sketch in colored pencil and wash, 9¾" x 15", sold on the phone for $7930 (est. $2000/4000). The reverse had notes and a sketch of a human arm and hand gripping a powder horn. The painting went to the same phone bidder who paid $4270 (est. $5000/10,000) for Ripley's Passaconnaway, Front View.
Grogan & Company celebrated its 30th year with this painting by John Singer Sargent (1856-1925), an oil on canvasboard sketch. Candelabra with Roses blew past the estimated $50,000/100,000 to a resounding $457,500. The gallery audience broke into applause as Michael Grogan hammered it down to a collector. The 21" x 16" painting, circa 1885, had descended in the family of Francis Davis Millet (1846-1912), born in Mattapoisett, Massachusetts. Millet discovered the Cotswolds of England in the summer of 1885, and he and Sargent, along with Henry James, were part of the Broadway group of expatriate American artists who passed riotous summers there in the exquisite village working and carousing. Sargent painted Millet's wife, Elizabeth "Lily," and three Millet children (Kate, Laurence, and John). Millet died aboard the R.M.S. Titanic.

Horse and Rider, a 25" x 30" oil on canvas by Milton Clark Avery (1885-1965), sold to a collector in the gallery for $57,950 (est. $50,000/100,000). Avery had given the circa 1929 painting to Marion Dunham, a New York City arts patron in the 1920s and 1930s, and it descended in her family to her great-nieces in Boston.
Two Boston views by Arthur Clifton Goodwin (1864-1929) sold. Boston Common View with Park Street Church, a 21" x 25" oil on canvas, was estimated at $4000/8000 and realized $7320 on the phone.
In the jewelry selection gems from the South Carolina collection mentioned above were outstanding. A platinum and diamond ring with an 8.31-carat emerald-cut diamond flanked by two tapered baguette diamonds sold for $207,400. An August 2017 GIA report placed the diamonds as F, SI1. A 14k white gold pendant with a 4.78-carat round brilliant-cut diamond realized $40,260 (est. $20,000/30,000). A Patek Philippe platinum and diamond watch, signed on the dial and covered by a hinge case set with full-cut diamonds, the bracelet with graduated full-cut diamonds, for an overall total of 80 full-cut diamonds, brought $14,640 (est. $6000/8000). More items from that collection are pictured.
A hazier view of Park Street Church from the Boston Common by Arthur Clifton Goodwin, a 29" x 36" oil on canvas estimated at $5000/10,000, sold on the phone for $7930. It came from a Back Bay collection. Not shown, an 18½" x 23½" pastel view of T Wharf on Boston harbor by Goodwin brought $4575 (est. $1500/2000).

Portrait of Ruth Gaston, Age 3 was commissioned in 1899 by the solemn sitter's father, William A. Gaston, from William McGregor Paxton (1869-1941) of Boston. The 31" x 26" oil on canvas descended to the sitter's grandson, having hung in the homes of her descendants in Boston since 1899. The picture sold for $30,500 (est. $20,000/40,000).

Christmas Snow by George Hawley Hallowell (1871-1926) of Boston, a study in wintry shades of blue, brought $10,370 (est. $5000/7000). The 1922 gouache measures 21" x 15" and sold on the phone.

The Cannon, a 24" x 16" oil on canvas, is signed and dated 1923 by eminent Boston artist Aiden Lassell Ripley (1896-1969), who is known mostly for his sporting art. In the mid-1920s Ripley created more than two dozen cover illustrations for pulp magazines Adventure and Everybody's. The Cannon served as the September 10, 1924, cover for Adventure. It was estimated at $1000/1500 and realized $9150 online.
A New England collection of 20 mammoth-plate albumen photographs of the Yosemite Valley by early western American photographer Carleton Watkins (1829-1916) was extraordinary and sold for an aggregate $185,074. The collection came to Grogan from a greater Boston collector as simply a pile of images, one of which was a photograph of a detailed map. Each was cataloged and placed in a sleeve. The collection was broken up among phone and online bidders; only one bidder for them was in the gallery. Watkins was born in upstate New York and headed to San Francisco for the Gold Rush. It was there that he learned about photography. He may have traveled to Yosemite in 1858 and 1859 and is known to have returned there in the summer of 1861 with a mammoth-plate camera, which used 18" x 22" glass plate negatives, from which these images were made. His photographs found their way to Washington, D.C., where upon seeing them in 1863, President Abraham Lincoln declared that Yosemite remain in the public domain, leading to its eventual designation as a national park.
For further information, visit (www.groganco.com) or call (617) 720-2020.


This gold, platinum, diamond, ruby, and natural pearl brooch had come from the collection of Eugénie de Montijo (1826-1920), the wife of Napoleon III and last empress consort of the French court. When the court fled to England, Eugénie sold her jewelry in London. The brooch was bought by jeweler Harry Emanuel, who placed it in the same purple velvet case in which it still rests. It was later sold to Flora Cecilia Sassoon Raphael, who is pictured wearing it in a 1905 portrait by John Singer Sargent. The brooch had been auctioned in 1983 at Christie's, when it sold into a South Carolina collection. The brooch attracted eight phone bidders and sold to a young California woman on the phone for $170,800 (est. $10,000/15,000). Grogan photo.

This diamond, yellow gold, silver, and diamond rivière necklace with 40 graduated old-mine-cut diamonds, the largest of which is about four carats, and retaining a French assay mark, came from a South Carolina family collection. It sold to a collector-dealer on the phone for $146,400 (est. $30,000/45,000). Grogan photo.
Mariza, a wallpaper design printed in gouache on paper, 29½" x 142" (partially shown), was created for the Wiener Werkstätte in 1926 by designer Maria Likarz-Strauss, who was born in Przemys´l, Poland, in 1893 and died in Rome in 1971. The paper was found in the closet of Rochester, New York, landscape architect Fletcher Steele and passed to the Bolger family of Rochester. The artifact sold for $3355 (est. $2000/4000). Grogan photo.
Lucy Grogan, vice president and jewelry director at Grogan & Company, took the podium in the 30th anniversary auction.
---
Originally published in the February 2018 issue of Maine Antique Digest. © 2018 Maine Antique Digest