Kenos Answer One Lawsuit but Face Two More
Clayton Pennington | October 3rd, 2016
Update: This suit and all others have been settled and dismissed. For more: http://www.maineantiquedigest.com/news/kenos-resolve-all-legal-matters
There are now three lawsuits claiming that Leigh Keno or Leslie Keno and/or one of their companies have not paid their auction house bills. The Kenos are twin brothers who shot to fame in the world of art and antiques. All the suits center on auction purchases made within a seven-day time frame—April 23 to May 1. According to the complaints filed, the brothers racked up bills for more than $750,000 from the three auction houses. As of August 6, only $70,000 had been paid.
On August 12 Stair Galleries, Hudson, New York, filed suit in New York state court against Leslie Keno for failing to pay his bill from an April 30 and May 1 auction. According to the complaint, Keno "entered into an agreement with Stair to purchase works of art, furniture, and objet d'art...for the sum total of $287,214.93." Keno "breached the Agreement by failing to pay Stair the amounts due." Stair claims that it lost commissions and incurred fees totaling $74,450.25. An exhibit filed with the suit lists 62 objects that Keno was invoiced for after the sale.
On August 17 Sloans & Kenyon, Chevy Chase, Maryland, filed suit against Leigh Keno and Keno, Inc. Sixty-seven lots were won by Keno, Inc. and Leigh Keno in Sloans & Kenyon's online sale held on April 30, according to the complaint filed in Montgomery County Circuit Court. The total hammer prices were $61,905, and the buyers' premiums were $14,725.76 for a total of $76,630.76. "Repeated demands have been made for payment but none [has] been forthcoming from Keno," court papers state.
Sloans & Kenyon is demanding a judgment of $14,725.76 for the lost buyers' premiums, $10,793.75 for lost sellers' premiums, $7500 in storage fees, $4590.70 in interest, attorney's fees, and other costs. The auction house is alleging breach of contract and detrimental reliance.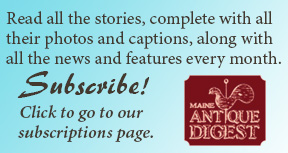 Cakebread Art Antiques Collectibles, Inc. does business as New Orleans Auction Galleries (NOAG). NOAG filed suit on June 10 against the brothers and Keno Art Advisory, LLC. Three suits were originally filed in state court, but the suits have been consolidated and moved to federal court. According to the suits filed on June 10 against both, the brothers purchased 230 lots represented by 75 distinct consignors in the sale on April 23 and 24 in New Orleans. The total bill was approximately $400,000. The Kenos have sent NOAG a $70,000 payment.
NOAG alleged that the Kenos committed "auction misconduct" by bidding against each other, "which resulted in unjustifiably higher purchase prices of auction items" that caused NOAG "special and general damages...including loss of profits from the auction herein and goodwill as it relates to consignors and buyers." The brothers are accused of using a combination of online bidding against each other through Invaluable (www.invaluable.com) and simultaneous telephone and online bidding, which "falsely inflated the prices of items at NOAG."
The Kenos have filed a motion to dismiss the NOAG suit, and they raise two major issues: First, they question the claim that auction misconduct occurred; second, they state that the consignors, not NOAG, should be the ones to file suit.
"The claims asserted by Cakebread for auction misconduct should be dismissed because they are not based on any cognizable legal theory of recovery under Louisiana law and, even as a purely factual matter, are illogical and absurd," the Kenos' attorney Brad E. Harrigan wrote. "'[A]uction misconduct' is not a cognizable cause of action under Louisiana law. Nowhere in the Louisiana Revised Statutes or the Louisiana Civil Code has the Louisiana legislature recognized such a cause of action. Nor has counsel for the plaintiff identified any case law in support of a cause of action for auction misconduct.... [T]he set of facts...are a completely innocuous recitation of two people bidding at an auction, and incidentally bidding against one another.
"It bears repeating that Cakebread's business model is based upon its customers' placing bids against one another in incrementally higher amounts. Cakebread's allegations that bidding against one another amounts to some kind of legal wrong against Cakebread is completely absurd. The incremental increases in price resulting from this bidding, like all bidding at Cakebread's auction, benefits Cakebread. ...Cakebread has not offered any explanation or theory as to any conceivable benefit to the Kenos from driving up purchase prices."
NOAG's attorneys, Shawn C. Reed and Kyle T. DelHierro, fired back. "Contrary to the assertions of the Kenos, their actions and conversations...represent collusion and potential 'shill' or 'false bidding' to inflate the value and purchase price of auction items.... The Kenos incorrectly assert that 'auction misconduct' is not actionable. However, the Kenos ignore the fact that their conduct resulted in economic damage to NOAG and its reputation as an international auction house. The Defendants' argument completely ignores the provisions of Louisiana R.S. 37:129 (B), which forbids any person to act at an auction sale as a 'shill' or to offer any false bids."
Reed also wrote that NOAG "suffered a severe loss of operating capital to produce further auctions and recuperate costs associated with the April 2016 auction at issue. Notably, the accounts have still not been paid which is a fact that has been omitted from Defendants' Motion and certainly demonstrates to this court that this matter should not be dismissed.... NOAG has suffered additional damage in the form of loss of good will and credibility within the auction, arts and antique community because of the insular nature of said community. The valuations of items purchased at auction are closely monitored and reported on the internet and in publications. As such, the inflated bidding and misconduct of the Kenos have created unrealistic values for items that were never paid by the Kenos and will certainly be unsustainable if the accounts are not paid and NOAG must place said items in future auctions to attempt to mitigate their damages."
The Kenos also claim that NOAG's consignors should be party to the suit. "The parties who own the goods for which Cakebread is seeking payment are required parties and this action should not be permitted to proceed without their joinder. ...Certain, if not all, of the items sold in the April 23-24 auctions are owned by consignors. The consignors are the real parties entitled to remuneration for the purchase price of the items at issue. The consignors, and not Cakebread, are the true 'seller.'"
NOAG has issued payments to all the consignors. The Kenos' attorney does point out that NOAG "terms of sale provide that in certain instances, when Cakebread has paid the seller for the item at issue, it may exercise the rights of the seller and pursue remedies against the purchaser." NOAG has, however, failed to inform the Kenos that it is exercising that right, the Kenos claim.
---
Originally published in the October 2016 issue of Maine Antique Digest. © 2016 Maine Antique Digest