Lebanon, Ohio
Shortly before the opening of the Lebanon Antique Show, held January 27 and 28, Deborah Fisher stopped to pet a pig for luck. It was an interesting gesture but also totally unnecessary. An enthusiastic crowd forming outside the doors would soon see to that.
Deborah Fisher bought the cast-iron pig during dealer setup and rubbed it for luck before the start of the Lebanon Antique Show.
Fisher, who is from Lebanon, Ohio, the site of the annual antiques show, had already had a good morning, which was topped by the purchase of the pig for her personal collection. The best guess was that the sizable cast-iron figure might have been used as a doorstop. The piece came from dealer Chris Smith of American Antiques, Waynesville, Ohio.
Smith, whose booth was in a prime location just inside the show entrance, had the type of Americana and country-oriented merchandise that made Lebanon a must-attend show for years. From Bechtelsville, Pennsylvania, a small town about 50 miles northwest of Philadelphia, came a fireman's jacket in red-and-blue wool with white keystones on the lapel. The number "1" inside the keystone indicated that the outfit was owned by the fire chief, Smith said. Adding significant appeal to the jacket was the inclusion of the original hat, lettered "Bechtelsville," and, even more scarce, the original belt. The outfit was priced at $1250.
Vibrant paint-decorated bench with lift seat, English, 78½" long, $1995 from Inez Allen and Nan Donovan of City Mouse Country Mouse Antiques, Cincinnati, Ohio.
Joined-panel oak chest, English, 17th century, the checkerboarding a later addition, $895; bronze posnet, the handle lettered "Warner," 17th century, $395; pewter dish with London touchmark, $225; Italian alabaster grape cluster, $78 from Ray and Kathy Mongenas of Mongenas Antiques, Loveland, Ohio.
Grain-painted linen press that resembles a jelly cupboard, poplar, 19th century, sold at the show by Darwin Green and Gavin Green of Green's Antiques, Enon, Ohio.
Miniature Victorian chest of drawers with chamfered panels on the side and a shaped skirt, 10¼" high x 9½" wide, $95 from Sandy Crouse of Cincinnati, Ohio. The three main drawers were made from cigar boxes with original paper labels for Rail Splitter (shown), Star Banner, and Princess Pearl. The box was made in 1898 by John Emerson of Zoar, Ohio.
American furniture in the booth included a cage cupboard in old black paint, the two doors having three open panels strung with metal bars instead of the usual wooden rods, all on a bracket base with a nicely defined apron. The cupboard was tagged $1950. A grain-painted southern pie safe with ten punched tins was also $1950. The outside was attractive enough, having a wide door that sandwiched four tins between recessed panels. Inside, however, was an added surprise: a drawer affixed to the underside of one of the shelves.
While Smith's booth had the look of the good old days of the Lebanon Antique Show, one didn't have to stray far to see how this event continues to change. Celebrating its 70th anniversary this year, the show has long been a mainstay in southwest Ohio. And even though the event has seen its focus shift in the recent past, it has never been this eclectic.
That's not a bad thing, according to the show's latest promoter, John Wanat of Indianapolis, who hopes to attract a more diverse group of buyers. Wanat, who has exhibited at Lebanon for 15 years, made his debut as the event's manager this year. He described the show as still 60% to 70% country with a blend of other antiques. "There's stuff for young people as well as veteran collectors," he said.
Roseville Pottery Company variegated dogwood jardinière and pedestal, 30½" high, $1195 from Rita and Rick Robben of Harrison, Ohio.
Rockingham washboard, $475; yellowware washboard, $1400; Brown & Crooks canning jar, Ohio, impressed mark, $365; southwest Pennsylvania wax-seal canning jar with floral design that resembles a crane in flight, $675 from Jerry Tebbano of Dutch Hollow Antiques, Aurora, Ohio.
Exhibiting at Lebanon were 38 dealers, whittled down from an anticipated 50 dealers because of health reasons and a change of dates. The show is now held the last weekend of January, which is one week later than in the past.
"We were concerned having to move our date," said Vicky Van Harlingen, executive director of the Warren County Historical Society, which puts on the event as the flagship fundraiser for the organization's three museums. "We lost a couple of longtime dealers because of a conflict with other shows, but we picked up some new dealers."
Moser jeweled goblets, green with gold, white, and red enameling, circa 1900, $325 each from Rex Andrews of Andrews Antiques, Rushville, Illinois.
Whether experienced at Lebanon or not, the dealers brought to the show a mix that wandered well outside the boundaries of country antiques. Glassware had its moments, in part because of Rex Andrews of Andrews Antiques, Rushville, Illinois. His array included two Moser jeweled goblets in green with gold, white, and red enameling, circa 1900, priced at $325 each, and a flower center in the Flashed Hobstar pattern, believed to have been made by Meriden Cut Glass Co., circa 1900, that was $345. It was proof that interesting material doesn't have to be exorbitantly expensive.
Among the ceramics was flow blue, including a platter and six matching plates in a turkey pattern priced at $1295 from Ed Jordan of Victorian Antiques, Onsted, Michigan; majolica, including a skull-motif humidor, marked $85 from Greg and Rebecca Brown of Lagrange, Indiana; and stoneware, including a southwestern Pennsylvania wax-seal canning jar with a floral design in brushed cobalt that also resembled a crane in flight, which was $675 from Jerry Tebbano of Dutch Hollow Antiques, Aurora, Ohio.
The booth of Patricia Somers of Upper Maumee Valley Antiques, Fort Wayne, Indiana, had a broad range of items, including a Winchester Model 1892 .32-20 rifle with an octagonal barrel, the serial number dating it to 1894, priced at $1500, and a World War II badge from the Manhattan Project, lettered "Guard / U.S. Engineer Office / Manhattan Dis. / 131," that was $300.
Rocking horse, $350; Statue of Liberty clock/light, $190; doctor's bag, $90 from Steven Peterson of Knightstown, Indiana.
There were some surprises at the show. Sandy Crouse of Cincinnati, Ohio, offered a homemade miniature Victorian chest of drawers, 10¼" high x 9½" wide, priced at $95. The three main drawers were made out of cigar boxes and retained their original paper labels for the brands Princess Pearl, Star Banner, and Rail Splitter, the last of which pictured an oval portrait of Abraham Lincoln. An abundance of pencil notations on the inside of the drawers indicated that the piece was made by John Emerson of Zoar, Ohio. Other inscriptions read, "From Smiths [sic] Grocery Morrow Ohio," and "Made for Corra Dec. 20 1898."
The crowd on Saturday was reminiscent of a circus act where clowns seem to endlessly pile out of a Volkswagen. All morning there was a steady stream of people through the door, at first under overcast skies and then in a steady rain.
American cage cupboard in old black paint and having metal bars, $1950; camera, $795; 1880s Pennsylvania fireman's uniform, wool, unusual to find with the hat and leather belt, $1250; hanging cupboard in gray paint, $795; paint-decorated southern pie safe with ten punched tins, the interior with a drawer affixed under a shelf, $1950 from Chris Smith of American Antiques, Waynesville, Ohio.
Cast-iron cat andirons in black and white repaint, Liberty Foundry, $625; trout painting by Myra Andrews, oil on academy board, signed on the back, $690 from Patricia Somers of Upper Maumee Valley Antiques, Fort Wayne, Indiana.
Among those buyers were Angela and Glen Galen of The Antique Market, Clinton, Tennessee. They purchased a fair quantity of material for resale, including a grain-painted linen press that resembled a jelly cupboard, having two short drawers over two paneled doors. Inside, however, the left half was open and had hooks for clothes, while the right half featured shelves. Made of poplar and with later paint decoration, the piece was said to have come from Indiana. It was sold by Darwin Green and Gavin Green of Green's Antiques, Enon, Ohio.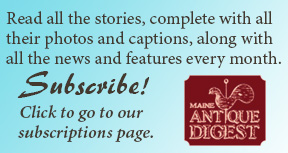 Reactions from the dealers at Lebanon were positive. Ray Mongenas of Mongenas Antiques, Loveland, Ohio, said he had sold well at the Maumee Valley Historical Society Antique Show and the Hudson Antique Show, making Lebanon his third good event in a row. "The traffic is downright encouraging, and people are buying," he noted. "There is an enthusiasm."
It's not known whether any of that success was precipitated by Fisher's rubbing on a pig at the start of the day, but it certainly didn't hurt. "This is like the old days," she said several hours into the show. "The crowd is wonderful, and they're buying. I've already switched out two quilts. I sold my horse and some decorated boxes. It's great."
Dealers and collectors can look forward to a new venue next year. After being in two different buildings on the Warren County Fairgrounds in the past three years, the show will move into a facility that's to be constructed starting this spring.
For more information, phone the Warren County Historical Society at (513) 932-1817 or visit (www.wchsmuseum.org).
Ship painting, reverse painting on glass, black on a red ground, $750; carved dancing man figure, painted wood, $685; watercolor portrait of a woman, identified on the back in pencil as, "Mrs. [illegible] Abernathy / Gilbert Smith family / Wauwatosa 1835," attributed to Erastus Salisbury Field (1805-1900), $490; document box decorated with decals and including a lift-out divided tray, attributed to Joseph Lehn (1798-1892) of Lancaster, Pennsylvania, $1950 from Judson and Karen Fults of Signature Antiques & Art, Lakeview, Ohio.
Slide-lid box with a carved duck head, said to have been used to hold duck calls, circa 1930, $145; paint-decorated box, poplar, original paper lining, Pennsylvania, 1830-40, $575; document box with three interior drawers, cherry, unusual latch, heart escutcheon, Pennsylvania, circa 1820, $385; blanket chest, 18th century, two drawers, bracket base, white pine and white oak, carved "W.L." and "1715," possibly American, 21" x 36½", $995 from Tom and Rose Cheap of Period Antiques, Scottsburg, Indiana.
Lithuanian street scene by Sergejus Isakovas (Lithuanian, b. 1963), oil on board, $225 from Dick Sollmann of Sales by Sollmann, Oxford, Ohio.
Watercolor on paper of a woodcock by Arthur M. Cook (1931-1993), 1960s, 18½" x 13½", $850 from Wesley C. Williams of Cleveland, Ohio.
---
Originally published in the May 2018 issue of Maine Antique Digest. © 2018 Maine Antique Digest