Ian McKay, <[email protected]>
Yet again I have failed to find something suitably festive to kick off this Christmas issue, but in keeping with established tradition, may I wish M.A.D.readers, one and all, a Happy Christmas and a Good New Year.
A record breaking Harry Potter first edition, one that is very unlikely to find its way under a Christmas tree to delight a youngster, kicks off this month's selection, which also features some very early Jamaican fashion accessories, a royal pitcher, and a Japanese dish of fish and turnips.
A selection of Lady C.'s fans, a re-rigged ship model, all sorts of scientific instruments (as well as a cigar cutter), and some elegant and eccentric tablewares are also to be found before this month's selection concludes with some colossally costly pieces of early Chinese furniture.
---
Harry Potter Is 20
Probably best kept out of the hands of children, unless they are wearing white gloves like those sported by a member of Bonhams' staff in the illustration here, first editions of Harry Potter and the Philosopher's Stoneare getting seriously expensive.
At the end of a year that marked the boy wizard's 20th birthday, this exceptionally well-preserved example from the small first issue, hardback run of 1997, limited to just 500 copies, more or less doubled the previous best to be seen for the book in selling at $139,840 in a November 15, 2017, book sale.
On July 27, 1997, just a few weeks after it was published, J.K. Rowling inscribed this copy "For Meera, Donnie, / Nastassia and Kai / with lots of love / from Jo / (also known as / J.K. Rowling)."
The author and Meera had met when their daughters, Jessica and Nastassia, were attending the same nursery school in Edinburgh.
---
Re-rigged to Look Properly Ship-Shaped
Bearing the name Stathuys van Dortand dated 1723, the fine model of an armed, 36-gun Dutch merchantman seen below was offered in an October 31 and November 1, 2017, Sotheby's sale with a broad, all-encompassing title of "Collections."
Possibly a Dutch East India Company (VOC) ship and perhaps commissioned for display in the city hall at Dordrecht, it has been redecorated and re-rigged at a later date, but at 6'2¾" long it is an impressive, finely detailed and carved model of museum quality.
Authentic 18th-century ship models are a rare find, said the saleroom, especially when they are in such pristine condition. The rigging and sails are, as already noted, of later date than the hull, but as the cataloguer points out, that is not unusual. Fabric lasts only 150 to 200 years.
The rigging has been replaced professionally and is constructed of handmade beaten ropes that are probably no older than 50 years, wrote Sotheby's Cologne (Germany)-based specialist Herbert van Mierlo in the catalogue, before pointing out that the carving is of high quality and carried out with the utmost perfection and refinement.
The figurehead exhibits the usual flanking lions, and the stern, pictured left, actually depicts the front of the city hall in Dordrecht.
On the day, the 18th-century Dutch ship model sold for $66,185.
---
Jamaican Hairdressers Go for the Tortoiseshell Look
Made in Jamaica in the latter part of the 17th century, the two items featured in this piece, a cased pair of engraved tortoiseshell and silver-mounted wig and hair combs and a tortoiseshell powder box, are among the more unusual items that I have included in these "Letters" over the years.
One side of the comb case has a central decoration of two native figures, one holding a bow and the other a spear, who flank the island's arms, a florally decorated shield surmounted by a crocodile. Below them are seen large pineapple motifs and the whole design is centered by the legend "JAMAICA 1683." On the reverse are seen, in stylised form, more indigenous trees and plants, and in both instances these decorative elements are framed by various flower or other scrolling foliate motifs.
Front and rear views of the 17th-century Jamaican case of combs that was sold by Bonhams for $61,070. Below the finely engraved, cased pair of tortoiseshell wig and hair combs, dated to 1683.
The case, which is 8¼" tall, also has flower-heads engraved on the silver corner pieces. The two combs, one of them a double-sided fine-tooth example thought to have been used for removing lice, are again finely engraved with large flower-heads and other foliate motifs.
A small group of such combs and cases are held in the collections of the Institute of Jamaica, one of which is thought to have belonged to the buccaneer and sometime lieutenant governor of the island Sir Henry Morgan, and it is now thought that they may be the work of two craftsmen, possibly related, who were active in the years 1671 to '84 and 1688 to '92. One name that has been put forward is that of Paul Bennett, whose name and specialty of comb making appears on a list of craftsmen working in Port Royal before 1692, when the city was devastated by an earthquake and some two-thirds of it disappeared beneath the sea.
This exceptional object, offered on October 25, 2017, as part of an "Important Design: 500 Years of Decorative Arts" sale held by Bonhams, is among the earlier surviving works of European inspiration recorded in Jamaica, which in 1655 had been wrested by England from Spanish rule.
The cased pair of combs was sold for $61,070 and the following lot, the tortoiseshell powder box seen below right, was sold at $24,755.
This engraved tortoiseshell powder box from colonial Jamaica, dated 1676, sold for $24,755.
Again engraved to the lid with the Jamaican arms and dated 1676, the box also bears the initials "MP" within a foliate border. With a diameter of a little over 5¼", it was most likely used, say Bonhams, to hold a wig rather than face powder.
---
Fish and Turnips--Japanese Style
Delicately worked on a pale white-grey ground in musen (wireless) and shosen (partially wireless) techniques, three koi (carp)—only two visible here and one partly obscured by the cloudy water—and a shoal of medaka (rice fish) swimming amidst flowering hishi(Japanese water caltrop, sometimes called water chestnut) decorate a pair of nearly 14¼" tall cloisonné enamel vases by Namikawa Sosuke (1847-1910) that sold for $65,630 in a Bonhams Japanese art sale of November 9, 2017.
This pair of cloisonné enamel vases by Namikawa Sosuke (1847-1910) sold for $65,630 by Bonhams.
The technique known as musen shippo(wireless enamelling) is Sosuke's most enduring contribution to an art form developed in Japan between the mid-19th century and the early years of the 20th century. In Chinese cloisonné enamelling, the Bonhams cataloguer helpfully explained, the wires separating the different areas of fused and polished enamels of a design also served to hold the enamels in place during the firing process, and the individual areas of colour were relatively small.
Sosuke, followed shortly thereafter by his rivals, managed to improve the chemistry of the enamels so that they adhered more securely to the metal bases of his wares. This allowed him to introduce large areas of colour into his designs, although it is thought that the wires between different colours still had to be painstakingly applied and removed at each stage of manufacture. Thanks to these and other technical breakthroughs, later Meiji-era enamellers were often able to emulate the effects of brush painting on paper or silk.
In recognition of his achievements, Sosuke was in 1896 appointed Artist-Craftsman to the Imperial Household.
Much simpler, if only in form, are the near life-size turnips that go with the fish.
The silver and shibuichiturnips by Mitsuhisa made $5740 in the same Knightsbridge sale.
Modelled to look as if they are leaning against each other, the vegetables with smooth silver skins are topped by leaves of shibuichi, a silver and copper alloy which can be patinated to provide a range of subtle, muted shades of blue or green. In this okimono model, however, the leaves exhibit "discrete details inlaid in gold," according to the cataloguer.
Dated to the early 20th century and signed Mitsuhisa, the turnips sold at $5740.
---
Concerning Cigar Cutters and Other Useful Instruments
Lots in an "Instruments of Science & Technology" sale held by Bonhams on October 31, 2017, ranged in age from a pair of 17th-century globes by Coronelli that made $197,225 and three fine 18th-century sundials—two of which feature in this report—to a Baird "Televisor," a primitive TV set of circa 1930, that sold for $28,130.
My principal focus here, however, is on a few items from a single-owner collection of some 30 lots of instruments produced by George Adams Senior (1709-1772), instrument maker to the Prince of Wales, later King George III, and one of the most successful makers of such things working in 18th-century London.
Not all were truly scientific instruments. Privately commissioned from Adams around 1760 was a silver cigar cutter (A) that in the Knightsbridge sale was bid to $18,200.
A: The silver cigar cutter by George Adams was bid to $18,200.
A little under 3" tall and boldly signed "G. Adams / No.60 / Fleet Street/ London," it is of square section and has the cutter mechanism, operated by key and screw, mounted in the base—the aperture clearly seen in the illustration. It retains its original shagreen-covered case.
B: The brass gunner's rule by Adams sold at $9925.
Dated to around 1770, a brass gunner's rule (B) bearing the Adams signature was sold at $9925. At 8½" long, it is engraved on both sides with various tables for determining the amount of powder needed for various brass and iron guns, carronades and mortars, along with those for muskets, carbines and pistols. Further instructions are found on a right-hand panel, which also makes reference to Lieutenant-General Thomas Desaguliers.
In 1748, then a young captain in the Royal Artillery, Desaguliers (1721-1780) was, upon his return from service in Flanders and the battle of Fontenoy, made chief fire master at the Woolwich Arsenal, a post which he maintained until his death.
The first scientific maker of cannon and first regular investigator into the powers of gunnery in the English army, according to the Bonhams cataloguer, Desaguliers devoted the rest of his life to looking into ways in which the capabilities of the British military might be improved. He is particularly remembered for his work with mortars and early experiments with rockets.
C: The brass surveyor's compass by Adams sold at $9100.
A combined barometer, thermometer, and hygrometer made by Adams, circa 1780, sold well at $14,890, but bid to a ten-times estimate $9100 was a brass surveyor's compass (C) that he made around 1760, signing himself "Inst. Maker to His Royal Highness the Prince of Wales."
Now mounted on a modern Perspex stand, the compass was last seen at Sotheby's in 2003, when it formed part of the "James Watt Sale." That major auction was a celebration of the achievements of the maker of scientific instruments, builder of an improved steam engine, and inventor of so many other things, who, with Matthew Boulton's business know-how, helped launch the Industrial Revolution.
Even 14 years ago, the compass was seriously undervalued. Estimated at what would then have been around $150/235 in that Sotheby's sale, it was bid instead to $4135.
D: The George Adams trade label sold for $6290.
Sold for a much higher than predicted sum at $6290 was a George Adams trade label (D). Measuring 8½" x 10½" and signed and dated 1775, it features his shop sign, on which is seen a portrait of the great Danish astronomer, Tycho Brahe, the man with the golden nose.
On the back of the label is a manuscript invoice relating to a purchase by a Mr. Kennedy of four pairs of spectacles, a pair of 12" globes, a box and pair of covers, as well as a book. All that for a total cost of £8 15s, which at today's exchange rate would be about $11.60.
E: The bronze sundial made in 1750 by Adams sold at $8275.
Sold for $8275 was a bronze sundial (E) made in 1750 by Adams. Engraved with compass rose and 32-point wind rose, calendar scale, and hour and minute scale, it has a shaped gnomon set for a latitude of 50º 33', which indicates a location somewhere in the far southwest of England, in Devon or Cornwall.
F: The sundial by Richard Glynne sold for $36,400.
The other sundial illustrated here (F) is a handsome gilt and silvered brass example with inset compass, made by Richard Glynne and dating from circa 1725. It sold for $36,400 in the Knightsbridge auction. Glynne (1681-1755), who had been apprenticed to another well-known instrument maker, Henry Wynne, established his business "next door to the Latin Coffee House in Ave Maria Lane, near St. Paul's, London."
G: This pair of Coronelli terrestrial and celestial globes of 1696 sold for $197,225.
The pair of terrestrial and celestial globes (G), each with a diameter of 18½", that led the Bonhams sale at $197,225 were published in 1696 by Vincenzo Coronelli (1650-1718).
Recognised by many to be the pre-eminent globe maker of his age, Coronelli had trained as a wood engraver as a young novice in the Franciscan order, but went on to be appointed official cosmographer to the Venetian Republic, to be a renowned globe maker and to publish over 100 works, among them the encyclopedic description of the world and atlas that is the Atlante Veneto.
Coronelli also founded the "Academy of Argonauts," focussed on the study of navigation and globe making, experimented with hydraulics, helped with the construction of a new port at Anzio in response to a commission from Pope Innocent XII, and devised for the Emperor Charles VI a system of canals and locks to control the flooding of the Danube.
While all this was happening, he was also being commissioned to produce globes for such distinguished customers as the Duke of Parma and Louis XIV.
---
Bertie's Pitcher Went to Poor Put-upon Sykes
Two other lots from the "Important Design" sale held by Bonhams on October 25, 2017, are illustrated here, the earlier of them being the Tiffany pitcher seen right, which sold for $42,915.
A hammered silver, bronze, and copper Tiffany piece of the late 1870s, it dates from a period when Edward Moore's Japanesque designs for the company had started to include applied three-dimensional decorations of flora and fauna—in this instance leaves and butterflies. By the time of the Paris Universal Exposition of 1878, this style was enjoying enormous popularity and brought Tiffany a grand prize for silverware and Moore a gold medal.
The Tiffany pitcher that the future Edward VII gave to poor put-upon Christopher Sykes.
Published in Vanity Fair just a few years before he was given the Tiffany pitcher by the Prince of Wales, this caricature of Christopher Sykes is the work of one of that fashionable journal's regular contributors, Carlo Pellegrini, better known as "Ape"—in this instance, Italian for "bee."
The base of this pitcher is engraved "Given by / H.R.H. Prince of Wales / to / Christopher Sykes / XMAS 1878."
Queen Victoria's eldest son, the future King Edward VII, known as "Bertie" and notorious for a "playboy" lifestyle that twice saw the future monarch cited in divorce cases, frequently used Sykes* as the butt of his jokes and jibes. In fact, he so frequently persuaded him to put on lavish parties that Sykes was eventually forced to sell both his London and country residences to avoid bankruptcy.
A Tiffany pitcher for Christmas, however much admired and valued today, would have been of little financial consolation to poor Sykes at the time.
The Wiener Werkstätte tea set sold for $36,310.
Sold for $36,310 by Bonhams was the Wiener Werkstätte silver and ivory three-piece tea service. Stamped with the Viennese makers' marks for circa 1905, the teapot, milk jug, and sugar bowl are all decorated with bands of stylised leaves and roses.
*Christopher Sykes (1831-1898) was an English MP who sat in the House of Commons from 1865 to 1892 and a friend of the boisterous Prince of Wales.
---
The Elegant and Eccentric in Salts, Cups and Toothpicks
Offering European ceramics, silver, objects of virtu and, as another piece in this month's "Letter" shows, a group of fans—all things "for the modern kunst-kammer," as the auctioneers say—the fourth of the mixed sales that Sotheby's now style as "From Earth to Fire" was held on November 1, 2017.
A handful of the lots are noted here: a couple of very grand salts, a pair of Victorian silver-gilt cups of most unusual form, and two gold toothpick cases.
The 16th-century German hardstone salt and cover with elaborate silver-gilt foliate mounts was sold by Sotheby's at $215,700.
Sold for $215,700 was a banded agate hardstone salt and cover with elaborate Gothic silver-gilt foliate mounts or cagework that was reckoned most likely to be German and to date from the early 16th century. Measuring 5¾" high, it has a detachable cover. In 1975 this salt was sold as part of the collections of the Baron Guy de Rothschild by Sotheby's Monaco, but here it was offered as the property of a Norwegian collector.
The German parcel-gilt silver standing salt engraved with scenes from Ovid's Metamorphoses sold at $66,370.
Among similar recorded pieces is one in the Danish royal collection at the Rosenborg Castle in Copenhagen. It is an agate salt with similar spiral gadroons at its cover and body and with facets at the stem and foot, and is believed to have been carved in the 15th century. First recorded in the treasury at Gottorp (Schleswig-Holstein) in 1694, that one has gold and enamel German mounts of circa 1625 that include a finial of similar form to the stone example seen on the salt sold on November 1 in London.
The auction also included a German parcel-gilt silver standing salt of hexagonal form and bearing a maker's mark that seems to identify it as the work of Guillaume or Gabriel van den Velden of Frankenthal.
Dated to circa 1600 and just over 5" high, it is engraved on the side panels with scenes of Apollo slaughtering the Python and chasing Daphne, of Daphne turning into a tree (as seen in the section illustrated), Jupiter chasing Io, Neptune and Triton, and Deucalion and Pyrrha leaving the oracle. Based on stories found in Ovid's Metamorphoses, these scenes are enclosed by foliate strapwork that incorporates monsters, birds, squirrels, and sphinxes, and the salt is raised on feet formed as cast lions holding shields.
Sent to London for sale from a Belgian collection, but previously seen in a 1995, Sotheby's Geneva sale of the Joseph R. Ritman collections, it sold this time out at $66,370.
Before the marks were fully identified, this salt was widely considered to be the work of a goldsmith from either Amsterdam or Utrecht, and silver from Frankenthal was certainly heavily influenced by Dutch and Flemish work. In the 16th century the town had been designated by the Elector Palatine Frederick III as a refuge for Protestant evangelicals from the Netherlands.
Standing salts were an essential element of the formal dining table until the mid 17th century, the most important examples being placed next to the principal diner and marking the spot above or below which the guests were seated according to rank. Hence the old saying, "Above the salt."
This extraordinary pair of early Victorian silver cups formed as mushrooms sold for $29,865.
Sold for $29,865 was a pair of Victorian silver-gilt cups, roughly 8" and 7¾" high, made by Benjamin Preston of London in 1838 or '39. The bowls of these remarkable cups take the form of a stylized floccosus mushroom, a variety that takes its name from ancient Greek word for plug, or large wedge-shaped nail. In Preston's hands, the cups grow from circular bases cast with woodland litter, one of which is also inhabited by a lizard, and the other by a lizard and a beetle.
From 1825 and until the mid-1850s, Preston appears to have been an outworker for several London silversmiths with retail outlets, among them Kensington Lewis. In the Victoria and Albert Museum archives, there is a letter of 1836 in which an obviously irritated Mr. Lewis "…informs Mr. Preston that he must have the Drawing of the Cup he is making for him, without fail by tomorrow Saturday afternoon, the Gentleman has just been here & otherwise he will lose the opportunity."
However, the numbers 8785 and 8894 engraved in freehand script on the undersides of these cups may tell a different story, said Sotheby's. These are similar in appearance to other four-digit numbers found on many items handled by Rundell, Bridge & Rundell, the royal goldsmiths.
The extraordinary design of these cups chimes well, said the cataloguer, with some of the unusual, even exotic silver pieces made for them during the last two decades of the firm's existence. One such was a set of six strawberry dishes and a pair of cream boats, each formed as overlapping sea kale leaves on whelk feet.
And now for a couple of more modestly priced littler items.
This German lady's gold toothpick, or Zahnstocker, case sold at $3320.
Sold for $2985 was a two-colour, navette-shaped gold toothpick case bearing the 1784 marks of Cornelius Bland of London. The lid is engraved with an "MJC" monogram within a pearl border and the sides are chased with yellow-gold laurel leaves.
The other toothpick case was one made for a lady. A three-colour gold example, it is thought to originate from Hanau (near Frankfurt in Germany) and to date from around 1790.
The gold toothpick case made in 1784 by Cornelius Bland sold at $2985.
Of rectangular form with cut corners, engine-turned panels, and borders chased with two-colour gold laurel leaves, it has one large compartment and a smaller one containing a powder sponge. It sold at $3320.
---
Lady Charlotte's Fan, and Others
The selection of fans pictured and described here were among a group of 16 that were offered as part of the "From Earth to Fire" sale held by Sotheby's on November 1, 2017—an auction that features above in this month's "Letter."
Depicting "Harrison Walk, Bath," this rare English ivory fan which sold for $6635 has been attributed to Thomas Loggan and dated to circa 1750. The leaf is painted with a group of ladies and gentlemen surrounding Richard "Beau" Nash, who holds his trademark white tricorn hat, and among those promenading along the riverside in the fashionable spa town is the painter himself. Chinoiserie flowers and grapevines, picked out in gold paint, frame the image and fill the other side of the fan. The guards are plain.
The building seen at right is Bath's first assembly house, called the Lower Assembly Hall. Erected in 1708, it was also known as "Harrison's Rooms" after its architect, and its surroundings featured an open, graveled pathway walk beside the River Avon that was accessible only by subscription and was beautifully lined with sycamore trees. The project had been initiated by "Beau" Nash (1674-1761), Master of Ceremonies for the town and society from 1704 until his death, and the man largely responsible for the rise of Bath as a fashionable resort.
The building was almost completely destroyed by fire in December 1820. It was rebuilt to house the Bath Royal Literary Institution but finally demolished in 1933 as part of a road-widening scheme.
Thomas Loggan (1706-1780), a dwarf, worked mainly in another fashionable spa town, Tunbridge Wells in Kent, painting fans and local views for visitors, but in this picture he has pictured himself standing between the gates of the Bath Assembly House and the small building at the river's edge.
Sold at $3980, "A New Game of Piquet" is a fan of English origin and dates to circa 1735. The leaf is printed and painted with allegorical figures representing "The Different Nations of Europe," a scene in which ladies from France, Spain, Sardinia, the Holy Roman Empire, Saxony, Russia, Poland, Britain, Holland, and Prussia play a game of piquet, watched by the Sultan of Turkey, the Shah of Persia, and Pope Innocent IX. Each is accompanied by satirical comments that Sotheby's say allude to the intrigues of European diplomacy surrounding the War of Polish Succession (1733-38).
The pierced ivory sticks and guards are carved with garlands of oak leaves and acorns.
Two identical fans can be found in English institutional collections. One of them, unmounted, is part of Lady Charlotte Schreiber's collection in the British Museum, one of many magnificent bequests, among the playing cards and Chinese porcelains, made to the nation's museums. The other is in the Victoria and Albert Museum. Another unmounted example, dated 4th October 1733, can be found in the Bibliothèque Nationale in Paris.
An Italian fan, dated to circa 1740, was the most expensive of the group in selling for $9625. The paper leaf is painted to one side with a scene of "Diana the Huntress" with her maidens, and to the reverse with a view of an imaginary fortified town. The Neapolitan blond tortoiseshell guards and sticks are decorated with gold piqué putti and birds among scrolls.
A well-known incident in the life of Marie-Antoinette is depicted on one side of this French fan of circa 1773, "Acte de bienfaisance de Marie-Antoinette," that sold at $3980.
In October of that year, a peasant was injured by a stag during a royal hunt. Marie-Antoinette, seeing his wife fainting, stepped down from her carriage, administered smelling salts, comforted her and then gave her some money. The incident and its welcome demonstration of aristocratic compassion became a popular subject, featuring on snuffboxes and elsewhere. The drawing by Jean-Michel Moreau on which this fan is based was engraved and widely published.
The reverse depicts a huntsman and his lady among hounds by a river. The gilt, silvered, and foiled sticks and guards are pierced and carved with trophies among spangles and garlands.
This marriage fan of French or Italian origin that dates from around 1750 sold at $6635. The double paper leaf is painted to one side with "The Embarkation" of a sultan and a sultana, while the reverse is decorated with a peacock and other birds in vivid colours. The elaborate mother-of-pearl guards and sticks are pierced and carved with caryatids and mermaids among dolphins, birds and scrolls.
As the city of Troy burns in the background, Helen is led reluctantly back to her husband, Menelaus, by her maids in this (probably) French fan of circa 1720. The reverse is decorated with silvered flower borders. The ivory sticks and guards are pierced and carved with country gentlemen and peasants within inlaid mother-of-pearl and steel piqué ornament. It sold at $6635.
---
Early Folding Chairs--Seats of Choice for Chinese Collectors
Now, why would someone pay almost $7 million for what in one, admittedly rather silly, sense could be viewed as a nice set of top of the range folding garden chairs?
Because they are in fact extraordinarily rare and beautifully crafted examples of 17th-century Chinese furniture, of a type, known as huanghuali*, that has in recent times been making huge sums at auction in the U.K., the U.S.A., and the Far East. And the set of four chairs sold by Bonhams on November 9, 2017, as part of their contribution to London's "Asian Art Week," was, the Knightsbridge saleroom tentatively suggested, "…the only known version of this form and type."
Acquired in Beijing in the late 1930s or early '40s, this set of chairs and two other items of huanghualifurniture from the Bonhams sale described and illustrated here—one of a large pair of cabinets and an artist's table—were part of a 46-lot group of items from the Chinese art collections of Francesco Maria, Marchese Taliani de Marchio (1887-1968) and his wife, the Archduchess Margaretha d'Austria Toscana (1894-1986).
The Marchese Taliani was a distinguished Italian diplomat who served in the Ottoman Empire, in Russia during the momentous revolutionary years of 1916-19, and later in other European posts before in 1938 he was appointed Italian ambassador to Chang Kai-shek's nationalist government in Nanjing, China.
The couple remained in China until 1946, but during the Sino-Japanese war were interned for two years in a concentration camp near Shanghai. In better times, they were busy buying Chinese works of art.
Pictured is one of the set of four huanghuali folding chairs that brought a bid of $6.95 million in the November 9 Knightsbridge sale. A detail from one of the chairs, shows the decorative chilong roundel on the back splat.
The exceptionally rare set of four, string-seated huanghualifolding chairs of the 16th/17th century was estimated at around $250,000 but sold in the end for $6,951,990.
Each chair has a narrow crest-rail supported on slender, gracefully curved rear posts that flank central splats carved with chilongroundels. The hinged, rounded square-section legs terminate in rectangular base stretchers, while the front ones are mounted with openwork iron plaques bearing a lozenge design.
Though one eminent authority on such things, Dr. Gustav Ecke, devoted an entire article to the development of folding chairs in his 1944 book on Chinese Domestic Furniture, he did not include this set because he considered them to belong to an official, dignitary category and therefore outside the range of his book. Dr. Ecke did, however, contribute an article that same year to the journal Monumenta Sericathat deals with the development of the folding chair and mentions this very set, which he believed to date from the Ming Dynasty.
Such folding chairs were made in two main forms: horseshoe-back shape, of which there are many extant examples, said Bonhams (see the examples sold on November 7, 2017 at Christie's, noted below), and in square-back form, of which very few survive. Of the latter, two main types are known: without arms, as in the lot seen in the recent Knightsbridge sale, and with arms, a type also known, it seems, as a "drunken lord's chair."
Such chairs would have belonged to those who held high rank in Chinese society and could have been used at home, in the garden or when travelling, which might also explain their relative scarcity, due to wear. These chairs, say Bonhams, could have been used for both formal and informal occasions, on military campaigns or when simply enjoying leisurely pursuits.
Pictured are one of a pair of cabinets that sold for $2.21 million by Bonhams and a detail showing the lock plate.
Sold for $2,216,690, around seven times estimate, in the Knightsbridge auction was a pair of exceedingly rare huanghualitapering cabinets acquired in 1939 from Robert and William Drummond, who dealt in Chinese furniture in Beijing. Each has an elegantly rounded and protruding top with the "ice-plate" edge that can also be seen on the painting table, and has single-panelled doors opening by means of a three-part lock plate and pulls to reveal an interior fitted with two shelves.
The painting table sold by Bonhams for $326,515.
Yet another 1939 purchase from Drummond in the Bonhams sale was a huanghualipainting table of the late Ming Dynasty that was valued by Bonhams at $50,000 or so, but sold in the end for $326,515. Though nowadays designated painting tables, these classically simple items of furniture were in fact used in various other contexts and ways.
The pair of 17th-century horseshoe-back chairs that sold for $1.195 million by Christie's.
The pair of 17th-century huanghualihorseshoe-back chairs seen below were sold for $1,195,340 at Christie's on November 7.
Sweeping crest rails terminate in outswept hooks above shaped spandrels that form an elegant curve above unusual, three-part back splats that are decorated with openwork four-lobed cartouches. The rear posts of each chair continue to form the back legs below rectangular seat frames with plain, shaped aprons. The legs are joined by stretchers and footrests above a plain apron.
This pair, say Christie's, is among eight known and published chairs of this design, including a set of four, formerly from the Robert H. Ellsworth collection and illustrated in his 1971 book, Chinese Furniture: Hardwood Examples of the Ming and Early Ch'ing Dynasties, that sold in their New York City rooms in March 2015 for a far, far higher than anticipated $9,685,000.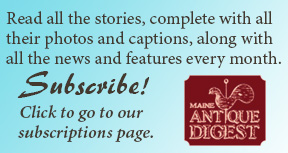 The sweeping crest rails are constructed in three sections, which is rarer than the more commonly found five-section crest rail, say the auctioneers. Three-section crest rails demand larger sections of timber to achieve the dramatic curves of the arms and would have resulted in a significant amount of wastage—an indication of the enormous financial resources of the gentleman who commissioned the set, said the cataloguer.
The Chinese name for this type of chair, quanyi, is literally translated as "chair with a circular back" or "circle chair," though during the Song Dynasty (960-1279) this form was known as kaolaoyang, which refers to a large round basket made from split bamboo.
*The term huanghuali literally means "yellow flowering pear" wood and refers to a member of the rosewood family, botanically classified as Dalbergia odorifera.
---
Originally published in the January 2018 issue of Maine Antique Digest. © 2018 Maine Antique Digest