Entering its 48th year, the Hudson Antique Show, Hudson, Ohio, is changing venues. The show had been located at the Clarion Inn in Hudson for the past several years, but the hotel recently was sold and will no longer host events. The new location will be the Days Inn in Richfield, Ohio.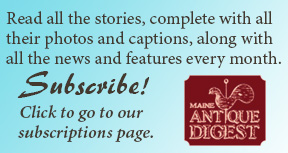 Show promoter Steven Sherhag stated, "The new location will have larger ballrooms and a better traffic flow providing a better customer experience." Sherhag also said, "The Days Inn is a newer facility with upgraded dining options, updated rooms, and more parking."
The next show will be held January 13 and 14, 2018. There will be 50 dealers from ten different states featuring smalls, furniture, stoneware, folk art, and Americana. For more information, visit the website (www.hudsonantiqueshow.com).
---
Originally published in the December 2017 issue of Maine Antique Digest. © 2017 Maine Antique Digest