The Monhegan Museum of Art & History on Monhegan Island, Maine, has received a $1 million challenge grant from the Wyeth Foundation. The museum has up to three years to match this gift, the largest in the museum's history. This grant will assist the museum in its campaign to raise $4 million toward an endowment, which will support operations and capital improvements to the museum's buildings. The Wyeth Foundation is funded by the generous support of Jamie and Phyllis Wyeth.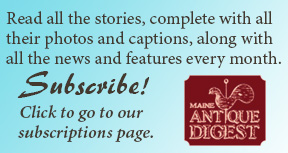 "Phyllis and Jamie Wyeth have been extremely generous to the Monhegan Museum for the past three decades," said the museum's president, Edward L. Deci. "They have encouraged our many efforts to restore the museum's historic buildings, and they have been very enthusiastic about the exhibitions we have mounted through the years."
"We are excited to present this gift to the Monhegan Museum to recognize the museum's fiftieth anniversary, to honor its commitment to the economic and social well-being of the Monhegan community and the preservation of its history, and to secure the sustainability of the museum into the future," said Jamie and Phyllis Wyeth.
Alan LaVallee photo, 2015.
The museum will celebrate its 50th anniversary with an exhibition and commemorative book, both titled The Monhegan Museum: Celebrating Fifty Years. On view July 1 through September 30, the exhibition will highlight major works from the collection, including works by George Bellows, James Fitzgerald, Edward Hopper, Rockwell Kent, Louise Nevelson, Andrew Wyeth, and more than 70 other artists who have worked on Monhegan since the 1850s.
The Monhegan Museum of Art & History is located in the historic Monhegan Island Light Station, 12 nautical miles off the coast of Maine. For more information, call (207) 596-7003 or check the website (www.monheganmuseum.org).
---
Originally published in the May 2018 issue of Maine Antique Digest. © 2018 Maine Antique Digest