A museum dedicated to dogs will open soon in North Adams, Massachusetts, only blocks from the country's largest contemporary art museum, MASS MoCA. The Museum of Dog (MOD) will feature a private collection of dog-inspired paintings, drawings, sculptures, photographs, and accessories.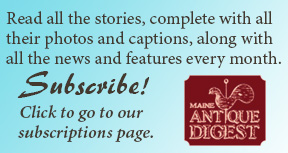 The 8000-square-foot historic space, at the merging point of Union Street and the Mohawk Trail, formerly housed Quinn's Wallpaper & Paint. The museum will feature over 180 items from more than 50 notable artists, ranging from William Wegman photographs to Watch Dog sculptures by Mary Engel and rare dog collars dating back to the 1800s.
"The museum will recognize dogs and the joy they bring to our lives," said owner and founder David York in a press release. For more information, visit the website (www.museumofdog.com).
---
Originally published in the March 2017 issue of Maine Antique Digest. © 2017 Maine Antique Digest