A Book Review
Like a giant jigsaw puzzle, the picture of Nathan Lumbard's place in American furniture history is not complete until the last page of this book is read. Then it all fits together, and Lumbard's work stands out from that of his circle of craftsmen and is easily recognizable.
The story of the life and work of Nathan Lumbard (1777-1847) and his circle of craftsmen unfolds in three introductory essays, one by each of the authors, and 61 catalog entries divided among them. They transport the reader to 19th-century towns in Worcester County, Massachusetts, with brief side trips to the north.
The story begins in 1987 when Clark Pearce, an independent scholar and adviser to collectors, discovered an inscription, "Made by Nathan Lumbard Apl 20th 1800 / Repaired by Enoch Pond March 21th 1837," on a serpentine chest of drawers for sale at the New England Gallery, an antiques and paintings shop in Andover, Massachusetts. Pearce advised a collector to buy the chest. (He misread the name as Lombard, and so did others, but before this book was printed they took another look and noticed that the signature on the chest was spelled Lumbard with a "u" not an "o.")
The inscription on the chest and another inscription on a signed tall-case clock provide the documentary evidence necessary to attribute to Lumbard and his circle other furniture, including the cherry desk-and-bookcase inlaid with eagles with shields, flowers, and paterae that Charles Montgomery chose as the image for the dust jacket of his landmark book American Furniture: The Federal Period, published in 1966. Montgomery cataloged the piece as made in Connecticut or Rhode Island. When it was advertised by C.W. Lyon in May 1945 in The Magazine Antiques, the New York dealer described it as "without exception the finest cherry secretary desk recorded" and went on to say it was "a presentation piece by Eliphalet Chapin, East Windsor, Connecticut, which is now South Windsor." H.F. du Pont bought it less than three years later for his collection at Winterthur.
During the 1990s Pearce and Brock Jobe identified piece after piece with similar construction and inlay, and by 1998 they had photographed nearly 40 pieces and were ready to publish their findings. "Sophistication in Rural Massachusetts: The Inlaid Cherry Furniture of Nathan Lombard" was published in the 1998 Chipstone journal American Furniture.
From October 2013 through May 2014 a significant amount of Lumbard furniture was gathered at Old Sturbridge Village for an exhibition called Delightfully Designed: The Furniture and Life of Nathan Lombard. Senior curator Christie Jackson presented a portrait of a hardworking, quiet man and his network of family and friends in the towns of Brimfield, Sturbridge, and Sutton in central Massachusetts. Jackson linked Lumbard to the craftsmen Oliver Wight (1765-1837), to whom he apprenticed, and the younger Ebenezer Howard (1781-1854), with whom he worked in Wight's shop, ideas not put forth in the 1998 article in American Furniture. Jackson suggests in this book that Lumbard learned his trade in Sturbridge and made his most flamboyant furniture there. He married a Sturbridge woman named Delight Allen, whose cousins owned some of the furniture made by Lumbard. Jackson also located some personal possessions that came down in the Lumbard family that shed light on who he was as a person.
In 1789 the flamboyant Oliver Wight built a grand house in Sturbridge that put him in debt for the rest of his life. It is now a local landmark owned by Old Sturbridge Village. In 2013 at a forum at Old Sturbridge Village, attended by 200 people, new research was presented and the foundation for this book took form.
Underwritten by the Richard C. von Hess Foundation, the book is a fresh, well-illustrated contribution to American furniture history with a compelling narrative. It is hard to put down. The aforementioned three essays by the three authors, followed by a catalog of 61 pieces of furniture, complete the story. A timeline showing how the careers of Oliver Wight, Nathan Lumbard, and Ebenezer Howard intertwined in Sturbridge is a useful appendix.
Wight, Lumbard, and Howard worked together for a short time; the known and dated pieces show that all three produced similar work around 1800-01, although Lumbard and Howard likely spent time in Wight's shop together between 1795 and 1802. The authors suggest that the inspiration came from Oliver Wight, but the most accomplished artist of the group was Lumbard, who worked with Howard for several years. That explains why two serpentine chests, indistinguishable from two marked "Lumbard," are both inscribed in pencil with the name "Ebenezer Howard." In the common vocabulary of ornament employed by this group of craftsmen, the artistry of Lumbard's best work stands out.
Surprisingly the three scholars have learned little about Lumbard's furniture made after he moved to Sutton, Massachusetts, in 1802. Family histories suggest that he continued in the furniture trade. In 1829 he and his son Alanson built a pulpit for the First Congregational Church in Sutton, but his furniture output from the late 1810s through the 1830s remains a mystery.
Of the 61 pieces pictured and cataloged in the book, most are chests of drawers (serpentine, bowfront, straight-front, and swell-front), desk-and-bookcases, clocks, and stands. Of the remaining entries—consisting of sideboards, one of a set of six chairs, card tables, and drop-leaf tables—a small number are ascribed to Lumbard. Brock Jobe wonders if Lumbard made "'a complete assortment of all kinds of FURNITURE, made in the newest fashion,'" as Oliver Wight advertised, and the plainer pieces have gone undetected or simply did not survive.
The vocabulary of ornament used by Lumbard and his circle includes veneered drawer fronts, usually cherry, enriched with mahogany crossbanding (the grain of the crossbanding laid at a 45-degree angle, which is known as feather banding), and set off with chevron stringing; bracket feet that have distinctive profiles and chevron stringing and chevron outlines, which were also applied to later graceful French feet; and bead strips that were nailed to the rear edges of the tops, and are now sometimes missing (they prevented small things from falling off). The vocabulary of inlay included Neoclassical paterae, strings of husks, and, for the wealthiest clients, flower vases—with the stems of flowers creating arabesques and Gothic tracery—and eagles grasping shields. Inlaid keyhole escutcheons, some with crossed tapering stems below, are particularly inventive.
Only three pieces of furniture associated with Lumbard in the core group have eagle inlays. At least ten pieces with eagles have been attributed to other craftsmen in the Lumbard circle. Lumbard eagles have simple incised decorations, slender elongated beaks, almond-shaped eyes, and curved asymmetrical wings, giving them a natural aspect. When leafy stems are included they are compass-drawn arabesques.
The authors have been unable to identify the carver in Lumbard's shop and suggest it was possibly Lumbard who executed carved elements. The carving is instantly recognizable. The finial and rosettes on the Winterthur secretary are used as a touchstone. The spear-like leaves on the finial, the projecting leaves on the base of the urn, and the triple-leaf husk at the top of the finial surmounted by a sphere are motifs repeated on other pieces.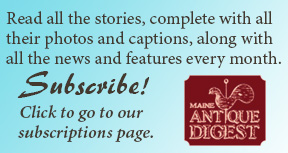 The allover pattern of scrolling vines is a theme throughout Lumbard's work. He used it for inlay, carving, reticulated pediments, molding profiles, and turnings. Patterns illustrated in Asher Benjamin's The Country Builder's Assistant and George Hepplewhite's The Cabinet-Maker and Upholsterer's Guide inspired a new generation of American furniture-makers and are additional tools that help attribute works made by Wight, Lumbard, and Howard during two decades in a continuum of styles and techniques. In his essay on connoisseurship Pearce tells us that only one example, a signed sideboard inscribed "Daniel / Laisdel / Brimfield," names another member of the circle. Laisdel may have worked in the Wight shop, for Lumbard, or independently after apprenticing with one of them.
While Pearce gives us tools for connoisseurship, discussing construction and shop practices, Brock Jobe defines Lumbard's place in American furniture history, and Christie Jackson puts Lumbard's work in social and historical context, telling the story of his family and community.
Born in Brimfield, the fourth of ten children, Nathan Lumbard married Delight Allen in 1802 in Sturbridge, and in the following year they settled in nearby Sutton, a prosperous town along the turnpike to Boston, 50 miles away, and Providence, just 30 miles away.
Lumbard's commissions came from a large network of friends. Delight Allen was from a well-connected family, and several pieces of Lumbard furniture were owned by Ezra Allen, Delight's first cousin once removed, who lived on a farmstead in Holland, Massachusetts. Ezra Allen owned an elaborately inlaid shield-shape fire screen, a chest of drawers, a sideboard, and a set of shield-back chairs by Lumbard or one of his contemporaries. Jackson suggests that the chest is possibly by Wight and that the skillfully inlaid quarter columns—better crafted than the rest of the chest—are by Lumbard.
The lives of the three cabinetmakers Wight, Lumbard, and Howard were closely entwined. The authors point out similarities in their signed and dated furniture and document their physical movements in the area. Wight built a big house in Sturbridge, overextended himself, left town a debtor, and came back briefly. Christie Jackson believes all three were working in the same shop for a brief time of concentrated production before Lumbard and Howard left Sturbridge. Of the known dated furniture by the three, all of it was made in 1800 and 1801 in Sturbridge. Lumbard and Howard moved on, and then, in 1815, Ebenezer Howard moved back to Sturbridge from New Braintree, purchased the Wight house, and ran it as a tavern while continuing his cabinetwork.
Only five of the 36 pieces in the core group have inscriptions linking them to Lumbard or Howard—one tall-case clock and four serpentine chests—but there is a larger body of work by the Lumbard circle of cabinetmakers, who used crossbanding around drawer fronts set off with chevron stringing, simple bracket feet, hook-shape knees on stands, and bead strips nailed to the back edges of case tops. A few attempted swell-front case forms. As for inlay, they used round and oval paterae, patriotic single and double eagles with variegated wood shields, shaded icicles, and segmented spearheads.
George Stedman of Norwich, Vermont, is considered to be in the Lumbard circle. He signed a swell-front chest at Winterthur related to three swell-front chests and a swell-front desk-and-bookcase attributed to Nathan Lumbard. The swell-front chest was sold by Briggs Auction in Booths Corner, Garnet Valley, Pennsylvania, in 1983 for $29,000 and again for $50,000 in January 2016 at Christie's, where it was cataloged as "Massachusetts or Vermont." Its construction is similar to the Stedman chest at Winterthur, though the bird inlay on the top surrounded by a diamond of string inlay and floral inlay around the escutcheons suggest the hand of Lumbard or at least a craftsman who knew his work. Two Vermont clocks may have cases made by Oliver Wight or makers familiar with his work. The Lumbard circle apparently expanded northward.
Furniture from what the writers call the circle shops is generally simplified, lacking the skill and precision exemplified in Lumbard's best work. For example, three stands with eagles inlaid into their tops, including one that sold for $100,000 (including buyer's premium) at Sotheby's in January, outclass an additional ten pieces thought to have been made by circle shops.
The Lumbard story is told in detail in the catalog entries, beginning with the signed chest of drawers, which, along with the signed tall-case clock, constitute the documentary groundwork upon which all other furniture in the study is attributed. The signed Lumbard clock case is similar to a clock case signed "March / 23 1791 / Oliver Wight / Sturbridge" that foreshadows Lumbard's mature work. The connection demonstrates how Lumbard took ideas from Wight and added a new level of sophistication—in this case by substituting chevron stringing for thick, light stringing, insetting mahogany banding at an angle, and adding a vase of flowers and a shield to the door.
The climax in this story comes with Jobe's catalog entries for desk-and-bookcases. A 1991 article in The Magazine Antiques by William Short linked the Winterthur desk-and-bookcase to a group of furniture made in central Massachusetts but did not link the furniture to a specific maker. That happened with Clark Pearce's discovery of the signed chest of drawers in 1987. Jobe's catalog essay on the Winterthur desk-and-bookcase compares it to the desk-and-bookcase now in the Layton Art Collection of the Milwaukee Art Museum. Both are ascribed to Lumbard because of similar vases and flowers on the bookcases' doors and fallboards and the same layout on the desk interior, each with characteristic cubbyholes below the drawers and a patera in a diamond on the prospect door. Evidence on the cornice of the Layton collection desk-and-bookcase indicates it once had a pierced pediment that is now gone. The catalog essay refers to the two pieces as "Lumbard's greatest achievements" and goes on to recount the history of the desk in Milwaukee. It is signed "D Wight Jr" in pencil on the bottom of the lower right compartment of the bookcase. An inscription in the same hand appears on a mahogany clock case and on the bottom of the drawer in an elegant stand that bears the date "1800" incised into an urn motif inlaid on its top.
The authors tell us about David Wight Jr. (1761-1813), one of Sturbridge's most prominent citizens and the elder brother of cabinetmaker Oliver Wight. David Wight Jr. owned a cider mill, a sawmill, and 2000 apple trees. He was a lucky man. During a trip to Boston with his father in 1796, Wight convinced his father to lend him $10 to buy a ticket for the Harvard College lottery. He waited a year for the drawing, but it was worth the wait. He won $5000, an immense sum at a time when a fashionable two-story house cost between $600 and $1000. After sharing his winnings with his father, he built an impressive house and then bought some furniture, of which the most ambitious pieces were apparently made by Lumbard. It was at this time that Oliver Wight was forced to live away from Sturbridge, and Lumbard must have been running the Wight cabinet shop just half a mile from David Wight Jr.'s new house.
When the candlestand with the name David Wight Jr. penciled on the bottom of a drawer appeared at Christie's in June 1997, it caused much excitement. Its extravagant inlay was similar to the inlay on the desk-and-bookcase that had the same name in pencil on the lower right compartment of its bookcase portion—only a year before it was consigned by the Connecticut Historical Society to Northeast Auctions and was cataloged as Worcester County, Massachusetts, because of recent scholarship. It sold to the Layton collection at the Milwaukee Art Museum for $118,000. Christie's also linked the inlay on the stand to the desk-and-bookcase at Winterthur and to a similar but plainer stand at Yale. Four prominent dealers went after the stand, and it sold for $200,500 to Washington, D.C., dealer G.K.S. Bush. A year later the article by Jobe and Pearce appeared in American Furniture. When the stand sold again at Christie's in January 2008, it sold for $385,000 to Bill Samaha for his client.
Jobe and Jackson suggest in the book that the inlay on the plainer Yale stand is equal neither to that on David Wight Jr.'s nor to that on a fire screen owned by the Allen family of Holland, Massachusetts. They compare the Yale stand—believed to be a joint effort between Lumbard and Howard—to the shield-shape Allen family fire screen by Lumbard to demonstrate how his skill set his works apart from Howard's during Oliver Wight's absence.
Pearce makes a similar point about the most extravagant clock in the book, which has a double-headed eagle in the base and another eagle on the door, along with a riot of fanciful inlay reminiscent of Lumbard's other works. It sold at Sotheby's in January for $471,000 to the Museum of Fine Arts, Boston. Not only is it one of the finest pieces associated with Lumbard, it almost completes the jigsaw puzzle. According to Pearce, construction details confirm it is the product of the Wight-Lumbard shop. It is also a fascinating document of social mobility in New England in the early 19th century. Pearce says the clock case was made for Colonel Jacob Davis—a prosperous farmer, landholder, and owner of gristmills and sawmills in Charlton, a town just east of Sturbridge—by Lumbard, perhaps when he was still working in Wight's shop in Sturbridge. Davis sold his farm and mill properties and moved to what is now Montpelier, Vermont, around 1786. The clock was made after 1798, so Davis probably commissioned it while visiting family in Charlton and carted it back to Vermont where Levi Pitkin fitted it with a movement. The Pitkin and Davis families intermarried. Clockmaker and silversmith Pitkin trained in East Hartford, Connecticut, and had settled in Montpelier by 1796.
David Wight Jr.'s clock is the final piece in the puzzle. Brock Jobe says it was a substantial investment for Wight. It is made of Caribbean mahogany instead of the cherrywood used for Wight's desk and stand. A Worcester clockmaker probably made the works, and a local dial painter painted the pattern of green leaves and red flowers. Upon David Wight Jr.'s death at age 52 in 1813, the clock was assessed at $45, the desk-and-bookcase at $23, and nearly every other thing in his estate inventory at well under $10 each. The clock has many similarities to signed works by Lumbard, including a single continuous triangular strip of pine extending vertically at each corner inside the case, which is a construction detail shared only by clocks by Oliver Wight. Jobe concludes that Lumbard adapted many of his master's construction methods but became a more proficient craftsman and that his decorations are more skillfully rendered.
The three David Wight Jr. objects "represent the very best in Lumbard's repertoire," writes Jobe. He acknowledges that others may have assisted in the process, including Ebenezer Howard and perhaps the fellow who wrote the initials "SB" on the inside of the clock case. He gives credit to Oliver Wight for establishing a sizable cabinet shop in Sturbridge, setting the stage for the achievements Lumbard oversaw.
The book gives a far more complete and complex picture of cabinetmaking in central Massachusetts in the early 19th century than Brock Jobe and Clark Pearce presented in their first article on Nathan Lumbard in American Furniture a decade ago. It is a fine contribution to furniture scholarship; photographs of details of construction, carving, and inlay provide lessons in connoisseurship.
---
Crafting Excellence: The Furniture of Nathan Lumbard and His Circle by Christie Jackson, Brock Jobe, and Clark Pearce
Winterthur Museum, Garden & Library, distributed by Yale University Press, 2018, 286 pages, hardbound, $65 plus S/H from Yale University Press, (https://yalebooks.yale.edu) or 1-800-405-1619.
---
Originally published in the May 2018 issue of Maine Antique Digest. © 2018 Maine Antique Digest