The Palm Beach Art, Antique & Design Show, presented by Palm Beach Show Group, will debut December 15-17 at the new Palm Beach Art, Antique & Design Showroom in Lake Worth, Florida. The Fall Palm Beach design show is the latest addition to the Palm Beach Show Group's portfolio of fine art, antiques, and jewelry shows, and it will feature a curated group of exhibitors.
The show will kick off with an invitation-only opening day preview party on December 15. The preview will begin at noon with a cocktail reception from 4 to 9 p.m. The show will be open to the public for the remaining days, Saturday and Sunday, December 16 and 17, with complimentary admission.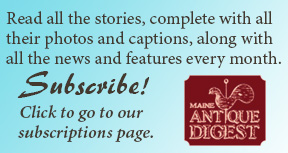 Situated just south of West Palm Beach's historic antique row, the new state-of-the-art Palm Beach Art, Antique & Design Showroom offers a selection of one-of-a-kind antiques, art, vintage and modern furnishings, glass, textiles, and more. The concept was established to offer visitors year-round access to high-quality items, similar to those seen at the Palm Beach Jewelry, Art & Antique Show hosted every February at the Palm Beach County Convention Center. The 25,000-square-foot showroom allows domestic and international dealers permanent retail space in West Palm Beach's antiques shopping district and access to a well-established network of dealers, art and antiques aficionados, and collectors.
For more information, visit the website (www.PalmBeachDesignShowroom.com) or call (561) 822-5440 or (561) 229-0046.
---
Originally published in the November 2017 issue of Maine Antique Digest. © 2017 Maine Antique Digest