Olde Hope Antiques at 40
Lita Solis-Cohen | July 18th, 2016
On July 4 Edwin Hild and Patrick Bell celebrated 40 years in the antiques business. The story of their Olde Hope Antiques in New Hope, Pennsylvania, documents the evolution of the market for what used to be called country antiques into that catchall category called "folk art" over the last four decades. At first, Olde Hope sold to people furnishing their country houses, then it focused on forming collections of painted furniture, hooked rugs, weathervanes, paintings, and fraktur that segued into its present role as dealers selling objects from the 18th century to the present as works of art.
Pat Bell and Ed Hild.
"Thanks to Mary Emmerling and Martha Stewart, the 1980s and 1990s was a time when country was king," said Bell.
"And thanks to show promoters Russell Carrell, Sandy Smith, Jim Burk, and the proliferation of small shows, business was very good," added Hild. "After twenty years we were tired of selling beds and stands and no longer felt the need for an open shop and sold the property on Lower York Road in 2000, and then on September 11, 2001, we reopened in a gallery at the farm Pat and David Guilmet had bought in 1999, seeing clients by appointment, and showcased individual pieces as objects as art," said Hild.
How did Bell, a farm boy from northwestern, Missouri with a degree in anthropology from the University of Missouri and working on a graduate degree in that field at the University of Pennsylvania, and Hild, a Vietnam War vet with an education degree who wanted to teach English, get to sell antiques to movie stars and Wall Street moguls and count Jacqueline Onassis and Barbra Streisand among their customers?
"After the Vietnam War, teaching jobs were scarce, so I took a job as house parent at the Woods School for mentally challenged boys," Hild recounted. "Pat Bell was my supervisor at the school, and when we had time off we'd go to flea markets and country sales. I grew up in Bucks County and liked antiques, and soon we were selling at the Lambertville Flea Market. On July 4, 1976, we opened our first shop on Ferry Street in New Hope and called it the 'Olde Hope Shoppe,'" Hild volunteered. "Then we moved the shop to Route 202 near Buckingham."
The National Portrait Gallery lent the portrait of Benjamin Lay to the Philadelphia Museum of Art for the 1999 exhibition Worldly Goods. A note in the catalog says that Hannah Logan wrote in her diary in 1746 that with some friends she spent part of an evening "in the compy of B. Lay, the Comi-Cynic Philosopher." This is a photograph of the painting that Hild and Bell put in the painting's original frame, which they kept since the painting would no longer fit in it. At a Northeast Auctions sale several years ago, Bell and Hild bought one of the rare Henry Dawkins prints of Benjamin Lay.
One Saturday in August 1977 at a Brown Brothers auction in Buckingham, Hild saw a painting on a wooden panel sticking out of a box lot of old frames and bought the lot for $4. He sold the frames for $3 before he left the sale and kept the painting. The painting was of a hunchback dwarf with skinny legs wearing brown breeches, a waistcoat, and a broad-brimmed hat and holding a cane and book by Thomas Tryon that advocated healthful living. He was depicted standing next to a basket of fruit in front of a cave. "I showed the picture to a few people who suggested I take it to Winterthur for conservation because the wooden panel was split," said Hild.
At Winterthur, Bell and Hild learned that the name "Benjamin Lay"painted on back of the panel was the name of the sitter, not the painter. Winterthur had a rare print of Benjamin Lay engraved by Henry Dawkins. Lay was a Quaker reformer and abolitionist who stood just 4'7" tall. On the print it said it was a copy after a painting by William Williams Sr. Benjamin Rush noted that this print was "to be seen in many houses in Philadelphia." Now it is a rare print.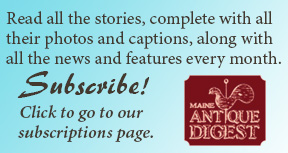 Sherry Fowble, then a curator of prints at Winterthur, told them that Lay grew up in England, became a merchant seaman, and with his wife, Sarah, also of diminutive stature, settled in Barbados, West Indies, then a hub of the slave trade. Appalled at the way slaves were treated, Lay spent the rest of his life as an active abolitionist. Asked to leave Barbados because his neighbors were afraid he would ignite a slave revolt, Lay moved to Abington, Pennsylvania, where he continued his protests at Quaker meetings. He also published 200 pamphlets against slavery, capital punishment, and the prison system. He lived in a book-lined cave, grew his own food and flax, spun, wove, and made his own clothes, and would walk 15 miles to the house of his friend Benjamin Franklin, who published one of his abolitionist tracts in 1737. Late in life Lay saw his views, once thought incendiary, adopted by other Quakers.
"Winterthur conservator Joyce Stoner agreed to restore the picture and said it would take six months, so we left the painting there," Hild said. "Winterthur wanted to buy it but would not make an offer, and we had no idea what it was worth. When we got the picture back, it was mounted on a balsa wood plank, and it would not fit into its original frame. We took it to Sotheby's and to the Philadelphia Museum of Art, but no one seemed very interested in it.
"Stories about our discovery appeared first in the Philadelphia Inquirer, and in January 1979 The Magazine Antiques published a story by Karen M. Jones about the discovery of a rare William Williams painting." The story quoted a letter from Ben Franklin to Deborah Franklin in which he mentioned the painting. The story also noted an 1810 list of William Williams's paintings that included a "small portrait of Benjamin Lay for Benjamin Franklin."
Monroe Fabian, a curator at the Smithsonian, contacted Olde Hope and said the museum wanted to buy the painting, so they took it to Washington. "A painting of a Quaker abolitionist once owned by Benjamin Franklin had value," said Hild, "But what was it worth? No paintings by William Williams had sold since the 1920s."
"We had seen a property on the Lower York Road that would be a good place for a show, so we sat down and figured what we needed for a down payment and what we needed to buy a small collection to stock the shop and asked $39,000 for the portrait," said Bell. "The Smithsonian asked for time to raise the money, but in only a few weeks they sent us a check, and the portrait of Benjamin Lay was hung at the National Portrait Gallery. The National Portrait Gallery sent it back to Philadelphia in 1999 for the Worldly Goods exhibition at the Philadelphia Museum of Art; it is pictured in the catalog."
In 1980 Olde Hope Antiques opened in the carriage house on Route 202, the main road to New Hope, and Hild and Bell moved into the adjacent stone house. For 20 years, their open shop was a regular stop for collectors.
"By the time we opened the shop on Lower York Road, we had been to the Stewart Gregory sale and seen the Flowering of American Folk Art at the Whitney and knew we wanted to deal in that sort of material," said Bell.
"We had met collectors who taught us what they were looking for. We began to buy dower chests and fraktur and weathervanes," said Hild. "We did shows for Jim Burk, first in a motel on Route 30, and then in the 1980s, Jim Burk's York shows. We did all the Kramers' shows in the 1980s in Valley Forge, in Texas and Nashville, and Sandy Smith's shows at the pier and then the Philadelphia show. At Sandy Smith's spring show at the armory in 1996, Joel and Kate Kopp, who had a booth across from us, introduced us to Arie Kopelman, who asked us to do the 1997 Winter show," said Bell. "We had put together collections for people, many of whom are very private, but the Winter show gave us more visibility; we met many celebrities and major collectors."
As the market changed in the beginning of this century, Hild and Bell continued to do shows and sell by appointment from the gallery at Peaceable Farm. "In addition to buying and selling and doing fewer shows, we brokered individual objects and collections," said Bell, who in 2013 rented an apartment on the Upper East Side of New York City. By January 2014 he was meeting with clients there to show special works.
"The focus of collectors and designers now is on individual objects and how they will be placed rather than furnishing a country house," said Bell.
"They want every piece to be shown as a work of art. That is how the current exhibition American Made, a loan from the Museum of American Folk Art, is installed at Crystal Bridges. Each piece has space about it, so it is presented as a special work of art. This is what the new generation of collectors wants." Hild acknowledged, "There is less material available, fewer shows, not as many buyers, and those buyers want fewer things. Some want to mix the old and not-so-old with contemporary material. They buy what adds to their quality of life, what gives them visual pleasure every day."
"Finding these things isn't easy, but we never get bored," Bell added. "Every day is a treasure hunt, and it all began when Ed found the portrait of Benjamin Lay. That's when two kids in their twenties got a kick-start. I hope our example of staying in business for forty years will inspire some young dealers to stay in for the long haul and make a life of it. This is a great time to get into this business. There will be a treasure-trove of material returning to the market and a new price structure."
Bell and Hild have no plans to retire.
---
Originally published in the August 2016 issue of Maine Antique Digest. © 2016 Maine Antique Digest