Editorial
A ruling handed down in a New York court in late September shines a light on a common practice in the trade and offers up a cautionary tale.
In June 1989 Reed Galin purchased a one-third interest in Andrew Wyeth's Ice Storm from his childhood friend and art dealer David Ramus. Ramus had paid $319,000 for the painting at Christie's in May 1989. Galin never took possession of the painting; Ramus kept it to resell, which he did in November 1989, selling it to the Coe Kerr Gallery in a cash and trade deal. Ramus gave Coe Kerr the painting and $450,000 in exchange for a painting by Frank W. Benson, which Ramus valued at $819,382.15.
Ramus did not inform Galin about the deal, and he did not pay him. Ramus, however, ran into financial problems, was indicted and convicted of various charges, and was sent to prison in 1996.
In December 1995 Galin discovered that Ice Storm had been sold to the Coe Kerr Gallery, which was by then no longer in business. For 20 years he "sporadically" contacted museums and galleries to try to locate the painting. In May 2015 Galin learned that the painting was going to be sold by Christie's.
Galin contacted Christie's to assert an ownership interest in the painting. The painting was sold for $989,000 on May 21, 2015. Christie's held on to the money pending a determination as to who had good title: Galin or Kunitake Hamada, a Tokyo-based art dealer who had bought Ice Storm two years earlier and consigned it to auction.
Hamada sought to dismiss Galin's claim, relying on the "entruster provision" of the Uniform Commercial Code. If the "entruster provision [did] apply to that transfer and Coe-Kerr Gallery acquired good title, [then] Mr. Galin [h]as no valid claim," Hamada argued.
The "entruster provision" states that anyone "entrusting of possession of goods to a merchant who deals in goods of that kind gives him power to transfer all rights of the entruster to a buyer in ordinary course of business." The reasoning behind the provision "is that a person who knowingly delivers his property to a merchant dealing in goods of that kind assumes the risk of the merchant's acting unscrupulously by selling the property to an innocent purchaser."
Whether the entrustment provision applies turned on whether Coe Kerr Gallery was a "buyer in ordinary course of business." The court ruled that it was. The Coe Kerr purchase had none of the legal red flags that would disqualify the "entruster provision."
"In sum, there is no evidence in the record of a single red flag that did alert, or should have alerted, the Coe Kerr Gallery that Ramus lacked authority to sell the Ice Storm—a conclusion that is not surprising, as Ramus indisputably did have authority to sell the painting," a judge ruled. The entrustment provision turned exclusively on the circumstances of the Ramus-Coe Kerr Gallery transaction; "and if it does apply, then good title to the painting passed to the Coe-Kerr Gallery, and Galin lost his interest in the painting (and, by extension, lacks standing to sue anyone other than Ramus)."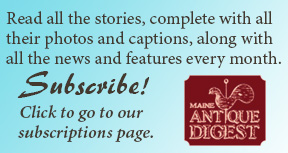 "While the Court is sympathetic to Galin's predicament, these are precisely the circumstances in which the entruster provision is meant to operate: Galin assumed the risk when he gave the painting to Ramus to resell and, unfortunately, that risk did not pay off. To the extent that Galin has a remedy at this late date, it is from Ramus, not Hamada," the ruling stated.
If your interest in an object is sold by someone else in a bona fide sale, your sole remedy is to go after the seller, not future owners down the line.
To paraphrase Ronald Reagan, entrust but verify.
S.C.P.
---
Originally published in the November 2017 issue of Maine Antique Digest. © 2017 Maine Antique Digest