Irving Morano, 47, Samuel Morano, 49, and Metropolitan Fine Arts & Antiques Inc. have pleaded guilty in New York State Supreme Court to varying degrees of illegal commercialization of wildlife. They were charged with selling and offering for sale illegal elephant ivory.
As part of their sentence, the defendants forfeited all of the ivory articles that were seized during an investigation as well as an additional 1657 ivory carvings and were ordered to forfeit $2000 to the New York State Department of Environmental Conservation (DEC) and to make a $200,000 contribution to two wildlife conservation organizations—$100,000 to Wild Tomorrow Fund and $100,000 to World Wildlife Fund.
"When a search warrant was executed at Metropolitan Fine Arts & Antiques, more than $4.5 million of ivory from more than a dozen slaughtered elephants was recovered—making this the largest seizure of illegal elephant ivory in New York state's history," said District Attorney Cyrus R. Vance Jr. "Even with tougher laws enacted in 2014, New York remains one of the largest markets for illegal ivory in the country."
Basil Seggos, commissioner of the New York State Department of Environmental Conservation, said: "When Governor Cuomo signed a new law in 2014 that strengthened the criminal and civil penalties for buyers and sellers of illegal ivory, it gave DEC the power to take aggressive action on eradicating this immoral trade in New York state. With the closure of this case, we are sending a strong message to poachers, traffickers, and dealers that we are committed to stopping this heinous activity."
Metropolitan Fine Arts & Antiques, an art and antiques gallery at 10 West 57th Street in Manhattan, is owned by brothers Irving and Samuel Morano.
Under New York State Environmental Conservation Law, it is illegal to sell or offer for sale elephant ivory unless the seller has been granted a license from the DEC. Although the defendants had previously held licenses to sell elephant ivory, statutory changes made it effectively impossible for them to renew their license, and the defendants did not attempt to renew it. Instead, the defendants continued to sell elephant ivory without a license.
On November 30, 2015, undercover officers from DEC purchased an elephant ivory carving from Metropolitan Fine Arts & Antiques. A salesperson claimed that the item was mammoth ivory, and the officers paid $2000 directly to Irving Morano. After the sale, DEC analyzed the item and identified it as a carving made from elephant ivory and not mammoth ivory.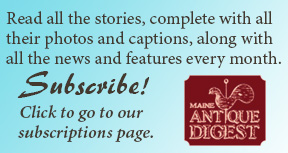 A search warrant executed at Metropolitan Fine Arts & Antiques uncovered approximately 126 elephant ivory articles, including two pairs of uncarved elephant tusks standing approximately 7' and 5' tall. DEC determined that the smaller pair of tusks was from an African savannah elephant, and that the elephant was a young adult when it died. The retail prices listed for the tusks were $200,000 and $150,000.
In New York, a license to sell ivory can be granted only when the ivory is part of an antique that is at least 100 years old and the ivory is less than 20% by volume of that antique; will be used for scientific or educational purposes; is sold as part of a trust or an estate; or is part of a musical instrument manufactured before 1975.
---
Originally published in the September 2017 issue of Maine Antique Digest. © 2017 Maine Antique Digest