Downingtown, Pennsylvania, auctioneer Ronald Pook called the other day to say that his crew had made a great find. It was not a Bonnin and Morris pickle dish nor John Cadwalader's sofa.
"We cleaned out an attic of items we can sell in an online sale, and just before closing up the van, James [Pook] reached for an old tin. He decided it might have some value as old advertising," Pook said.
Photo courtesy Pook & Pook.
"The truck got unpacked, and James was cataloging when he opened the tin and saw it was filled with yarn. He closed it up again and then decided to take another look. When he pulled out the moldy old yarn, he saw that under it were bundles of twenty- and fifty-dollar bills, silver certificates, and silver dollars, all in pristine condition and most with dates about seventy years ago.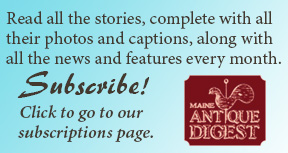 "James called the heir to the estate and told her he didn't think she would want him to sell that can of cash and arranged to bring it back. A few days later, we got a call that she had taken the tin to the bank. It held a hoard of more than $150,000.
"The grateful woman said she was sending James a bottle of wine."
---
Originally published in the November 2017 issue of Maine Antique Digest. © 2017 Maine Antique Digest