Thomaston Place Auction Galleries, Thomaston, Maine
Auctioneer and company president Kaja Veilleux floridly introduced the three-day auction at Thomaston Place Auction Galleries in Thomaston, Maine, as "preserving the history of mankind." It was, perhaps, an overstatement, but not a serious one. The November 17-19, 2017, auction offered nearly 1500 lots of cultural significance that ranged from the Americas and Africa to Polynesia and the Orient.
The lead item in the sale was a half-length oil on canvas portrait of an unidentified young man with powdered hair who was seated at a desk with a letter in his left hand. Unsigned, it was listed unequivocally as by Gilbert Stuart (1755-1828). Probably Colonial America's best-known portrait painter, Stuart frequently left his works unsigned, and this one is a clear match for his style. The canvas was not relined and was on the original stretcher, and the final price came in at $76,050 (including buyer's premium), under the $80,000/120,000 estimate.
The $16,380 price for a Chippendale-style blockfront secretary looked strong but not as strong as the $20,000/30,000 estimate. According to the catalog, it had been built in the John Brown Shipyard, Warren, Rhode Island, between 1840 and 1860. The primary and secondary woods were solid figured mahogany, and it was constructed in such a way that it could be taken apart for storage and transport aboard a ship. A large broken-arch pediment topped with three wooden flame finials, raised shell-carved panels, and fluted Doric quarter columns framed the fitted interior with 31 open compartments of various sizes.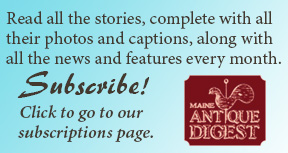 On January 28, 1864, Congressman William Boyd Allison (1829-1908) of Iowa, a delegate to the 1860 convention that nominated Abraham Lincoln for his first term, wrote a letter to the president requesting that he waive the recommendation of Capt. Julius H. Powers's superiors and find a placement for Powers in the Invalid Corps (a military reserve organization, 1863-69, that allowed partly disabled or infirm soldiers to serve light duty), as Powers had served with the 9th Iowa Infantry before becoming ill.
This Hawaiian lei niho palaoa of olona fiber, human hair, and a whale tooth hook, a neck ornament worn by those of high rank, sold for $25,740. Thomaston Place photo.
This unsigned 28¼" x 23¼" (sight size) oil on canvas, solidly attributed to American portraitist Gilbert Stuart, led the sale at $76,050.
Settling the age-old chicken and egg question, this circa 1880 Rochester (New Hampshire) Iron Works cast-iron rooster weathervane with a replaced wooden tail and retaining much of its original coloration came first and sold for $17,550. A second rooster vane (not shown), also from the Rochester Iron Works, with an original sheet metal tail and no coloration beyond the original black paint, laid an egg and was passed at $5500.
This 17½" x 29½" (sight size) oil on canvas by Julien Dupré (1851-1910) of a peasant girl tending her cattle and sheep, signed lower left and titled Deux Vaches à Arreuvois, sold for $17,550. Dupré was a leading painter of pastoral realism, usually portraying farm girls actively working their fields and flocks, pitching hay, or watering their herds.
Somebody turned a sweet profit on this double-sided Andrew Wyeth pen-and-ink sketch on paper. One side has a drawing of an Amish farmer plowing his field behind a team of horses; the other side has a bearded Amish farmer and his wife in a horse-drawn carriage. The drawings measure only 6½" x 9¾" (sight size), but on such a work, the Wyeth name is pure gold.
It had surfaced at an August 2017 Bruce Gamage auction in Rockland, Maine, where it brought $4887.50. This time around, the bidding ended at $17,550.
This January 28, 1864, letter to Abraham Lincoln, on which the president wrote a reply and passed it along to the secretary of war, who also acknowledged the communication in writing, brought $8775.
Lincoln gave a handwritten response on the other side of the letter: "Will the Secretary / of War please waive / the rules far enough / to allow the examin- / ation / as writer / requested. / A. Lincoln / Jan. 29, 1864." Secretary of War Edmund Stanton acknowledged the request with a handwritten reply below Lincoln's: "Referred to Col. / Fry Provost Marshall / General / Edmund M. Stanton."
Allison had a lengthy political career, culminating in a 1908 race for his seventh term as Iowa senator, but he died shortly before taking office. The letter was framed and matted between portraits of Lincoln and Stanton, with a portrait of Allison on the other side, and the whole presentation brought $8775.
The olona plant was of extreme importance to early native Hawaiians. Endemic to Hawaii, it was the only non-food plant to be cultivated in small plantations. The cordage from its fibers, one of the strongest natural strands in the world, was used as barter material, as articles of attire for royal families, in weaponry, and in other ceremonial uses. After first contact with Hawaii, western sailing ships would often trade manufactured goods for rigging made from olona, considering it to be better than their own conventional material.
Thomaston Place offered a Hawaiian neck ornament composed of a whale's tooth hook, woven hair, and olona fiber, known as a lei niho palaoa, which was worn by nobility of both sexes to indicate their genealogical descent from the gods. The whale tooth hook may represent a tongue that speaks the law, or possibly a symbol of inherited virtue. They are also in other Polynesian island groups, such as the Marquesas, Easter Island, and New Zealand. This rare cultural artifact easily crushed its $2000/3000 estimate and climbed all the way to $25,740.
For more information, visit the website (www.thomastonauction.com) or call (207) 354-8141.
This 26½" high patinated copper table lamp with three-dimensional stylized dolphins swimming about the base has a 9½" diameter leaded glass shade with a band of similarly styled dolphins below a field of green fish-scale mosaics. There are no maker's marks, but bidders were confident enough to chase it to $6435. Thomaston Place photo.
Passamaquoddy artist Tomah Joseph (1837-1914) spent winters at Peter Dana Point in Washington County, Maine, and summers on Campobello Island, where he became friends with the Roosevelt family. He made a canoe for the young Franklin and taught him how to use it. This birch bark basket, attributed to Joseph, came from a lodge on Grand Lake Stream, not far from Campobello, and bears the hallmarks of his work. It sold for $2457, within estimate.
The Fabergé 0.84 silver and enamel guilloché picture frame with a silver bow and swag crest, 4" high, by workmaster Andrei Goryanov, St. Petersburg, 1898-1908, has a wooden backing and bears a kokoshnik mark (a peasant woman wearing a headdress named a kokoshnik), which first came into use in 1896. It brought a solid $9360. Thomaston Place photo.
Homeward Bound (a.k.a. The Race) by Thomas Hart Benton (1889-1975), a 9" x 13 1/8" (image size) lithograph from 1942 that shows a free-running horse outpacing a locomotive, struck a resonant chord. Published in an unnumbered edition of 250, signed in pencil in the margin and signed in the matrix, the print sold for $16,380 (est. $5000/8000). Thomaston Place photo.
---
Originally published in the February 2018 issue of Maine Antique Digest. © 2018 Maine Antique Digest