A small silver-hilted American sword owned and used by Colonel Jonathan Pettibone (1710-1776) of Simsbury, Connecticut, during the Revolutionary War has been donated to the Museum of the American Revolution in Philadelphia. It was donated by a descendant of Pettibone and his family. The sword has never before been displayed and will be on view at the museum beginning in 2018.
According to the museum, it is unusual for Revolutionary War swords to have the name of the original owner inscribed on the weapon. The engraving was done in the period by an unpracticed hand, likely by a rural craftsman of Colonial New England. The sword is also significant in that it was crafted in the Colonies, as borne out by the unusual addition of the mark of its maker, silversmith Joseph Copp (1732-1813) of New London, Connecticut.
Dr. Philip Mead, holding the sword, and B. Owen Williams. Photos courtesy Museum of the American Revolution.
Inscription of the sword owner's name.

The mark of the sword maker, Joseph Copp.
"With the rare maker's hallmark, and considering who owned it, and the history it probably saw, this sword is truly one of the most fascinating Revolutionary War weapons I have ever seen," said Dr. Philip Mead, chief historian and director of curatorial affairs at the museum. "I grew up in Simsbury and was very familiar with the Pettibone legacy, so I was doubly excited to encounter the sword."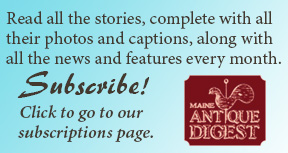 The donor, Maryland resident B. Owen Williams, inherited the sword from his grandmother Mary Pierson Cheney, who was a direct fifth-generation descendant of Pettibone. "As a family, we are delighted that the museum will provide a home for this article, where it should be, in an exhibit to be seen by the many visitors who come to the museum from all over," said Williams. "I'm thrilled that it has survived in remarkably good condition despite my youthful exuberance and blissful ignorance to play with it surreptitiously as a boy."
Jonathan Pettibone of Simsbury, Connecticut, was a colonel heading the 18th Connecticut Regiment, which fought in the battles for New York in 1776. Pettibone died in service in Rye, New York, in 1776. In the colonel's will, the title to the sword passed to his son, Jonathan Pettibone Jr., who also served in the Revolutionary War. A tricorn hat that was worn by Colonel Pettibone is on display at the Smithsonian's National Museum of American History. In 1780 the younger Pettibone built a tavern in Simsbury, Connecticut, that was rebuilt in 1803 after a fire in 1800 and still operates as a restaurant today.
---
Originally published in the March 2017 issue of Maine Antique Digest. © 2017 Maine Antique Digest