Fountain House Gallery, New York City
In a world filled with strife—hurricanes, earthquakes, tsunamis, genocide, ballistic-missile launches, terrorist attacks, and political uncertainties—seeking a peaceable kingdom through art might be a soothing antidote.
Thirty-five artists associated with Fountain House Gallery in New York City, which represents artists living with mental illness, were asked to interpret the paintings of the renowned Pennsylvania painter Edward Hicks (1780-1849), who used a Bible passage to visualize a harmonious and perfect world: "The wolf also shall dwell with the lamb, and the leopard shall lie down with the kid; and the calf and the young lion and fatling together; and a little child shall lead them" (Isaiah 11:6).
Information on the exhibition was viewable from the gallery's window facing Ninth Avenue. Neighborhood residents streamed in and out all evening.
The curator of the show, Cara Zimmerman (holding bouquet), and Fountain House Gallery director Ariel Willmott (center) welcomed guests to the exhibition's opening on September 7.
My Peaceable Kingdom I by Kathy Pieper, watercolor on paper, 15" x 11", was available for $300.
The group show, entitled The Peaceable Kingdom, was curated by Cara Zimmerman, American art and Outsider art specialist and a vice president at Christie's. Zimmerman, who attended the opening reception, said, "The works in this exhibition are incredibly sophisticated and tackle with depth and integrity the elusive concept of the Peaceable Kingdom."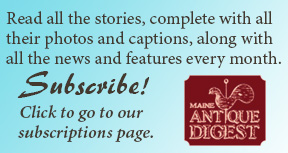 Presenting more than 40 works in mediums including oil, watercolor, mixed media, and photography, the exhibition ran from September 7 through October 18.
According to the exhibition press release, through more than 60 Peaceable Kingdom paintings "…of predators and prey resting in harmony, Native Americans and Colonists co-existing, and bucolic landscapes free from human intervention," Hicks examined "…his Quaker desire for a tranquil world."
Deborah Standard's Time Is Ticking for All, plastic figures and paint on a plastic clock, 20" x 20", was tagged $500.
Man and Beast in Harmony by Susan Spangenberg, acrylic on canvas, 8" x 10", 2017, was priced at $350.
This 18" x 13" mixed-media digital scan collage by Susan Baus, Wilde Turkey, was available for $400.
And, according to the press release, "The works in this exhibition explore what a Peaceable Kingdom is and is not, and how this Kingdom might look in the twenty-first century.... Importantly, not all interpretations are optimistic, and some works in this exhibition reveal ways in which our world is not perfect and the Peaceable Kingdom does not exist."
Fountain House Gallery and Studio at 702 Ninth Avenue in Manhattan is a "…not-for-profit exhibition space for its member-artists living and working with mental illness." Its slogan is "More than a gallery. A movement."
For more information, contact Fountain House Gallery at (212) 262-2756, or check the website (www.fountainhousegallery.org).
Alyson Vega made these hand-sewn felted wool animals. Each is 26" x 26". Wolf/Kid, Lion/Lamb, and Fox/Fawn were priced at $700 apiece.
Peace Pipe by Angela Rogers, fiber, wire, and found objects, 9½" x 5" x 3", was priced at $375.
Jungle Party by Maura Hall, pencil on illustration board, 14" x 17", was tagged $250.
---
Originally published in the November 2017 issue of Maine Antique Digest. © 2017 Maine Antique Digest