The Young Collector
If you're going to tell a joke, you need to make it funny. Otherwise, you run the risk of no one realizing that you were kidding. Andrew came home this summer from a consultation with a client and said he had a challenging problem: how to get a tall clock moved from Ohio to Massachusetts. She had asked him if he knew "anyone with experience moving antiques." Hollie said, "Hey, why don't we deliver it and go to the Deerfield show? Ha-ha-ha!" Somehow Andrew took this joke at face value and began planning the trip.
We try to learn something from every experience, and what we learned from this one was that traveling with a tall clock is the only way to travel with small children—no, really. Buy one right now and install it in your vehicle. With our van nearing 200,000 miles, we opted to rent one for the week. (We are hoping to get 300,000 miles and a few more years out of ours, which is never going to happen at the current rate of about 35,000 miles a year.)
In a passenger van, the only place for a tall clock to go is right up the middle, which was a stroke of brilliance, as it meant for the first half of the trip, not only could the children not touch each other, but they couldn't even see each other! This is not to say that they didn't find ways to drive each other insane. Of course they did. It just means that it took longer for them to come up with a plan, required more creativity, and was generally less effective. It's the next best thing to what we're always threatening to do, which is to buy a used cab with a Plexiglas divider, so we just don't have to hear them.
Of course, we also had a suitcase. And a computer bag. And a toiletries bag. And a shoe bag. And a book box. And a travel supplies caddy. And a cooler. And a stack of coverlets. And a quilt rack. And a stuffed orca (just a toy one, but we're copyrighting that idea, so don't get any ideas, Damien Hirst). But bright and early we were off to our first stop, a quick delivery for a client in Carlisle, Pennsylvania.
A happy discovery on our first long trip from the new place is that going east no longer involves the Pennsylvania Turnpike. (No offense, but as long as the weather's good, the Cumberland Gap is a nice change of scene, especially in the fall.) Andrew unloaded the quilt rack and textiles, while the kids ate their PB&Js on the steps in the sunshine and then ran around in the yard. After that, we went on to Stroudsburg, Pennsylvania, to the only place to stay with kids, a Holiday Inn with a pool. Supper was at a local diner. (Nora now enjoys restaurants. Nat, not so much, but any place that has applesauce is endurable in his estimation.)
The next day was a "short" day—just about four hours of driving. That was before Waterbury, Connecticut, got involved. We headed on through New York, cutting fairly close to where Sybil Ludington allegedly made her famous ride. As Nora's a big fan of Sybil, and Nat is a big fan of war and any excuse to run around, we stopped in Danbury, Connecticut, to stretch our legs and to see a Sybil statue that stands in front of the public library.
After that we picked up a fantastic repurposed pedestal table with a 47" top, painted and stenciled with magpie feathers (appropriate for our birder and our magpie), from the talented Kate Avery (Heir and Space) in East Hampton, Connecticut. Andrew managed to make it fit in the van as well. Meanwhile, our small magpie scoured the ground outside of Kate's workshop, looking for "treasures for his collection." He was pleased with the handful of nails he found (so was Kate), but he was thrilled about the reproduction batwing brass he kicked up among the leaves.
Then we were on our way to Amherst, Massachusetts, to another Holiday Inn, where Hollie promptly managed to lock the keys in the van, necessitating delaying our dinner plans. Thank goodness for Enterprise roadside assistance and the Holiday Inn pool. Then we gathered everyone up and dried them off so we could go to have dinner with our favorite Massachusetts innkeeper, now our beloved Grandma Purple. Like all good grandmas, she knew that what was needed after a day on the road was good pasta, good bread, and plenty of space to play, so it was one of those restful, restorative evenings that we just did not want to end.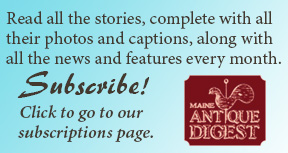 The next morning, we were able to get a more leisurely start to our day. We shopped bookstores in Amherst and met Winterthur classmates (representing Connecticut Humanities and Windsor Historical Society) and their daughter for lunch. (Pasta! The only acceptable alternative to applesauce! Except when it's the wrong shape!) Then we had an enthusiastic tour of the Beneski Museum of Natural History, which is on the Amherst College campus and has the world's largest collection of dinosaur tracks. The student docent was incredibly kind and helpful, and he happily talked with Nora about invertebrates and Dunkleosteus, while Nat gleefully opened and closed all the display drawers. Then we went on about our day, with the problem of where Nora is going to college now settled.
Then we made the short drive over to the show, which was held this year in the Mullins Center at the University of Massachusetts at Amherst. Although entering such an enormous arena, which is also, as it was at Deerfield Academy, an ice rink, seemed a little odd (Andrew felt that there should be some sort of a large paper ring to leap through or loudspeakers blaring Queen or some rock anthem entrance theme), the show looked great. We hadn't made the trip since 2014, so it was a pleasure to reconnect with friends and see how the show's dealer list has changed. Some of the folks there still have fond memories of seeing Nora at the Deerfield show, her first antiques show, when she was just four weeks old, and even though the kids were tired and dragging by the end, it was a happy thing to see them in the midst of the larger community we've always felt a part of.
Before getting back on the road the next day, we promised the kids more pool time, so it was just an evening for pizza in the room. We were up very early the next morning to go on to Maine, by way of the Boston area to deliver the clock. Andrew got Hollie to agree to help, and then he mentioned that it was a fourth-floor walk-up. But it was a lovely thing to get the clock, nearly 200 years old, into its new home and hear it chime contentedly before we were on our way again. We took advantage of some convenient parking to walk to lunch with another Winterthur classmate (a researcher in Boston) and then headed out of the city.
Thanks to smartphones and the wonders of the Internet, we were able to determine that it would be low tide at Odiorne Point State Park in Rye, New Hampshire, just as we were driving by. So we detoured to spend an hour exploring the tide pools, officially, and narrowly avoiding concussions on the rocks, unofficially. It might have been around this point that we actually remembered that it was our 12th wedding anniversary, so once we got into Freeport, we all went out for dinner at Linda Bean's Maine Kitchen & Topside Tavern (Andrew was quick to notice the very nice paint-decorated tall clock in the entryway), and then off to yet another Holiday Inn.
We made good use the next day of our only full day in Maine. First, we spent a drizzly morning at the Maine Maritime Museum in Bath, which is one of those great museums that has something for everyone. The kids were fascinated by all the model ships, and Nat befriended the carver in the workshop.
Then, ten years to the month after we started writing this column, we finally got to meet the Maine Antique Digest staff and visit the office! The staff and the space are as wonderful and eclectic as you've likely imagined, and it was a treat to have lunch with Clayton and Kate (where we all watched in amazement as Nora ate an entire plate of raw spinach). We had a wonderful time catching up on industry gossip, that is, um, industry news.
After a quick trip farther north to spend an hour with a good friend and former coworker, we straggled back to the Holiday Inn for a good rest before starting home. Luckily, we were able to break up the return trip with a sprint through the Bennington Museum, where we saw the amazing current exhibition, Grandma Moses: American Modern, and hugged curator Jamie Franklin, who carved out a few minutes to show us the highlights, and then with an overnight visit to yet another Winterthur classmate in Ithaca, New York, where the kids had a wonderful time playing with her boys, and the adults had a wonderful time catching up and talking about Star Wars movies.
As we snuggled into bed that night, Nora said, "It's nice to be in a real house again." We agreed, and it was that thought that kept us moving along the next day through the beautiful mountains of New York, Pennsylvania, Maryland, and West Virginia, before we finally found our way back home. Twelve years of marriage, ten years of column writing, six days on the road, and 2100 miles—we've still got it! Thank you all for still being here with us.
---
We welcome ideas, tips, criticisms, and questions regarding "The Young Collector." We may be reached by e-mail <[email protected]>, on Facebook (www.facebook.com/TheYoungAntiquesCollectors), or by writing The Young Collector, c/o Maine Antique Digest, PO Box 1429, Waldoboro, ME 04572.
---
Originally published in the December 2017 issue of Maine Antique Digest. © 2017 Maine Antique Digest